The Arnova 10 G2 has been left without Android system update and hasn't evolved from Android 2.3 Gingerbread. By chance, Arnova recently released the kernel source code for some of their tablets (thanks HaroldG). Based on this source code, we have built a Linux Kernel that let the Arnova 10 G2 run Android 4.04 Ice Cream Sandwich (ICS).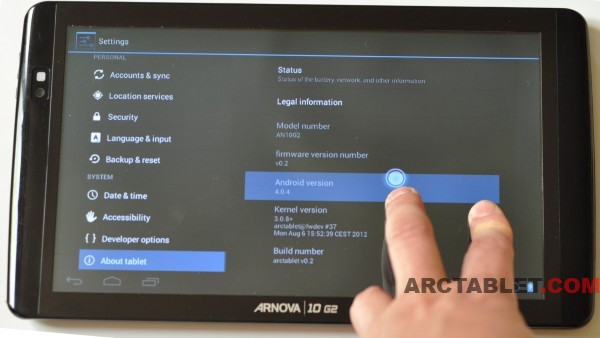 Our current test firmware is a proof of concept, we have a kernel that properly boots the device, but only few components are working so far:
– screen: working
– sound: working
– USB host: working (tested with mouse)
– touchscreen: partially working
– acceleremoter: half working (axis problems)
– camera: half working (inverted on y axis)
– wifi: not working
As you can guess, it's still a long way to get everything working and there is no certitude we will ever succeed in making a stable Android 4 ICS on the Arnova 10 G2.
No need to ask for a release date for the files, a test firmware will be published when it's ready.
Support the project!
If our web site and applications helped you, thanks for supporting us by donating using the Paypal form below or visiting our Donations page. Donations will be used to pay the bills for our server hosting costs, tools and purchase new tablets to support.