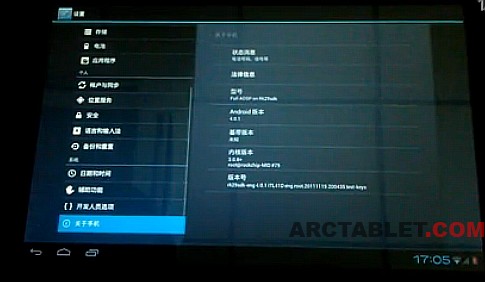 PRNewswire-Asia web site is reporting a coming Android 4.0 Ice Cream Sandwich update on Rockchip RK2918 equipped tablets.
FUZHOU, China, Nov. 25, 2011 /PRNewswire-Asia/ — Just a couple of days after the release of Android 4.0 source code, we've gotten impressive news from Mainland China – Fuzhou Rockchip Electronics is going to update those tablets running their RK2918 chips for the Ice Cream Sandwich soon. What's more, pictures of the tablet with RK2918 capacity show a delicate Android 4.0 User Interface. The long-awaited launch for the Ice Cream Sandwich will come in the first week of Dec.


The following video demonstrate latest Android 4.0.1 Ice Cream Sandwich running on a Rockchip RK2918 tablet.
Lets hope to see the Arnova G2 products (including Arnova 7 G2, Arnova 8 G2, Arnova 10 G2) migrating to ICS !



Fuzhou Rockchip Electronics Co., Ltd. is a China leading fabless semiconductor company and mobile-internet SOC solution provider founded in Year 2001.
Thanks to our forum user p1ceus for the news 😉