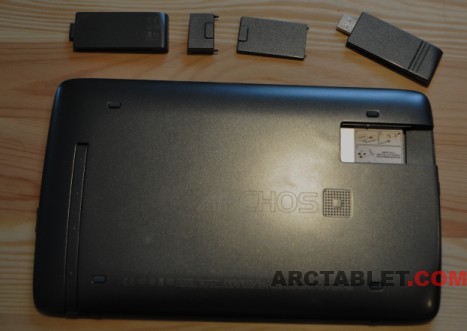 Les appareils Archos G9 devices peut recevoir une clé 3G optionnelle lui permettant d'accéder aux fonctionnalités de communication 3G en complément de la connectivité WIFI déjà présente par défaut sur la tablette. Cette clé 3G se connecte au dos de l'appareil après avoir enlevé une petite trappe.
La clé 3G stick devrait être disponible dans les prochaines semaines à un prix de 49 euros ou 49 Livres Sterling, dans la plupart des boutiques en ligne vendant des appareils de la série Archos G9, ou depuis une sélection d'opérateurs téléphoniques. La clé devrait être livrée avec une carte SIM gratuite et une première période gratuite de connexion, qui pourra être étendue avec des crédits pré-payés à acheter auprès de l'opérateur.
Spécifications

According to Archos FAQ, the 3G stick for the Archos G9 tablets is un-SIM locked, so you can use it on any compatible network. It accepts any standard sized SIM card, Micro-SIM cards are not supported. The G9 3G Stick uses the following GSM frequencies: 850/900/1800/1900MHz and the following UMTS frequencies: 900/2100MHz. This means that it will work with any network in the following regions/countries: Europe, India, Africa, Israel, Asia, Australia, New Zealand, Brazil, Thailand Note that the G9 3G stick will not work on networks that use frequencies other than the above.

Opérateurs actuellement partenaires d'Archos dans le cadre de la clé 3G:

Pays
Opérateur
Tarfis
UK
Three
(part of Hutchison Whampoa Limited)
France
Bouygues Telecom
Les deux premiers jours sont gratuits
puis pack prépayé jour (bande passante réduite après 300 Mo) + WiFi illimité = 6 €
or prépayé mois (bande passante réduite après 1,5 Go) + WiFi illimité = 29,90 €
SFR
Allemagne
Vodafone
prépayé pour le jour, la semaine ou le mois
Ce tableau sera mis à jour dès que de nouveaux opérateurs partenaires seront connus.
Utilisation de la clé 3G

With current firmware (version 3.2.34), the 3G Stick detection does not seem to quite like hot plug, it recommended to turn off your device before inserting the 3G Stick.
Then, remove the plastic trap on the back of your tablet
You will need to open the 3G stick to put your SIM card in place.
You can put back the top pastic cover on the SIM card side of the 3G Stick
Plug the Stick into the Tablet.

| | |
| --- | --- |
| You should pull out slightly the stick out of the tablet for optimum reception as the antenna part of the device will have better isolation outside the other electronics part of the tablet. In this position you should see two black plastic blocks next to the USB part the USB connector in the stick. | |

Start your tablet.
You should be prompt for your SIM card PIN code, enter it.
Enjoy your 3G access on your Archos G9 device 😉




Test de vitesse

We used a 3G SIM Card from the french operator SFR, to do some usability tests and check the bandwith.
The Internet browsing speed for web access is quite decent, as well as the Youtube video playing (see our video)
Measurements with Speed Test version 2.0.5 application give the following:


Ping around 130 ms
Download speed 1600 kbits/s
1300 kbits/s Upload

Please note that the 3G speed is very dependant on your mobile phone provider capabilities and the network coverage.
Utilisation de la clé 3G sur un ordinateur

The great thing about Archos 3G Stick is you can use it on your PC or Mac device. You just have to plug in the USB port, the stick contains a small memory hosting the drivers. On our test PC, the whole installation process went flawlessly as you can see on the video. The driver and the application got installed and we got the SIM Pincode prompt after a few seconds.
Port USB pour la clé 3G

Unfortunately, the full size USB Port on the back of the device used for the 3G Stick does not currently seem to be usable as Host USB port. We don't know yet if it's an hardware limitation or if it's just not implemented yet by the software.
[flagallery gid=5 name= »Gallery »]