Wi-Fi Display enables sharing of the screen image or audio content of one device simultaneously on another nearby device, including simple and secure device discovery and pairing.
According to frandroid.com, Android french news site, Archos is rumoured to provide Wi-Fi Display in their next generation of tablets (Gen10 ?).
This technology will help to miror the tablet screen on a TV or other WI-FI Display enabled device, the video content is transmitted wirelessly using H264 compression.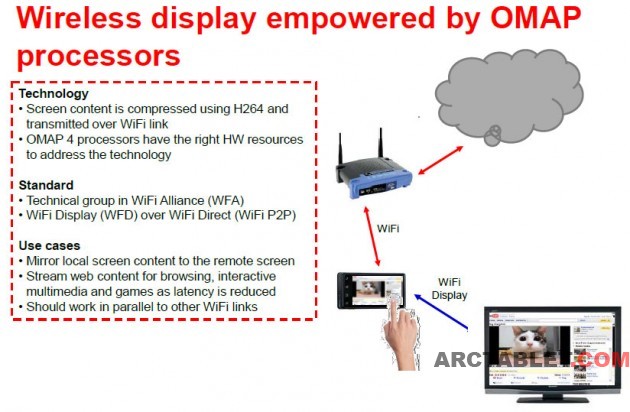 The industry certification program for Wi-Fi Display should start in the Q2 2012 for the first products available probably this summer. According to androidandme.com, the first Wi-FI Display devices to hit to market should based on Snapdragon S4 architecture by Qualcomm, probably followed byTexas Instruments with their TI OMAP platform.
Here is a video of Screenovate company who is implementing Wi-Fi Display (WFD) on both Qualcomm Snapdragon and TI OMAP 4 platforms.

We hope to get more information about Archos Wi-Fi Display plans at Archos press conference next month.