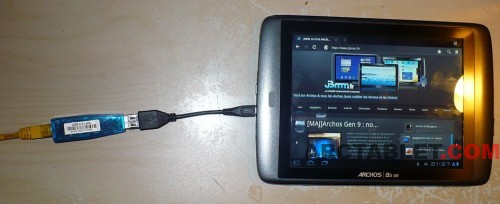 Noname USB Dongle on an Archos 80 G9, picture from Benmars (Jbmm.fr)
Latest 3.2.56 firmware for Archos G9 devices adds USB LAN Ethernet support on the micro USB port of the tablet.
Appart from some cheap chinese tablets, this feature is quite unique in the Android Tablet world, thanks Archos for putting that in the G9 tablets. Having a wired connection could help you disable WIFI when not necessary and enjoy a wired network connection if you suspect that WIFI electromagnetic fields have bad effects on health. Ethernet support will also help you to connect your tablet to places where wired network is accessible, such as hotels, airports…
Trendnet TU2-ET100 USB to Ethernet 10/100Mbps Adapter

Powered by USB port, no external power adapter required
AMAZON USA
Usually ships in 24 hours
$ 14.09
AMAZON UK
Usually dispatched within 1-2 business days
£ 12.08
AMAZON FR
Habituellement expédié sous 24 h
17.99 EUR
According to Archos, USB Ethernet devices with the following chipsets should work:

Please let us know if you successfully tried an Ethernet USB adapter so we can update this table.
Via Jbmm.fr