Following the 4.0.25 Firmware update for Archos G9 Tablets, Archos has also pushed the new Archos Remote Control application to the Google Play Store.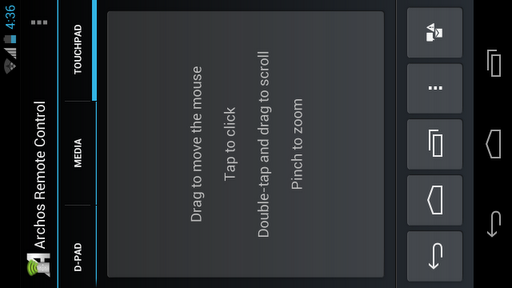 The official changelog is as following:
Version 2.3.6 (October 25th, 2012)
– New touchpad with multitouch support (only works if the remote device is an Archos G9 or G10 tablet with firmware version 4.0.24 or above)
– Allow to change from one tab to the other with swipe gesture
– Set the bottom keys to Android 4.x keys (back,home,recent,menu,notifications) when controlling an Android 4.x Archos device
– Fix UI layout on large phones like Samsung SIII or Galaxy Nexus
Archos Remote Control direct download

(For those who don't have Google Play)
Archos Remote Control feature tested on an Archos 101 XS, works the same on the Gen9.
While there is a new Gen8 Firmware on the way, it won't feature the new Archos Remote changes.