Most Archos and Arnova tablets are not certified by Google and do not offer Google Play Store (formerly Android Market) and Apps access but provide Archos own Marketplace: Appslib.
The tutorial below applies only to Archos Gen8 Internet Tablets. For other devices, including Arnova G1, Arnova G2 or Arnova G3 tablets, you will need a custom firmware, please refer to the "Tablets" menu above to find your device in the list, so you will access the custom firmware.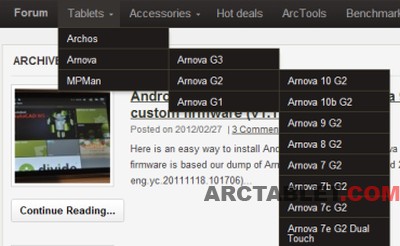 Installating Google Play / Android Market and Apps with ArcTools (tutorial for Archos Gen8 devices only)
Here is a quick video for this tutorial:

Prepare your device.

If you have just installed your machine for the first time, you can skip this step.

In other case, specially if you already have a Market installer application on your device, you need to reset your device

> This will reinstall your system, deleting your installed applications, your video, music and personnal files on /storage folder and the sdcard are not affected)
Go to Settings Menu, select Repair & formatting

Click OK, your device will reboot, all your files (data, video, music) will be kept, your installed application will be reset.

After reboot, please follow the Startup Wizard to setup your device

We recommend that you download and install ArcTools thru Appslib, which should be installed by default on your device. You can find Appslib shortcut on your home screen on the tablet.

Then search for ArcTools


Then click on install
Install or replace application


Alternatively, you can download ArcTools from the web directly on your tablet or thru another machine and then copy it to your tablet

Download Google Apps. Leave Apps selector to recommenced version "Default Apps & Market v2.2.7", selecting other Apps may result in unstable Market or Applications.
Install downloaded Google Apps Press "Install Apps" button When "Install complete" message is displayed, your applications are installed and you should immediately reboot your device.

Start Market and configure your Google account
After installing ArcTools, when you have the Market running, if you are missing some applications in the Market (for example Google Maps, Youtube, …) there is a fix that should correct the problem and give you full access to Market applications.
Don't forget to check out other Arctools features
Support the project!
If our web site and applications helped you, thanks for supporting us by donating using the Paypal form below or visiting our Donations page. Donations will be used to pay the bills for our server hosting costs, tools and purchase new tablets to support.