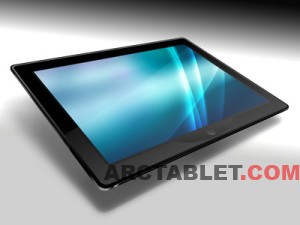 The Smart 4G Tablet, a joint project between the french companies Archos, Gemalto (digital security experts), Wysips (solar technology) and Research Centers (Eurecom , LPICM and IMN) has just started in January 2012.
The project goal is to develop a new tablet supporting 4G/LTE cellular wireless standard, using a new generation SIM card, the tablet will also have a NFC chip and will be approaching the energy autonomy thru a use of a WYSIPS thin transparent photovoltaic film turning the tablet's screen into a solar charger.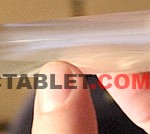 The Smart 4G Tablet project will be driven thru the french competitiveness cluster "SOLUTIONS COMMUNICANTES SECURISEES (SCS)", for a planned duration of two years and a total budget of 6.23 Million euros, partly financed by french public national and local authorities.

competitiveness cluster from systematic-paris-region.org
Project description from pole-scs.org (in french):
Le projet « Smart 4G Tablet » du Pôle de Compétitivité SOLUTIONS COMMUNICANTES SECURISEES (SCS) vise à inventer un futur où les terminaux nomades se libèrent de toute connexion filaire. L'accès sans fil aux réseaux de communications est entré dans les mœurs depuis quelques années déjà. Il s'agit aujourd'hui de couper le « dernier fil » qui relie nos équipements au réseau électrique. Ces tablettes approcheront l'objectif d'autonomie électrique par l'utilisation d'un film photovoltaïque transparent intégré dans l'écran de la tablette et associé à des solutions avancées d'économie et de gestion de l'énergie.

Il s'agit également de garantir sur cet équipement nomade un débit de communication équivalent à celui des solutions filaires grâce à la technologie sans fil 4G/LTE et un très haut niveau de sécurité pour la protection de contenus incluant les aspects interfaces utilisateurs et gestion de l'énergie. La tablette, terminal nomade multifonctions tant pour les marchés grand public que professionnel, est le véhicule de choix pour une telle entreprise.

En sus, cette tablette offre, par l'association de solutions de communication sans contact (NFC) et de la carte SIM nouvelle génération, l'UICC, un champ applicatif particulièrement fertile lié par exemple au paiement, ou à une personnalisation facilitée de la tablette avec une diffusion automatique des services offerts par les opérateurs de communication mobile.
Via Jbmm.fr (french), info-economique.com (french)
Picture © amandare – Fotolia.com