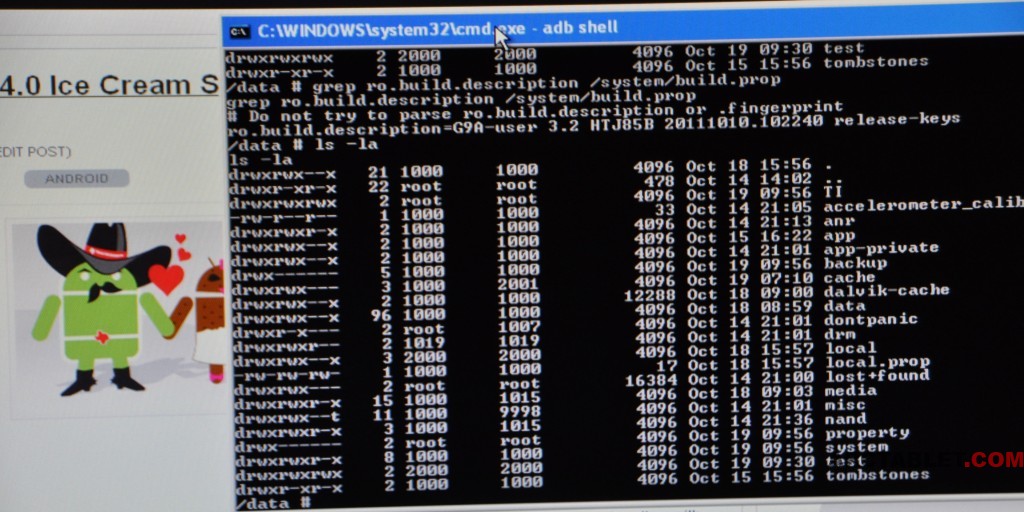 Update 2011/10/23: We can report few issues with this rooting method: such as lost sound (the device does not play audio anymore) and sleep mode problems. These problems will disapear when reseting the device or flashing a new firmware.


Thanks to Modaco guru, Paul O'Brien, we now have root access via ADB on the Archos 80 G9. This procedure has been successfully tested on Archos 80 G9 1 GHz, on firmwares 3.2.22, 3.2.46 (by Modaco) and 3.2.56 (by Arctablet). Please note that it won't help you to modify system files that are located on a squashfs (compressed, encrypted read-only) file system.
Archos 80 G9 Rooting procedure
Simply follow the instructions below and you will finish up with root access via ADB (root shell).
THIS PROCEDURE IS USED AT YOUR OWN RISK.
WE WILL NOT BE HELD RESPONSIBLE FOR ANY DAMAGE TO YOUR DEVICE.
Ensure you have ADB installed on your machine. If you do not, you can download it here.
Open a command / terminal window.
Ensure you can see your device in ADB – do 'adb devices' (or 'adb-windows devices' / 'adb-linux devices' / 'adb-mac devices' as appropriate). If you do not and you are using Windows, check device manager to ensure that you have any required drivers installed. If you still can't see your device or are not using Windows, edit adb_usb.ini (which can be found at 'C:\Users\%USERPROFILE%\.android\adb_usb.ini' on Windows and '~/.android/adb_usb.ini' on Mac / Linux) and add the line ' 0x0e79' before restarting adb ('adb kill-server').
You can also use this file: android_winusb.inf (thanks Cajl/Jbmm.fr).
Download 'Step 1' of the root process – DOWNLOAD – MD5: 6645915d4f252888a9dc0303519b15a6
Download 'Step 2' of the root process – DOWNLOAD – MD5: dc16d0c53bc420be4b898481e31fdc2a
With the 2 files in your current directory and your device connected issue the following commands (waiting for the device to reboot after the reboot commands):
adb push 1 /data/local/
adb push 2 /data/local/
adb shell chmod 0755 /data/local/1
adb shell chmod 0755 /data/local/2
adb shell /data/local/1
adb reboot
adb shell /data/local/2
adb reboot
And that's it! Now when you connect via adb shell you should see the '#' prompt which means you have a root shell. Easy!
Thanks go out to lilHermit who assisted with packaging this exploit.
Root picture by Romain Boissat, chroot-me.in