Rockchip is a major chip supplier for low end Android based tablets.  According to their representative on the HKTDC show, there are 2 millions Rockchip based tablets sold every month. Archos has been using Rockchip in their vision and Arnova line-ups for many years now and is planning to continue their partnership with Rockchip. At the HKTDC show, Rockchip announced RK2906 and RK3066 chips, announced RK31xx and RK32xx line-ups and there is a big chance that Archos will be using them in their upcoming tablets.
Rockchip RK2906
The RK2906 is the costdown version of the RK2918 CPU, which is used in the most Arnova G2 and Arnova G3 tablets. The main differences are the lack of HDMI and slower memory(support for DDR 16 bits memory bandwith). This chipset will allow Rockchip to compete better with Boxchip Allwinner chips. While it is unknown for now, but Archos could be using the RK2906 in the 50$ Arnova tablets Archos CEO Henri Crohas mentioned during the press conference back in March.
Rockchip RK2908
Rockchip showed the RK2908 – another edition of the RK2918, developed specially for the set-top boxes. RK2908 is not very new, it has been available since september 2011.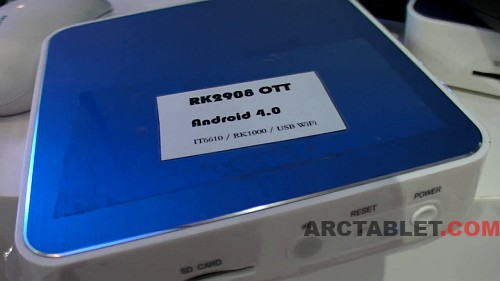 Rockchip RK3066
RK3066 is a new reasonably cheap CPU from Rockchip, to be used in mid-range smartphones and tablets.
The Rockchip RK3066 platform features:
Dual-core ARM Cortex-A9 processor with up to 1.6GHz speed(the reference platforms shipping now are up to 1.5Ghz), implemented with Artisan Processor Optimization Pack (POP)
40nm
Quad-core ARM Mali-400 MP GPU, supporting OpenGL ES 1.1/2.0 and OpenVG 1.1
Full memory support, including DDRIII, DDRII, and LPDDRII
High performance dedicated 2D processor
1080P multi-format video decoder
1080P video encoding for H.264 and vp8
Stereoscopic 3D H.264 MVC video codec
Embedded HDMI 1.4a, supporting 3D display
Embedded 60bit/s ECC, supporting MLC NAND, E-MMC, i-NAND and booting
Support of dual panel display and dual camera:
For example, the quad-core Mali-400 GPU is used in various Samsung phones and tablets, including Galaxy SII, high-end phone released last year. RK3066 started sampling last month, first tablets with it are shown now at the HKTDC(watch the video below) and the first tablets should be available next month. A SoC with RK3066 on board will cost 15$, as said in video Charbax recorded back in March.
Future chips
RK31xx – Q2 2012. Not much details are given at the moment, but this should be a budget CPU, featuring ultra-low powerconsuming Cortex A9 single core at high frequency baked on 28nm. Archos could be using the RK31xx in Arnova G4 and then use the RK30xx in the Archos elements tablets, though they can also choose to use TI OMAP CPUs for the elements line-up.
RK32xx – Q3 2012. Not much detailes mentioned about this either, but this should be the first quad-core CPU Rockchip has to offer.
Google CTS ongoing approval
Many of the RK29xx and RK30xx shown at HKTDC were already approved by Google. This will allow manufacturers to provide full suite of Google applications including Google Play on their budget tablets. Hopefully, Archos will also choose to provide Google Apps with their Arnova line-up one day.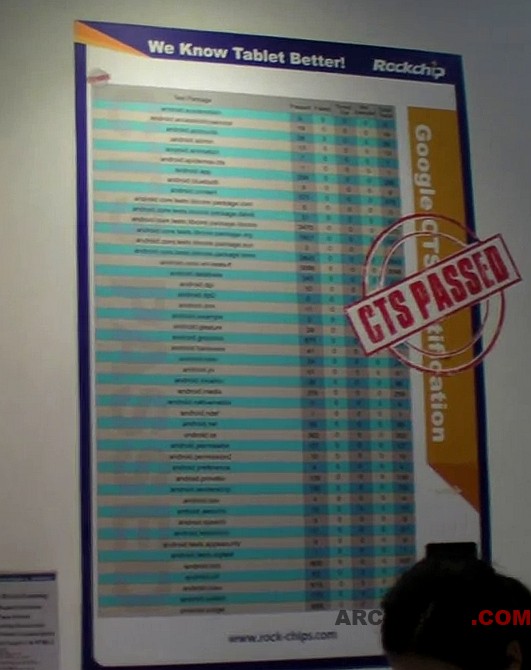 Video of Rockchip booth at HKTDC show from Armdevices.net
Pictures from Charbax Video, Armdevices.net