Edit 2011/11/15: The firmware has been updated, please check release notes for details.
Thanks to the amazing work of fun_ (aka naobsd) from www.androtab.info, the CyanogenMod7 (CM7) port for Rockchip RK2818 equipped devices, such as the Archos 7 HTv2 has reached a milestone. The system starts to be usable with the accelerated video now working, we felt the firmware is ready for a first public release. This release is still a proof of concept to show the development progress and for users to test Android 2.3 on their Archos 7 HTv2. If you do not want to risk serious troubles restoring your usual firmware after running this early firmware, we recommend that you wait a few days until a more finalized version is released.
Features
This custom firmware brings Android 2.3.7 (Gingerbread) to your Archos 7 HT v2 tablet.
Additionnaly, you get other interesting features such as:
– root access
– Android Market thru ArcTools
Release notes
This custom firmware update is based on
latest files from CM7 port by fun_
Release notes from the author (2011/11/15)
built with latest CM source. now 7.2.0-RC0.
"Screen-off animation" is disabled by default as workaround for "black screen on resume" issue. (if you changed this setting, please disable manually)
add initial support for hardware codecs. I'm not sure all supported codecs are enabled. please test & report about file URI, format detail, status, etc.
We modified the firmware so USB Host mode is disabled on boot.
Notes from previous release (2011/11/14)
it has "black screen on resume" issue so please disable "Screen-on/off animation" in CyanogenMod settings. (it may happen without USB… it happens when screen off but not in deep sleep)
EDIT: for now not well tested e.g. local file, other codecs, etc…
Important:
Please note that this firmware is valid only for Archos 7 HT v2 and will not work on Archos 7 HT v1. If you are not sure on which version you have, please check our Archos 7 HT v1/v2 page. If you have an Archos 7 HT v1 please visit our dedicated firmware page.
This custom firmware has no firmware update facility. You won't be able to flash another firmware by copying an update.img file to the root of the device. You will have to use Rockchip Flashing tool to flash a new firmware, please make sure that you are able to use this flashing tool before flashing this custom firmware.
Archos 7HTv2 CM7 preview firmware download
This firmware is specific to the Archos 7 HTv2 and should not be installed on other devices.
WE WILL NOT BE HELD RESPONSIBLE FOR ANY DAMAGE TO YOUR DEVICE.
THIS FIRMWARE UPDATE IS USED AT YOUR OWN RISK.
WE RECOMMEND TO FLASH THIS FIRMWARE ONLY IF YOU ARE ABLE TO RESCUE A BRICKED DEVICE USING ROCKCHIP FLASHING TOOLS.
Installation:
– Download the custom firmware (see download link above)
– Connect your Archos 7HTv2 to your computer thru USB cable
– Extract update.img from the zip archive and copy update.img file to the root of your Archos 7 HTv2 device (either the device storage or the SDCard)
– Unmount your USB connection to your computer
– The following popup should show, asking to update the firmware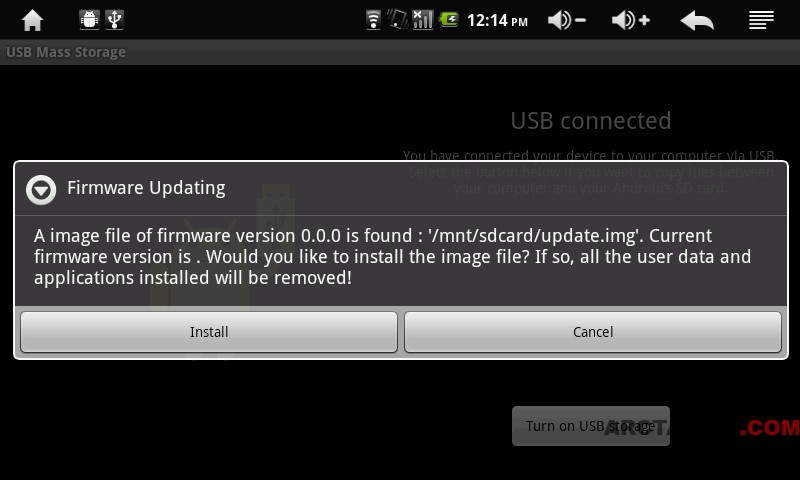 – Push the Install button and follow the update procedure
(if the firmware update dialog does not show up right after the USB unmount, you may need to restart the tablet and the dialog should show right after the device has booted)
The first boot after flashing may take a few minutes, please be patient.
Android Market installation
After the custom firmware has been installed, please follow
ArcTools tutorial to install Android Market
.
After installation, the Market should show most of the applications and the
Market fix procedure
should not be needed.
Release information and version fingerprint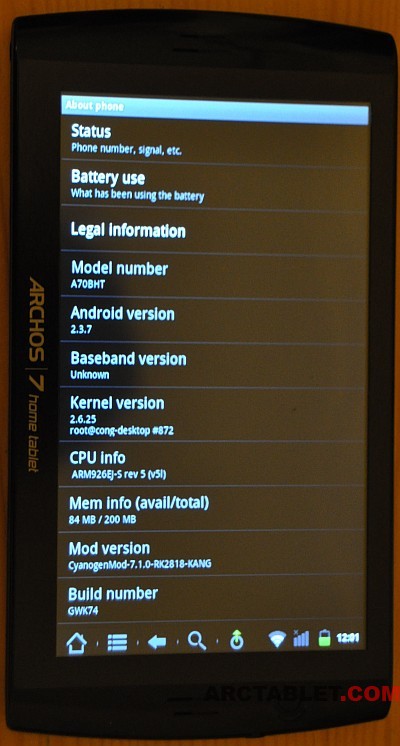 Android version : 2.3.7
Mod version : CyanogenMod-7.1.0-RK2818-KANG

Please use our dedicated forum topic to comment about this firmware.
We will post soon a video of the firmware installation and a quick review.
Thanks again fun_ for your amazing work.