Paris Android User Group (PAUG) organized a conference about Android porting on the 26th October, 2011 near Paris, France. The two invited companies Archos and Parrot presented how they ported and adaptated Android OS to their devices.
In this article, we will focus on Marc de Courville (director of software engineering at Archos) talk about adapting Android Honeycomb framework to the Archos G9 devices.
Here is are most of the key points detailled during Marc de Courville's talk about Android Honeycomb implementation on Archos G9:
The Archos 80 G9 is currently the only 4/3 screen ratio (resolution 1024×768) Honeycomb Tablet on the market
Archos G9 Turbo devices at 1.2 GHz will run on Texas Instruments TI OMAP 4430 CPU
Devices based on Texas Instruments TI OMAP 4460 running at 1.5 GHz will have thermal regulation to maintain performance and save energy while the CPU gets in higher frequencies. Archos already has an experience in that field, when they built fanless Windows devices. Marc de Courville also mentionned that the CPU is running at low speed when playing videos (most of the work being done by the IVA multimedia accelerator part of the OMAP processor)
Archos G9 250 Gb HD versions is the result of Archos long experience in hard disk implementation on PMP and tablets. On the G9 tablet, there will be a 3 millimeters thickness difference between the 250 Gb Hard drive and the Flash versions
Following user requests, the dedicated 3G Stick full size USB port got the USB Host feature enabled, but it is important to note that Archos enforces strong power management policies, disconnecting USB device while in sleep mode.
Archos has made great optimizations on Google Honeycomb code when it comes to memory management. Archos G9 devices are able to run smoothly with only 512 Mb of RAM where all other manufacturers have choosen to provide 1 Gb. With all tasks killed, free memory available to applications is about 230 Mb. There are currently almost no application that would require so much memory
USB Ethernet support was added, mainly to provide smooth 1080p content streaming over the network (WIFI may not provide sufficient bandwith)
Archos multimedia system (AVOS) has been developed for over 10 years, it offers robust support for a broad range of multimedia formats and a real 1080p support, which isn't currently available on Tegra 2 tablets.
a future Archos Remote application update may provide visual feedback of the remote controled device screen


Future improvements:
DLNA server
better MTP support for file transfers with Apple Mac
maybe Android 4.0 Ice Cream Sandwich


Finally, this conference was also the occasion to see one the first appearance of an Archos 80 G9 Turbo at 1.5 GHz, pictured below:

Archos 80 G9 1.5 GHz model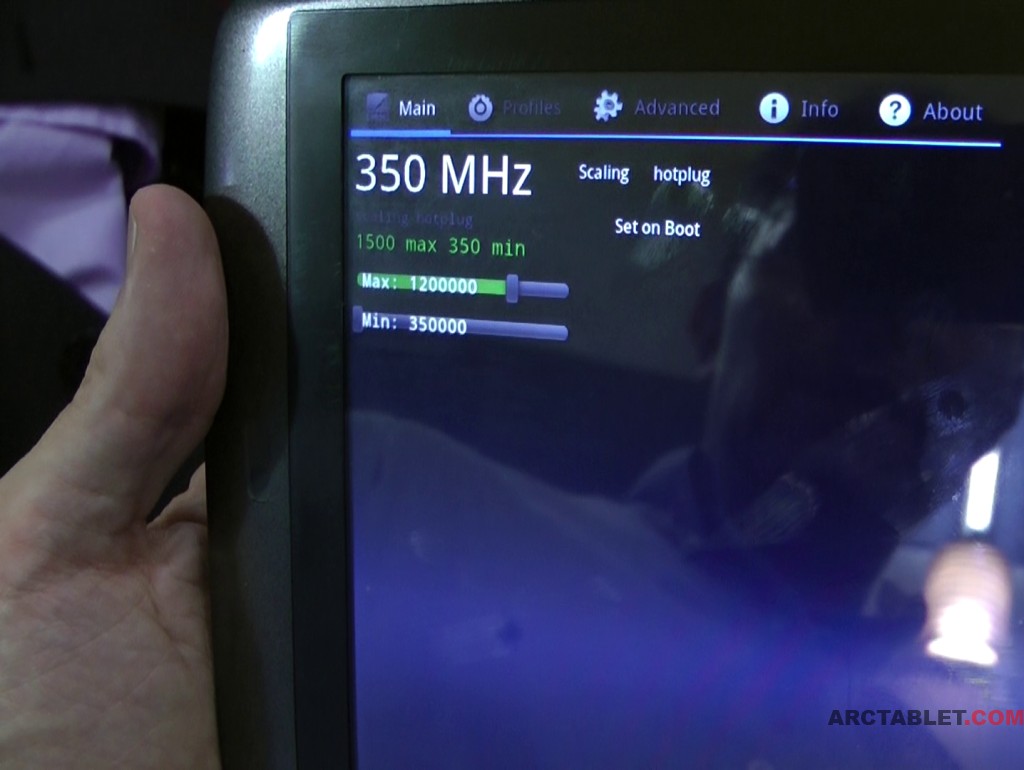 While this conference was given in French, the speaker had some English slides running, we have them copied here for information to our English readers. We will try to update this article in the near future, giving more details on each slide key points. Any help with the conference transcription is welcome, please contact us.
Confence Slides
Archos products history, a culture of innovation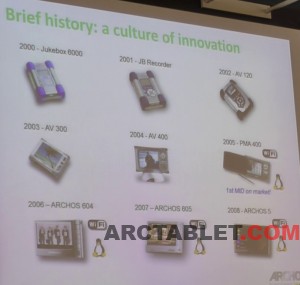 Archos switching to Android in 2009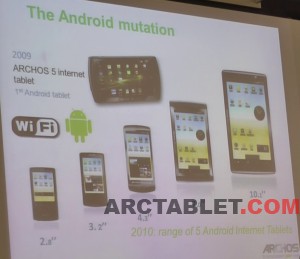 Migration to Android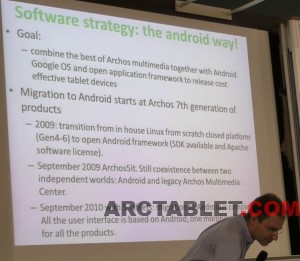 Archos Gen9 (r)evolution
Archos Gen9 models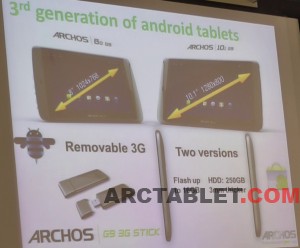 Android Framework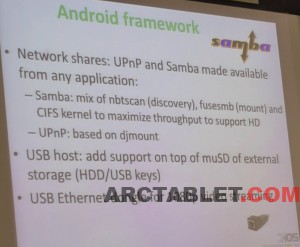 Removable 3G Stick support
Archos Media Center: Audio/Video applications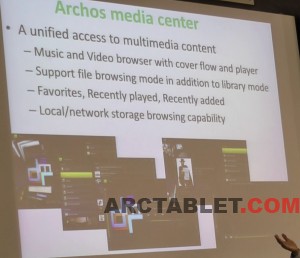 Archos AVOS multimedia engine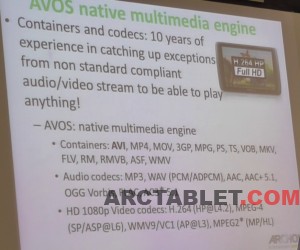 Multimedia subtitles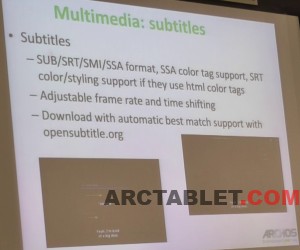 TV/out and Archos remote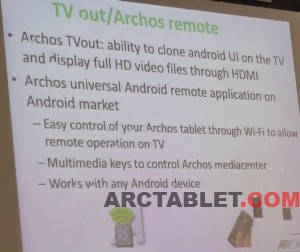 File Manager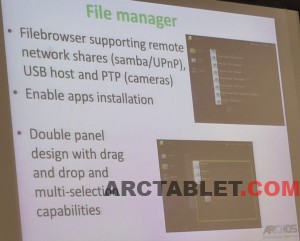 System monitor and uninstaller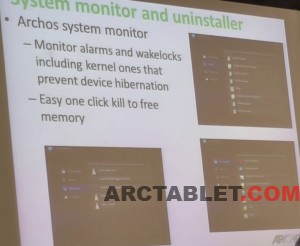 Low power and HDD management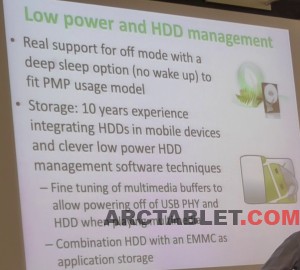 512 Mb RAM onboard, Memory Management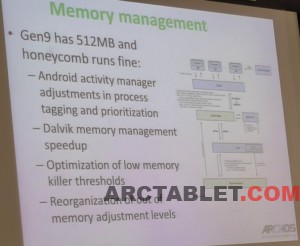 Conclusion and what's next