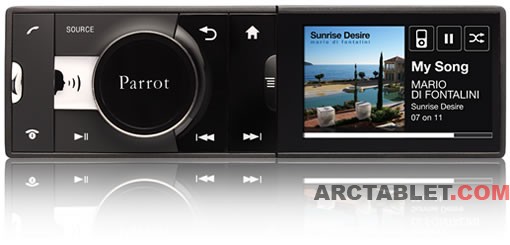 Parrot is a well known french company providing great Bluetooth hands free devices. They also designed the AR.Drone, a quadri copter that can be controlled with an iPhone or Android devices.
Parrot presented Asteroid, a new car stereo at CES 2011 trade show. Parrot's ASTEROID is a Single-DIN car receiver with multimedia connectivity and hands-free capabilities running Android Operating system.
Here are some key characteristics:
– Android 1.5
– 256 MB RAM
– Tuner with with RDS Text+- PS – TP – PTY – RT
– Color screen TFT 3.2' (no touch screen)
– 3 USB inputs so that you can connect in an MP3 player, smart phone, tablet PC or laptop.
– External adjustable double microphone with echo cancellation AEC and Parrot noise reduction NR 3.0
– external GPS receiver thru USB connector
– 3G key (not provided) to enables to online services
– Training-free, multi user voice recognition for Vocal Music Search (Artist, Album), dialing and other system features
– Voice synthesis – Text To Speech
– 4 x 55W built-in MOSFET amplifier
– 6x RCA pre-amp outputs (2 with subwoofer)
The Asteroid is expected to ship by may 2011 with a price of 299 Euros.
Please check Parrot Asteroid product page for more information.