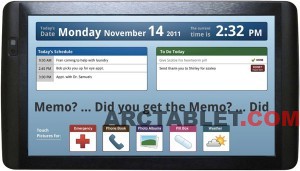 Memo Touch LLC, East Lansing Michigan based company uses Archos / Arnova Android tablets to help short-term memory loss on elders.
The Memo solution was developed with the help of a team of gerontologists (clinicians and researchers) and actual families piloting the product. Read the full Memo story.
The solution consists of:
– a secure caregiver website, for care professionals and family to connect and manage messages, appointments, pills to take, phone List (Emergencies and frequently called numbers), reminders and other information on the tablet
– a customized Memo tablet with application that displays all the information setup from the website, along with
extra features such as a photo Album, weather forecast, it also provides an Help Button to sends a message to the caregiver.
The Memo solution uses an Archos 101 Internet Tablet (Gen8).
| | |
| --- | --- |
| | |
Memo solution pricing is the following: 299 USD for the tablet device, and a monthly subscription of $29 per month for a 6 months subscription or $25 a month for a year subscription.
There is also a 14 days Memo Trial version for the web version part of the the software, see Memotouch website.
Via Engadget, Pictures from Memotouch.com