KINGMAX is about to introduce the first 64GB microSD card, Class 6 at Computex 2011, Taipei (May 31, June 4 2011).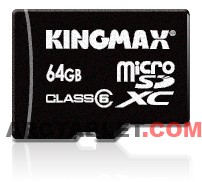 This microSD card is one of the first microSDXC certified cards, it complies with the latest SD3.0 specifications and is compatible with SD Card Association's SD2.0 specification. Expected performance, according to the Class 6 label is read and write data at speeds up to 8 mbytes per second.
Product lifetime is optimized by a built-in Error Correction Code to auto corrects data and using a wear leveling algorithm to allocate information to different sections of the card.
This 64GB microSD card should be presented at Computex 2011 next week, availability and pricing unknown at the moment.
Don't forget to try our SDCard benchmark page and tool, to check the I/O speed of your (micro) SDCard or tablet internal storage and compare it to others.
Thanks to Crunchgear and Frandroid for the news.