Flashing a firmware on your tablet is a simple operation that will provide a system update to your device.
System updates may be supplied by the manufacturer (Archos, Arnova) to correct bugs or implement new features. Community developers that have the knowledge to "hack the device" are also building custom firmwares that provide additional features such as an updated Android Operating System (for exemple Android 2.2 on a device made for Android 2.1), Android Market installation or root (superuser access) for the device.
Flashing a firmware does not require specific knowledge, but you must know the risks and be very careful to flash the right firmware adapted to your device. For Archos 7 HT flashing, please make sure you are flashing the firmware for the right device (version 1 or version 2), both devices look similar but have a different hardware and their respective firmwares cannot be exchanged.
For Gen8 devices, which includes Archos 101, 70, 43, 32 and 28 IT models, Archos provides a unified firmware that is valid for all models.
Automatic Archos Gen8 firmware upgrade
On Gen8 devices (that is Archos 101, 70, 43, 32 or 28 IT), firmware upgrades from Archos should be provided automatically. Few hours after the firmware is released, you will notice a little Archos icon in the notification area. If you click on it, it will download the firmware. When download is complete, you will have to confirm the firmware installation.
Manual Archos/Arnova firmware upgrade
This is a simple process that relies on 3 easy steps:
1.
Connect
your Tablet to a computer thru a
USB cable
,
mount
the tablet drive to the computer
2. On your computer,
download the firmware
you want to install on your tablet device.
Please, make sure the download firmware is the correct one for your device
3.
Copy
the downloaded firmware to the
root of your device
4.
Run the firmware upgrade procedure
on the device, this usually happens as an autorun when you disconnect your device from the USB connection to your computer.
On generation 8 devices, a screen like that should show up: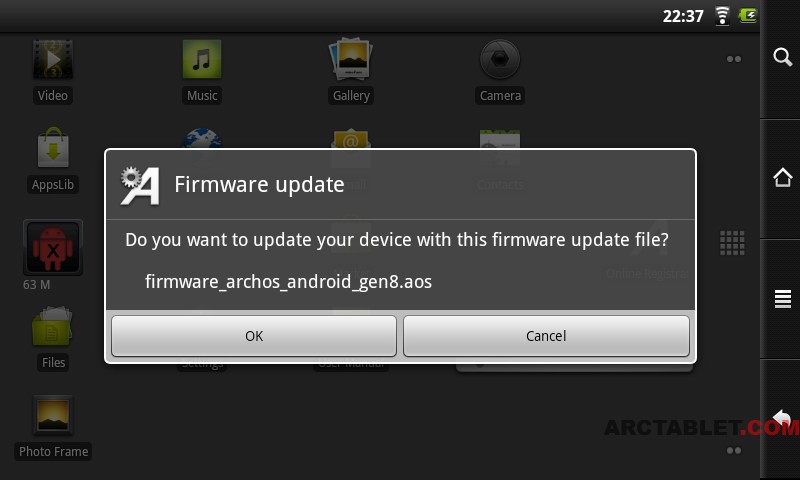 On other devices, the screen should look like the following: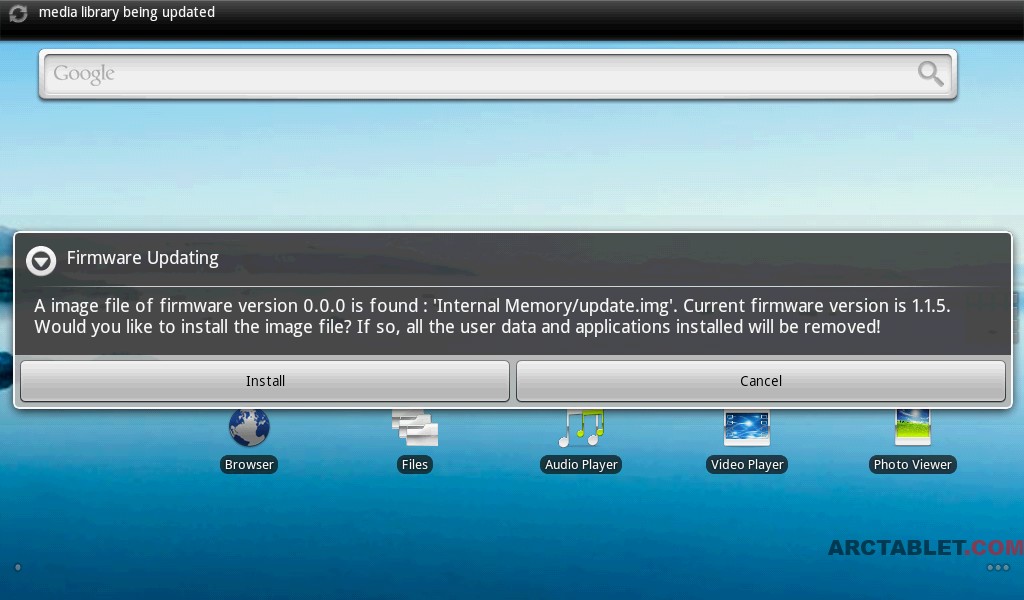 Other options
For Rockchip based tablets (Archos 7 and 8 HT and Arnova line), there are other flashing methods. These require a little more attention, but may help to save your device if it looks "bricked" and does not boot after a flashing failure.
For Archos Generation8 devices, you can use the bootloader to flash a firmware