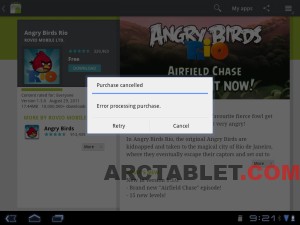 Many Archos G9 users are reporting a major problem with the Android Market: when selecting a new application to download, the message from the picture above is returned: "Purchase canceled", "Error processing Purchase" with two buttons: "Retry" and "Cancel". Doing retry loops indefinitely to the same error.
According to Archos staff on Archosfans.com forum:
Each firmware of Archos gen9 devices are certified by google and is white listed for full market access. We are currently investigating the current issue reported in this thread.
We haven't been able to track down the exact conditions of this issue, but it seem related to one or combination of the following:
– multiple devices registered on Android Market with the same Google account
– side load of purchased apps without using the Market.
Fixing Android Market by installing Market 3.1.5 update
Edit 2011/10/19: Another update from Archos Worldwide Facebook page: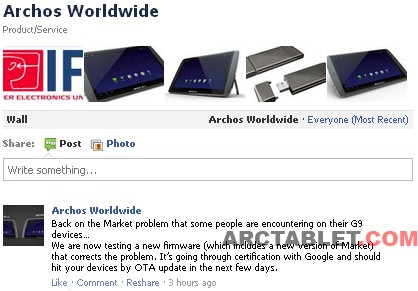 Back on the Market problem that some people are encountering on their G9 devices…
We are now testing a new firmware (which includes a new version of Market) that corrects the problem. It's going through certification with Google and should hit your devices by OTA update in the next few days.
Edit 2011/10/18: Archos Worldwide is giving the following fix on their facebook page: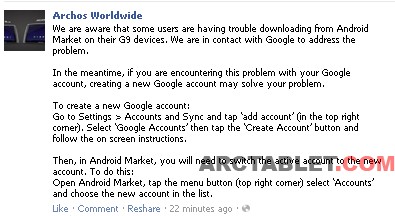 We are aware that some users are having trouble downloading from Android Market on their G9 devices. We are in contact with Google to address the problem.
In the meantime, if you are encountering this problem with your Google account, creating a new Google account may solve your problem.
To create a new Google account:
… Go to Settings > Accounts and Sync and tap 'add account' (in the top right corner). Select 'Google Accounts' then tap the 'Create Account' button and follow the on screen instructions.
Then, in Android Market, you will need to switch the active account to the new account. To do this:
Open Android Market, tap the menu button (top right corner) select 'Accounts' and choose the new account in the list.
Older fix by installing Market 3.1.5 update
For reference, we are also leaving the older procedure, which did not prove to be 100% reliable.
Thanks to 80g9 and tony72 users on Archosfans.com forum there is a fix to recover a working Android Market, you need to do the following (at your own risks !) :
First, you may want to remove the Android Market shortcut on your tablet home screen, as you would get two Android Markets icons on your device when the new Market install is finished. On the home screen, apply a long press on the Market icon until a trash appears at the upper right corner — then drag the icon over to the trash.
Download Android Market 3.1.5 update
Run the file to install the APK on your tablet. It will ask to replace the application, click Yes.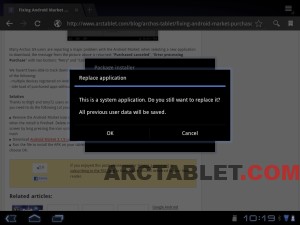 Then it will ask to Install the Application, click Install: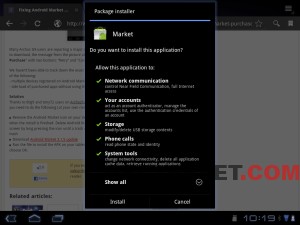 Market is installed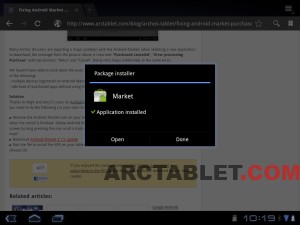 Please note that using this fix will get you a second Android Market installed.