It seems everything is back to normal and Google issue has been solved.
See our Update3 below.
You may get an error "Can't establish a reliable data connection to the server" after installing Android Market thru ArcTools. We are trying to fix this problem as soon as possible.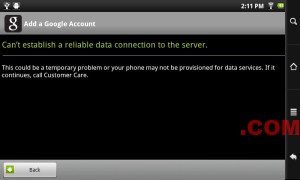 Update3: Google seems to have fixed the issue. Our test devices and accounts got back their access to Market and everything seems to be back to normal. Please let us know in this article comments if it is working for you as well.
Update2: Known solutions does not seem to work. We had failure with: resetting the Android device and reinstalling, Clearing cache and data for Market application, authentifying thru Youtube application, and deleting data/data/com.google.android.providers.settings/databases/settings.db
We are looking for other options…
Update1: It seems that part of the problem comes from Google servers as login is refused in any case (even if you supply an incorrect password). A quick log of the error shows the following:
E/vending ( 1571): [16] AccountManagerHelper.getAuthTokenBlocking(): no matching accounts for ANDROID
E/vending ( 1571): [16] UpdateTask.doInBackground():com.android.vending.api.FatalCommunicationException: Sent a bad request.
I/CheckinService( 1496): Preparing to send checkin request
I/EventLogService( 1496): Accumulating logs since 1297792633384
V/CheckinRequestBuilder( 1496): pre-froyo android id is 0
I/CheckinTask( 1496): Sending checkin request (812 bytes)
D/dalvikvm( 1496): GC_FOR_MALLOC freed 8989 objects / 675424 bytes in 57ms
E/CheckinTask( 1496): Checkin failed: https://android.clients.google.com/checkin (request #0)
E/CheckinTask( 1496): java.io.IOException: Rejected response from server: HTTP/1.1 404 Not Found
E/CheckinTask( 1496): at com.google.android.gsf.checkin.CheckinTask.parseResponse(CheckinTask.java:298)
E/CheckinTask( 1496): at com.google.android.gsf.checkin.CheckinTask.sendRequest(CheckinTask.java:246)
E/CheckinTask( 1496): at com.google.android.gsf.checkin.CheckinTask.doInBackground(CheckinTask.java:146)
E/CheckinTask( 1496): at com.google.android.gsf.checkin.CheckinService$1.doInBackground(CheckinService.java:221)
E/CheckinTask( 1496): at com.google.android.gsf.checkin.CheckinService$1.doInBackground(CheckinService.java:228)
E/CheckinTask( 1496): at android.os.AsyncTask$2.call(AsyncTask.java:185)
E/CheckinTask( 1496): at java.util.concurrent.FutureTask$Sync.innerRun(FutureTask.java:305)
E/CheckinTask( 1496): at java.util.concurrent.FutureTask.run(FutureTask.java:137)
E/CheckinTask( 1496): at java.util.concurrent.ThreadPoolExecutor.runWorker(ThreadPoolExecutor.java:1068)
E/CheckinTask( 1496): at java.util.concurrent.ThreadPoolExecutor$Worker.run(ThreadPoolExecutor.java:561)
E/CheckinTask( 1496): at java.lang.Thread.run(Thread.java:1096)
I/ActivityManager( 1320): Starting activity: Intent { cmp=com.google.android.gsf/.login.ShowErrorActivity (has extras) }
I/SurfaceFlinger( 1320):
I/SurfaceFlinger( 1320): SurfaceFlinger::createSurface() : layer->mIdentity=100, LayerName=com.google.android.gsf/com.google.android.gsf.login.ShowErrorActivity