Discussing Archos #5 is the fifth article in the series.  Discussing Archos articles will be about minor Archos announcements, new rumors, successes and epic fails. After you read it, please don't forget to leave your feedback below or in our forum – we will try to improve the Discussing Archos articles in that way, that the arctablet community will enjoy it more and more.
The last few weeks many things happened. We had the April fools day(yes, we will discuss it too), we had the Archos Q1 results and we had the JXR stock price crashing after that. Discussing Archos #5 is nearly as long as the #4, so take your coffee and read on. 😉
Interest in Archos
Just look at this nice infograph we created with help of Alexa, it shows the amount of people visiting Archos website: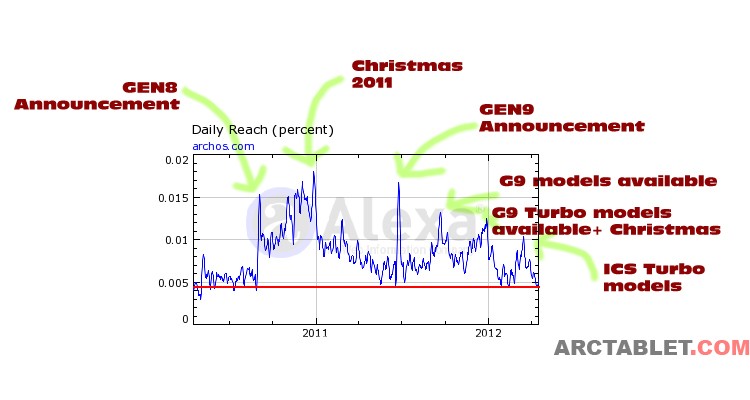 The good days for Archos returned in August 2010, with the announcements for the Gen8 devices. The traffic nearly doubled and we had a nice peak during the Christmas sales(unfortunately, not all Gen8 tablets were shipping at that time). After that, it slowed down, partially due to the fact that Google came with Honeycomb and dual-core tablets hit the market. Archos was a little bit behind Motorola and Samsung and they needed to do something. 23th of June, the 2011 D-Day for Archos. We had the Archos Gen9 announcement then, great work from Archos marketing team, we had another splash, the highest stock price a few hours before the conference and so on. Everybody was happy. By announcing the Gen9 devices two months in advance, they succeeded to keep the traffic at the same level and have their public keep interest on their products. I am not going to judge whether it was a good idea of them(announcing tablets two months in advance, or even earlier, the Turbo models followed later), I only think that they could just announce the Home devices at that time. Another thing you can see on the graph, is the fact that during the Christmas sales, it seems that the attention on Archos had decreased. The main point of the infograph that in first 3,5 months of 2011, there were a little bit more people visiting the Archos website than there were in the same months in 2012. The website statistics don't fully reflect the sales numbers, but there is some relation between them.
Popularity of Arctablet
While we were preparing the Archos interest part, we decided to have a look further on Alexa and see how popular our blog is. Well, we are popular. According to Alexa, at least.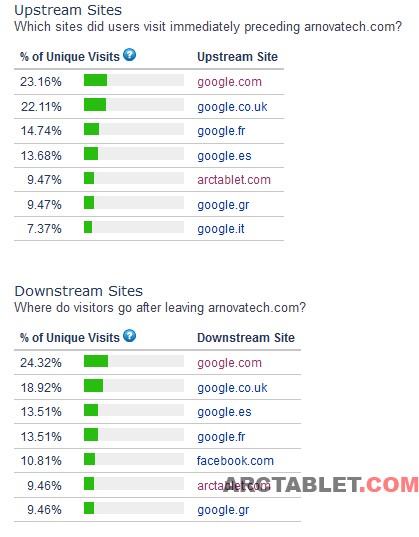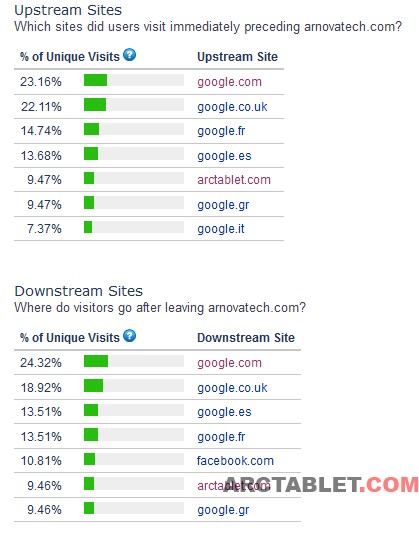 Serving more than 100.000 visitors per month, 100.000 youtube views per month and more than 8000 posts on our recently opened forum. According to alexa, we are getting more visitors than the official Arnova website.
Archos Q1 results

According to their own press release, the turnover was increasing in the first two months of 2012(compared with the same one for last year), but slowed down in March. Actually, March was the month when the Turbo ICS models became available. Again, according to their press release, in the first two months of 2012, they had 20% market share in tablets market under 400EUR in Europe. This is probably lower in March. For your reference, they had 24% over the whole last year. We will need to wait for Q2 numbers to see if Archos can continue its recovery. For now, it is unclear whether the Turbo ICS models are a success or not. Let's look closer to what Archos has facing in the last months.
What could go wrong, went wrong.
The situation with the G9 line-up looked like somebody was just throwing sand in the Archos wheels. It started with the bubble thing on the 80G9, the problems with Android Market, the Wi-fi problems on Honeycomb and now also on ICS. The Turbo models were delayed, probably due to problems at Texas Instruments processors supply and so on. It got some bad reviews from the press and those problems cut the enthousiasm for the new, G9 models. However, it looks like it is settling down now a little bit. The 1.5Ghz Turbo models with 1 GB RAM are shipping, the 4.0.6 Test2 firmware seems not to have any serious bugs and the media seems to be positive about the newer G9 models. Unfortunately, it comes a little bit late now. Like Archos said in their Q1 sales numbers press release, the release of the iPad 3 and the price drops for the Asus and Samsung models, made the Archos models less interesting.
At the beginning of 2011, Archos released a nice product. It was called the Archos 70b eReader. I don't know the exact amount of the eReaders they sold, but when you type "Archos 70b eReader" in Google, you get 940.000 hints. Pocket-lint said the following about this device: "The build and materials leave a lot to be desired and the screen isn't the greatest by a long shot. But the Archos 70b sort of succeeds in being a jack of all trades: it masters none, but we can see that its skill set will appeal to some at this price. " Many people, looking for a budget eReader with some additional functions, bought it. They were not looking for high-end specs and most of them, didn't check the Archos website page each and every day to see whether there was an ICS update available or not.  You can read the full review here if you want.
In the meantime, Archos decided it was time to split the Archos devices in Arnova and Archos products. The successor for the 70b eReader, the 70c eReader with RK2918 CPU, 512MB RAM and Dual-touch screen, was called an Arnova 7e G2 DT. Selling for 80EUR, it should be a good eReader/tablet device for people not wanting the latest technology. Archos decided not to push it and what is the result? It does not seem to be selling well (my guesses, based on the google hints). When you search for it on google, you get less than 100.000 hints. I think it is a shame for this device. Yes, it doesn't have PixelQi, but it is really not that bad.
Archos Stock price
You could see above that starting in january 2012, we have a negative trend related with the amount of people visiting the Archos website. The same is with the Archos stock price:


In blue is the stock price in 2011-2012, in red the stock price in the same months in 2010-2011. You can see that in April 2012, the stock price is for the first time lower than it was in April 2011. Actually, it is also lower than the stock price in Mid-April in 2010. The stock price drop may come from disapointment from the investors on Archos Q1 results. The drop in USA sales probably comes from Amazon and Barnes&Noble which sold a few millions of their 199$ 7″ tablets.
April 1st, Archos has everything
On April fools day, we are getting a lot of jokes from Charbax of archosfans.com. Each and every year, there is one about Archos. In 2011 and 2010, the jokes were about new firmwares for Gen7 and Gen8 devices. Here is one for the Gen8:
Firmware 3.0.01 – download (84.2MB)

Changelog:
– Up to 12mbit/s 720p MKV now streams perfectly over Samba/Upnp
– Google Voice on VOIP included for international use (free unlimited calls to all phones worldwide!)
– Flash 10.2 certified
– Bluetooth VOIP remotes/headsets now supported
– Google Marketplace now officially included, Archos tablets now officially supported by Google
– All future firmware upgrades handled automatically through Google Marketplace
– GPS sync through Bluetooth and WiFi tethering now supported
– Chrome browser performance in Gen8 Honeycomb as fast as on a laptop in HDMI output mode
– USB 3G modems now supported
– Gen8 owners get -20% rebate for Gen9 purchase, -50% rebate on trade-in upgrade
– Keyboard Dock now available for all Gen8 sizes, turns your Gen8 into a fully featured laptop!
The one for the Gen7 was not much different. And what is the joke in 2012? In 2012 we already have the latest Android OS(Ice Cream Sandwich), 3G dongles are supported and the G9 tablets are Google certified. There is not much more you can wish of. 🙂 So, Charbax decided to dream of newer Generations, you can read the joke for this year here.
Archos = Logitech
Ever heard of Logitech? There is a big chance you are typing on a Logitech keyboard, you are using a Logitech mouse or that there are Logitech speakers in your living room. So, what does Logitech have to do with Archos? Well, Logitech's keyboard dock for the iPad looks like the Archos one for the Gen10: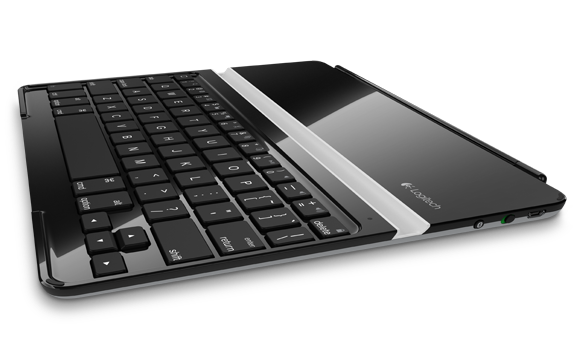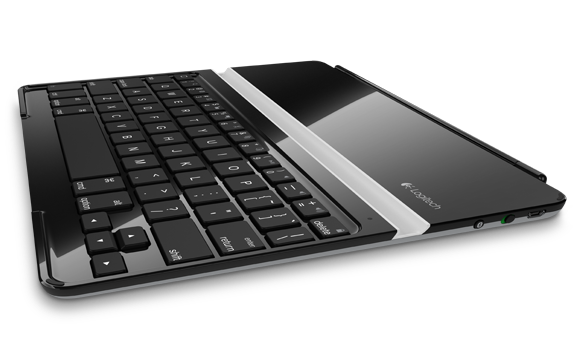 The first similarity is the ultra-thin design of both docks. Archos said their keyboard dock will measure 4mm, no word is given about Logitech, but my estimates are that it is about 5mm. Another similarity is the lack of the touchpad.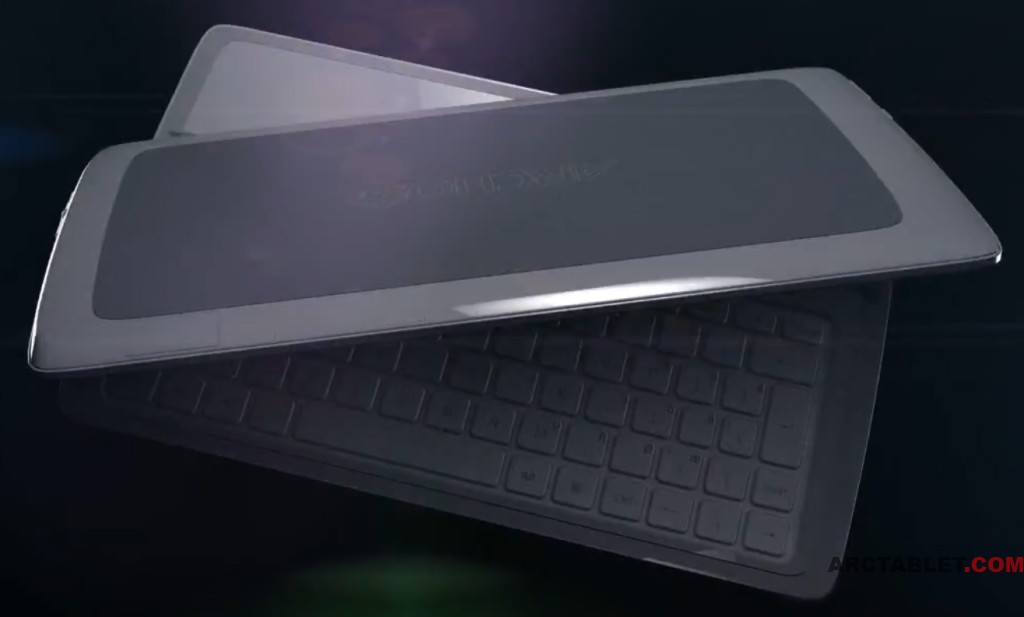 The Asus Transformer Prime, for example, does have a touchpad on its keyboard dock. On the other side, the keyboard dock like the one from Logitech or Archos, is more compact(we left the part which is located behind the tablet out, because you don't see it when the tablet is in the dock) which seems to be better for tablet usage. The Prime a-like dock suggests you are using a netbook instead of the tablet. 😉 Still, the Asus Transformer Prime is one of the most popular Android tablets on the highend market.
I wanna game
In an interview with the "Le nouvel economiste", Henri Crohas, the CEO of Archos, said that that Archos is coming with a tablet-based game console soon. Henri Crohas said this will be the first Android game console, certified by Google. What does that mean? It means it won't probably be Arnova branded, because all the Google certified devices are the Archos ones. It means that this game console will be an reasonably high-end one, not like Child Pad. Henri Crohas believes that the market for the classic game consoles(like the Nintendo DS and Sony PSP) will eventually be overtaken by tablets. While it is great that Archos is coming with a portable game console, I wonder which GPU it will have. So far, Archos has been using Rockchip and TI OMAPs CPUs which are good in decoding media, but they do have weaker GPUs. An Android tablet can't catch the PSP Vita when it comes to GPU power and there are not many HQ games for Android platform. It is very daring from Archos to bring out an Android game console on the market, but we will see. It is possible that this game console will be called the Archos Ludo, Archos Ludo was found earlier in Archos kernel code. Just to give you a feeling of what you can possibly expect, Charbax from Armdevices.net showed a bunch of Android game consoles in one of his last videos:
Additional sources:
archos.com traffic data – alexa.com
arctablet.com traffic data – Google Analytics
archos stock price – Google Finance
Thanks to archoslounge.net for the Henri Crohas interview tip!