Discussing Archos #4 is the fourth article in the series.  Discussing Archos articles will be about minor Archos announcements, new rumors, successes and epic fails. After you read it, please don't forget to leave your feedback below or in our forum – we will try to improve the Discussing Archos articles in that way, that the arctablet community will enjoy it more and more.
Todays one will be a long one, so take some cookies, a cup of coffee and enjoy. 😉 Archos financial results, Archos financial results, Archos financial results, Archos financial results. And some other stuff, too, just to make it a little bit less boring for you. Still, nearly the whole article will be about Archos 2012 strategy and their financial results. Most people(and investors) were expecting a little bit better results(especially, if we look at Archos stock price which first went downwards, but now seems to be recover), but I think Archos did quite well last year. There will also be a little bit of speculation in this article. 🙂 Well, enough of preparation – read on! Already have your coffee?
Archos Financial Results
Of course, what else? In 2011, Archos said they wanted to have 5% of market share of tablets under 400EUR. Well, Archos said that it was not a forecast, just an evaluation of their business model based on Archos taking 5% market share in the market of tablets below 400EUR. Probably, their whole marketing strategy was based on achieving that 5% market share. Well, they achieved much higher market share(if we look at Gfk market analysis which Archos is also using), but the market turned out to be smaller than they expected back in March 2011.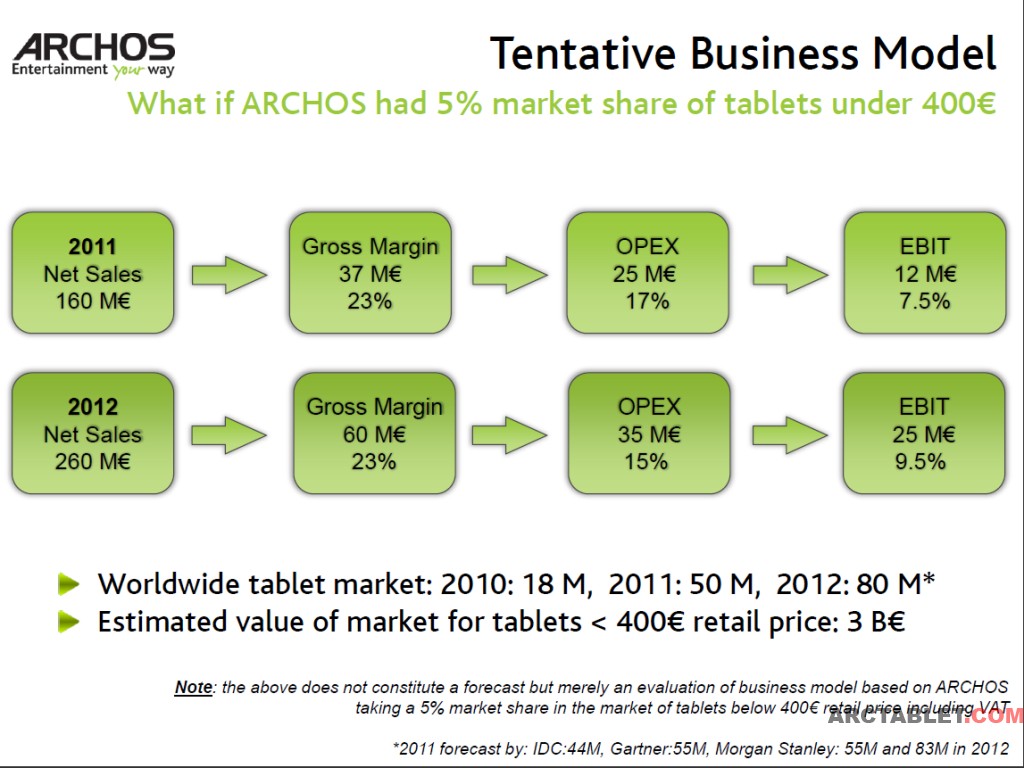 In February, they announced that their net sales were 170 million with 24% market share in Europe for tablets under 400EUR market. I am sorry about my mistake in DA#2 – I didn't read their financial results article correctly – they were talking about 24% market share in Europe, while I thought they were talking about worldwide results. Again, I take my words back and apologize for that mistake. In Discussing Archos #2 we spent a lot of attention on their tablet sales and according to my calculations, they should have sold about 1.2 million units. I was not right, they sold 1.6 million of them: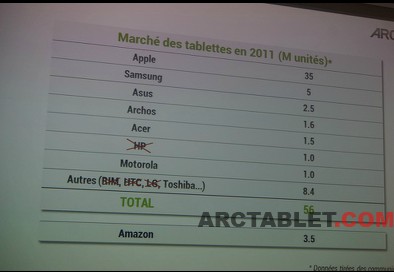 Well, 150 million come from their tablet sales. 150 million / 1.6 million tablets sold by the Archos group = average 93,75 EUR / tablet. Of course, in that numbers are tablets put with a price tag of only 120EUR (for instance, Arnova 7 G2). A thing we shouldn't forget that in the first months of 2011, we didn't have Arnova tablets yet. Back in Q4 of 2011, we didn't have the 80EUR Arnova 7e G2 and we didn't have 99EUR Arnova 7b G2. There was an 99EUR Arnova 7 G1, but the Gen8 and Gen9 tablets were much more popular. We can see that in some financial numbers – the Arnova turnover was (probably) 30 million dollars only.

I really wonder how they can produce tablets so cheap. Just for your reference, in Q4 2011 Sony Ericsson on average got 143EUR per phone.
Archos Financial Results
Just after the results presentation, Atlantico came with a bit pessimistic analysis of Archos strategy. To make the long story short, they said Archos doesn't have enough money to innovate and that there is little space for Archos to grow much. Well, I completely disagree with them. There is plenty of room for them to grow. Not in France, but Archos is not really present in other markets yet and I think that is one of the ways to go. In Europe they have 24% market share(again, in tablets selling below 400EUR), but what about the rest of the world? There are around 20 million tablets sold under 400EUR(actually, that number could be a little bit lower, I don't know the exact numbers), Archos sold 1.6 million. 1.6/20 x 100% = 8% market share in the whole world. So, if they can triple that number(for example, by offering the 4G sticks in USA), they will be able to sell three times more tablets than they sold in 2011. Another thing not to forget is that tablet market is becoming bigger and bigger, in 2012 the analysts expect there will be 100M tablets sold, nearly two times as much as in 2011.
So, if Archos would have 24% market share of tablets under 400EUR in the whole world in 2012, they would sell 12M of them. There is only a small chance that this could happen , but like you now can see, there is enough room for Archos to grow. There are also some hints that Archos is changing their marketing strategy, we will talk about it later in this article. Another thing I would like to mention, is the amount of cash Archos has:

Archos decided not to make the English version of the graph and I don't have enough time to translate an 108 pages pdf file using Google Translate(my French is no good at all), so I can't give all details. The bank loans are lower, the Echostar loan that Archos had was reimbursed in May, 2011 and there is much more normal "cash". To make the long story short, the Archos Group(we will talk about "the group" later in this article) should have enough money for research&development.
Archos – la technologie magique
When the Gen9 ICS Turbo tablets came available in Archos Store, I already suspected something was wrong. I just couldn't believe they could be available so fast, the ICS firmware was released only two days before the Gen9 Turbo ICS tablets came available. And what is the result? When the first buyers unpacked their new tablets, it turned out that the tablets shipped with Android 3.2 and in the settings, it showed 512MB RAM available. However, when you updated it to ICS manually, it eventually showed 1GB. Probably due to kernel limitations, it was not recognised correctly on Honeycomb. Fortunately, there are no heart attacks registered froms users who bought the ICS Turbo devices.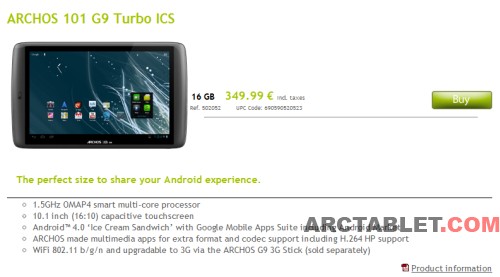 Archos North America said about this issue the following:
Yes, Honeycomb can only use 512mb. ICS can use more (just like Windows 7 32bit VS. Windows 7 64bit)
BTW, the 101G9 Turbo with 1GB RAM was selling for only 259$ on woot. It was also selling there two months earlier with 512MB RAM for 279$. Lucky Americans. 😉
Thanks to jbmm and xda for relieving this information.
Archos Financial Results
I have to admit Archos is good in marketing.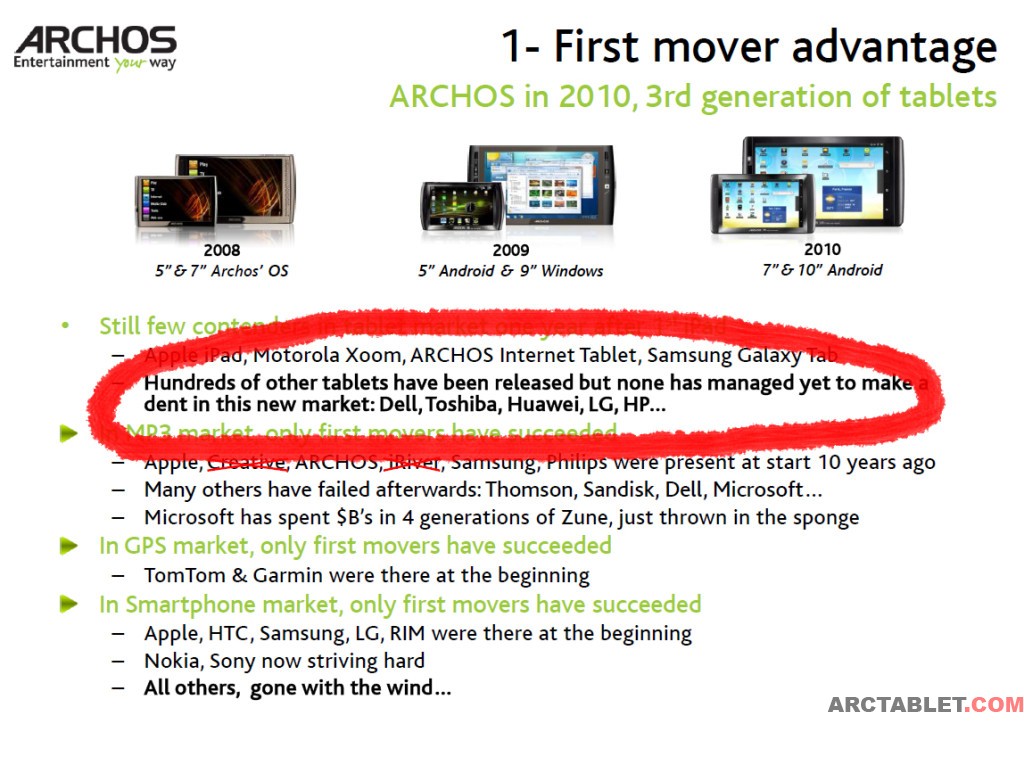 The image from above comes from March 2011. Back then, nothing was clear about the Touchpad sales, the Dell was rolling out a new 7″ tablet and LG had the ""first eva" 3D tablet. Toshiba was trying hard, but eventually didn't succeed. We will talk about Toshiba and Archos later. Unfortunately, the last part of the slide is not completely accurate , but still, Archos succeeded to predict the tablet market.
Archos Gen10 xs range

Why is the Gen10 7.6mm thick? Well, because Toshiba AT200 is 7.7mm. 😉 Big difference? No, but Archos has the thinnest tablets on earth. They wouldn't have them if they would release the Gen10 xs range with 7.7mm thickness. Back in June 2011 Archos had the fastest tablets on earth, but when they became available, there were(in theory) faster tablets on earth(Transformer Prime). Let's hope the same won't happen this year. Because Toshiba used the normal aluminium structure(there are a lot of problems with the AT200, but we won't focus on that as we mainly discuss Archos news here), it seems to be a matter of time before Samsung, Huawei or some other company will come with even thinner tablets. Fingers crossed for Archos.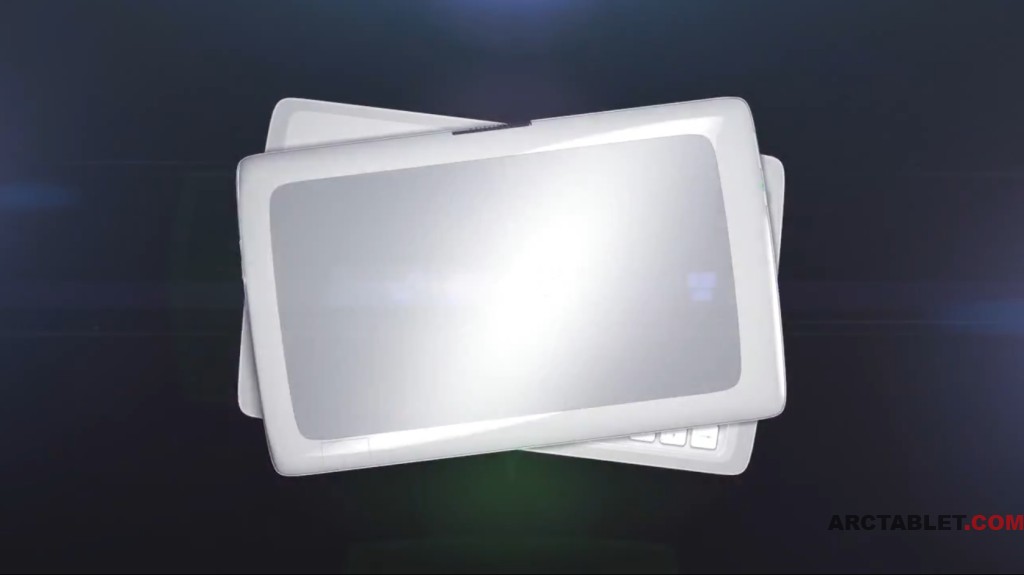 Archos Strategy
Archos is in the same situation as HTC was a few months ago. We spent quite a lot of attention to it in Discussing Archos#2. Well, things changed since then. HTC decided to turn around and came up with a completely new ONE line-up. What did Archos do? They decided to open fire with a huge load of Archos tablets to be released in 2012. While they showed the complete Arnova G3 line-up we leaked a while ago(we are really sorry for that, Archos), they decided to add a few others to that line-up. The one on the picture below may become the cheapest tablet Archos Group has to offer: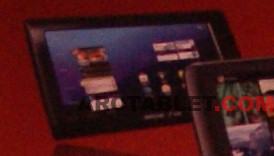 If Archos manage to sell it under 75EUR(Archos promised us tablets starting at 50EUR, capacitive ones from 70EUR); it should become a nice tablet.  On the bright side, Archos is changing. Archos is going colors. They decided to come back to white tablets, their last one was the Archos 9 running Windows 7 from 2009 which didn't even go in mass production.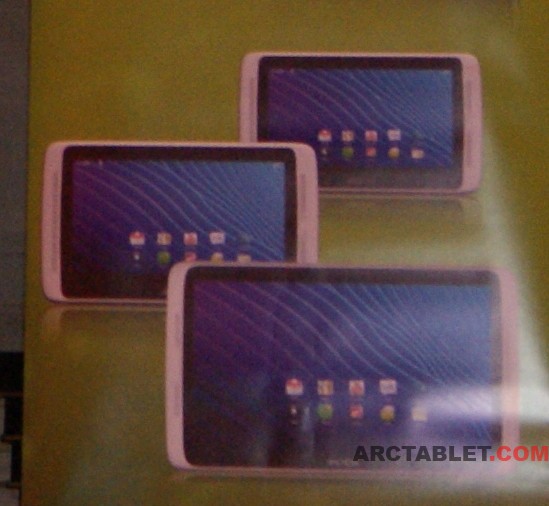 Just look at that! They look nice, they are white and they have proper speakers! And they are Google certified, of course. I really hope Archos will put TI OMAP4 cpus in these, so they will be able to use the slightly changed G9 firmware for it and just leave the awesome AVOS inside. Still, Archos is going colors.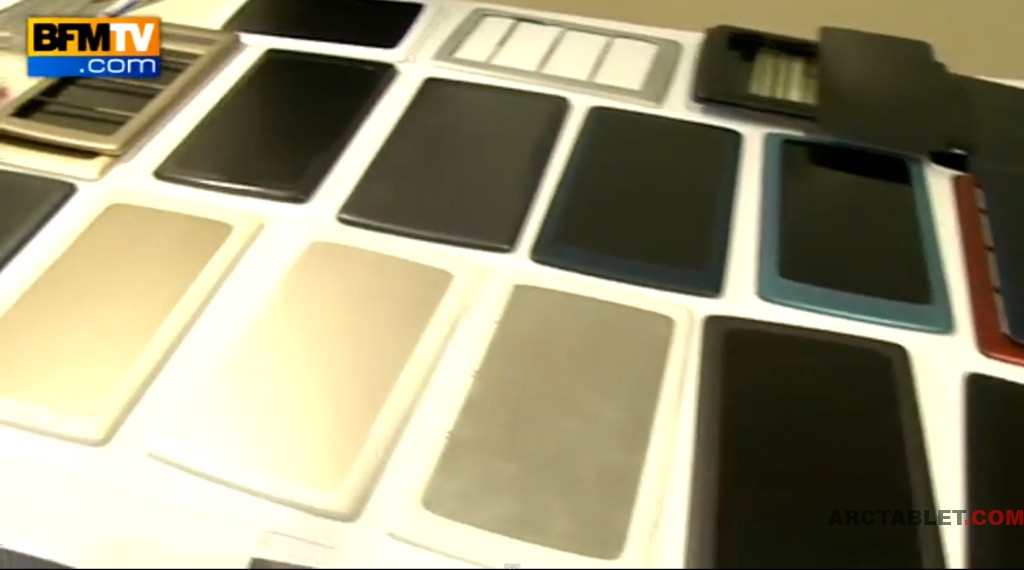 Picture from Archos HQ video (BFM TV France)
By doing that, Archos is slowly going into the premium tablet market. No, they won't offer 10 colors for the Gen10 range, but at least, they are experementing with them. Perhaps they will offer 2-4 or something. My guess is that the 101 G10 (or whatever they will call it) will start at 299EUR. That is the same price as the Gen8 and Gen9 tablets from past years. However, while the Gen8 went only up to 349EUR(101 IT 16GB), the G9 went up to 449 EUR (101G9 250GB + 3G), I expect the Gen10 range to follow the same trend. 8/16GB could be starting at 299, 16/32GB at 349, 32GB+3G for 420-449. And then we would have the keyboard dock, for 50-100EUR extra.
Archos is also going into home automation. In their financial release, they are talking about a fourth screen for your home – for watching tv and doing everyday tasks. We will see how this mysterious device will turn out. Possibly, this device will run Android with a framework like Android@Home, Archos is still looking for new markets where on they can put Android OS.
Archos ≠ Arnova
Archos loves to mention that the Arnova is a separate company, doesn't have anything to do with Archos itself and that they only help a little bit with the design. That's true: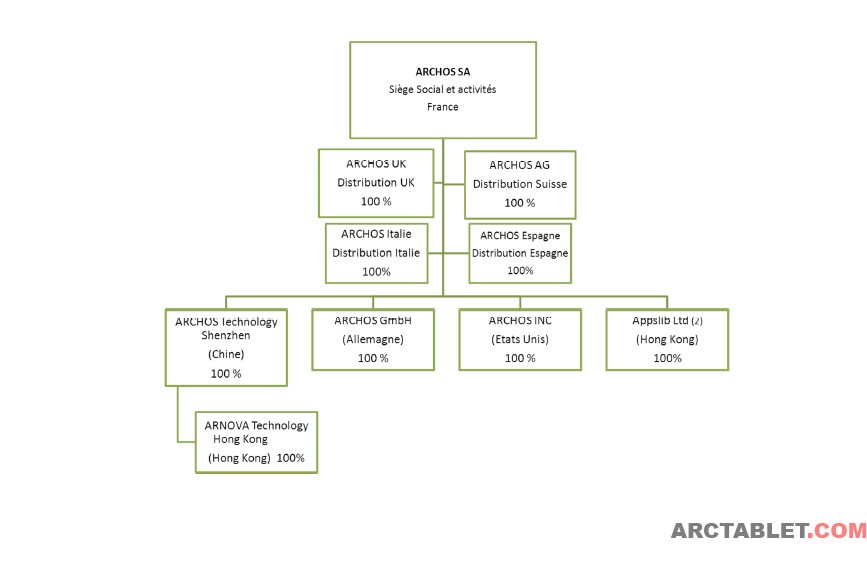 Before March 2011, it was called Archos Technology Hong Kong, so it definetely has Archos roots.
Archos Resources
As of 31 december 2011, Archos had only 199 employees working for them, at the following locations: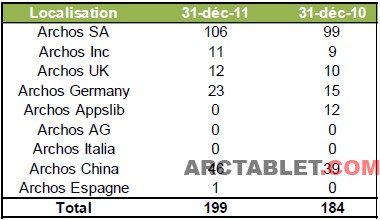 It still fascinates me how much Archos can achieve with not so much resources (people/money).
Appslib Results
While Appslib company has currently no employees, they achieved quite nice turnover in 2011(compared with 2010 one).

Divide that number with 10 (HKD/Euro conversion) and you will get the results in thousands of euros. This one is an interesting one. Appslib managed to achieve an high margin, though they only keep 30% of the income they get from selling apps. They didn't sell much apps, either – the most popular apps are sold between five and ten thousand times. A big part of their income comes from partnerships with other brands – NAXA, 3Q, COBY etc.
Thanks for reading! Don't forget to leave a comment below. 😉
P.S. The most information stated here comes from Archos Financial Results document. If you find any information that is incorrect, please don't hesitate to contact us. It is not our intention to provide incorrect information in favour of any company and we are not responsible for it.