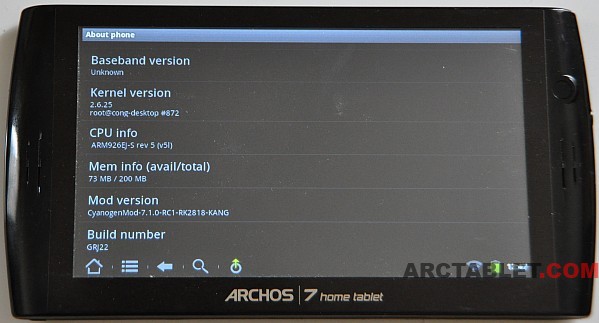 Thanks to fun_ and geoRG77 from androtab.info and other users from xda-developers.com, there is an unofficial CyanogenMod7 port currently being built for Rockchip RK2818 CPU based tablets.
That would help to offer a proper Android 2.3 (Gingerbread) to most Archos and Arnova devices using the Rockchip 2818 CPU, namely Archos 7 HTv2, Archos 7c HT and Arnova 7, Arnova 8, Arnova 84, Arnova 10, Arnova 10b. So far, this custom Gingerbread firmware has been reported to work on an Archos 7 HTv2
Current port status and limitations:
working: audio, internal flash, sd card, touchscreen, wifi, accelerometer, Google Apps and Market (thru CM7 archive)
not working or partially working: hardware accelerated video, and many things which you expect to work
Considering these limitations, it is clear that this firmware is not currently ready for public usage and is still undergoing heavy development. We will ll try to provide a test and some screenshots/videos and keep you updated with the progress on this firmware.
Screenshot of CM7 port running on an Archos 7HTv2: