Wanted: testers with the following setup: Archos 28 IT (any firmware version), Archos 101 IT (1.x or 2.1.x firmware) and overclocked devices 1100,1280 Mhz (with custom firmwares). If you have such setup, please help us to complete with your data.
Many users in forum reported a limited battery life on new Archos 70 IT 250Gb HD (70H) compared to other models. We are setting up a test platform to independantly check the battery life for all Archos Gen8 models.The first test consists of repeatdly playing a video on the device. This exercises the storage (memory or hard disk). We have developped a specific tool that monitors the battery level and reports it to our site. Initial results are internaly maintained, but everybody is welcome to contribute with their device. The objective of the test is to leave the tablet run the application, send battery usage information in background, and let the tablet die out of battery.
Battery test results for scenario 1: "
Big Buck Bunny" video
(refreshed every 5 mins)

Test conditions:
– machine started after a fresh reboot, please avoid task killers as they may stop ArcTools to work after a while
– tablet fully charged (power LED on the tablet should be blinking) and disconnected from power supply
– firmware speed set to optimal
– media sound volume set to half (Settings/Sound/Volume, set Media bar to middle position)


– default test scenario (Video test "Big Buck Bunny")
– movies "Big Buck Bunny.avi" plays from /storage/Video (that is system memory or harddisk, not external microSD card)
– display brigthness to middle setting (see screenshot)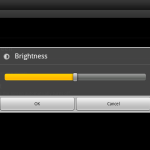 Side notes:
There is a little energy lost while the battery level is transfered to our website every 60 seconds
If you want to contribute, be sure that you reproduce the test system.
You will need ArcTools version 0.47 or newer.
– charge your tablet to 100%, start ArcTools
– go to Tools tab, fill in your username, leave test scenario to "Video test Big Buck Bunny" and push Start button.
– go to media Player to play "Big Buck Bunny" repeatedly. (push Menu button while video plays, then settings then Play Mode to change to "Repeat single"
– (if you haven't kept Big Buck Bunny video, you can download it from here (choose 1280×720 version))
– let the video run until the machine has no battery, don't touch anything while the video is played.
You battery stats should appear on this page after a 15 minutes.
---
Other tests results, for information: