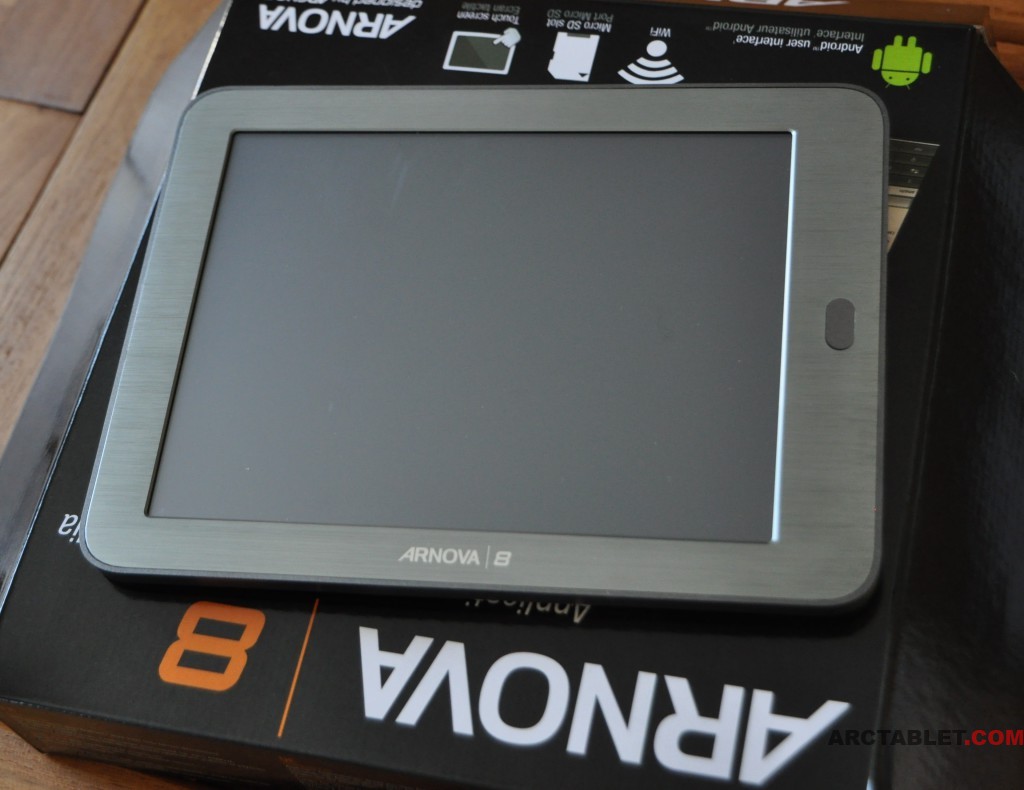 Following the recent release of the Arnova 8 Tablet, we are now presenting a short review of the this cheap Android 2.1 tablet featuring an 8 inches (3/4 ratio) screen. It sells at around 150 euros.
This review refers to our previous complete review of the Arnova 10 inches model. Arnova 8 and 10 tablets share a lot of hardware and this summary review mainly focuses on the differences, we recommend that you check the Arnova 10 review for more details.
Here is a summary for the Arnova 8 4GB specifications:
Arnova 8 4GB
Operating System
Android 2.1 (ECLAIR)
Firmware version says/ 1.0.3 Build Number: 0.18.ECLAIR.eng.root.20110316.174256
CPU
Rockchip 2818 running at 311.29 Mhz (to be confirmed)
Flash Storage Memory
Capacity 4 GB
Speed: Class 2 range (tested Read 3970 kB/s, Write 1808 kB/s)
System Memory
200 Mb
Additional storage
Micro SD slot (SDHC compatible)
Display
800×600 TFT LCD (4/3 ratio)
resistive screen
Bluetooth
No
Wifi
802.11 b/g
Gravity Sensor
Yes
Camera
No
GPS
no
HDMI
No
Interfaces
USB 2.0 Slave MSC (mini USB format)
USB 2.0 Host MSC
MicroSD slot
Battery life
??? hours (video playing or web surfing)
Kickstand
No
Dimensions
205 mm x 153 mm x 12 mm (8" x 4.2" x 0.5")
Weight
500 g / 17.6 oz
Price
199 EU (4 GB model)
Packaging
Packaging is very similar to an Archos Gen8 and Arnova 10 box, you will find in the box:
– an Arnova 8 4 GB tablet
– a power charger with 3 power sockets (American, English and French type)
this is a new power charger, the power plug on the tablet is different from the model used on Archos Gen8 devices, Archos Gen7 and Arnova 10. Input 100-240V, outputs 5V 2A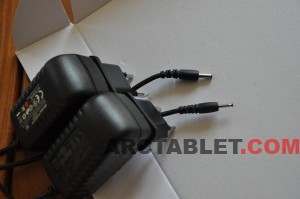 (Arnova 8 charger shown on the right)
– an USB cable (mini USB format)
– 5 papers that includes Archos(!) Legal and Safety Notices, Arnova 8 User Guide,
Unboxing video:

Device body
The front side of the Arnova8 has a brushed metal look, as the side body of the device.
The back of the tablet is made of plastic, there is no kickstand. Due to the smart use of metal, the device feels quite solid, but not too heavy.

The top side has 3 buttons: Power, M as an Android Menu hardware button, "ESC" as an Android "Back" button


The device has a Back button next to the screen on the right side of the chassis.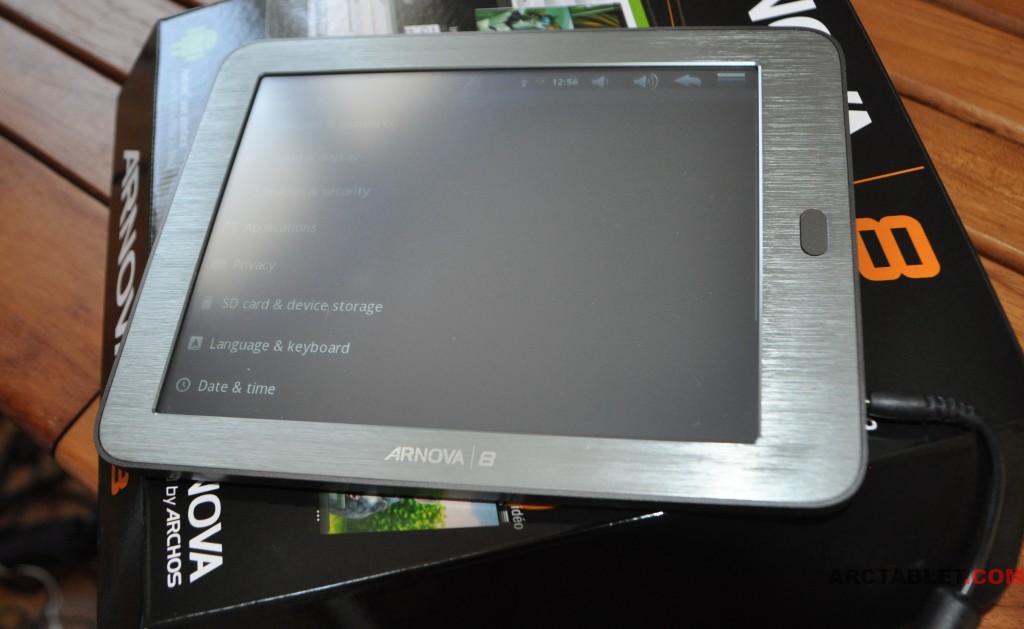 Screen
The Arnova's 8 screen has a 800×600 resolution, it uses resistive technology a provides a single point for touch entry. Viewing angles are decent, but you need to be in front the device to get a clear picture, as you can see in the unboxing video.
Performance
CPU power on this machine is pretty much like the Arnova 10, or the Archos 7HTv2, as they are all powered by the Rockchip 2818 processor. It limits the machine to rather simple applications, like book reading, music/video playing, web surfing on simple page. You probably won't be able to display complex web pages with Flash content, or play 3D or CPU hungry games (see our video of Hungry Birds on Arnova 10)
Conclusion
This brand new Archos/Arnova production offers a new form factor that differs quite a lot from the usual 16/9 ratio. This new shape, pretty similar to the Ipad should give better confort for ebook reading or web browsing. However, the slow CPU and resistive screen will put some limitations for any power user that would want a faster machine. Pricing the Arnova at 149 euros seems a bit expensive for such a device and we would recommend to wait a little bit for the new capacitive and Rockchip 29xx CPU based tablets.