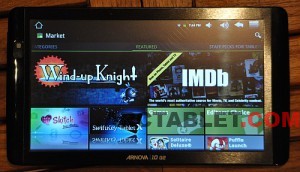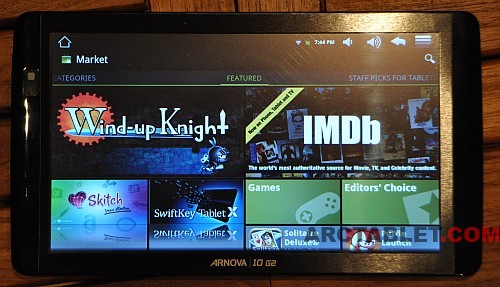 Our
custom Arnova 10 G2 firmware has been updated
and now offers the following nice new features:
Android Market support
full root access, setup with SuperUser application
full write access to the system
faster storage using ext4 file system (we measured a improvement to read and write speed over ext3fs by 5 to 10%)
larger storage space for your applications (1 Gb, 970 Mb free after install)
Thanks to Steve (Ttz642t) for his work on our WIKI, Fenice57 and Finless which firmwares really contributed to the make of our custom firmware.
2012/02/10 edit: (Credits) we wanted to clarify that this firmware is largely based on finless Bob's firmware modifications, with additions by fenice57 and arctablet.com
We choose to keep this custom firmware as default as possible, no fancy boot logo, no extra applications. Once you have installed Android Market, you will be able to customize the tablet as much as you want. We will also provide a free "Kitchen" service so you should soon be able tocook and customize your tablet boot logo, applications and settings by yourself.
Custom Firmware (codename Kasty) download
arn10g2-23-20.zip
This firmware is specific to the Arnova 10 G2 and should not be installed on other devices.
WE WILL NOT BE HELD RESPONSIBLE FOR ANY DAMAGE TO YOUR DEVICE.
THIS FIRMWARE UPDATE IS USED AT YOUR OWN RISK.
WE RECOMMEND TO FLASH THIS FIRMWARE ONLY IF YOU ARE ABLE TO RESCUE A BRICKED DEVICE USING ROCKCHIP FLASHING TOOLS.
Android Market version 3.4.4 installation
After the custom firmware has been installed, please follow
ArcTools tutorial to install Android Market
.
After installation, the Market should show most of the applications, if you are liissing some applications in the Market, please use the
Market fix procedure
.
Flashing procedure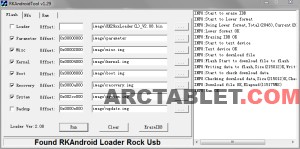 This firmware currently needs a special procedure to be flashed. It currently requires to be done under Windows Operating system, using
RKAndroid Tool v1.29 (RK29update.exe Windows application)
. We'll try to provide instructions for other OSes in the future.
Flashing Instructions to be completed later
For reference, you can check the
Rockchip Flashing Tool
page and our
Arnova 7G2
Flashing video below.
If you don't want to flash this custom firmware and still want to install Android Market, you can try the following method from our forum.
Restoring Arnova 10 G2 default firmware
In case you don't like this firmware or if you just want to go back to the default stock firmware:
Release history
Version 1. Initial release
Version 1.1 & 1.2 were released together with Finless,
they are not supported anymore
Version 2: Full update with new features
Please note that release number has jumped to version 2, to make sure there is no confusion with Finless firmware.
What's next
We have more features planned for this custom firmware such as adding support for more 3G dongles, Bluetooth and GPS, CIFS and OpenVPN. We are also considering to replace the
ext4 filesystem
to one that is better suited to NAND Flash memories, such as
YAFFS
. We are also working on supporting more Arnova G2 devices, such as the
Arnova 7b G2
,
Arnova 8 G2
, Arnova 9 G2 or
Arnova 10b G2
.
Arnova 7 G2 users should check
fenice57 firmware
which provide a lot of great features.