Android and firmware version
First lets have a look in the "About device" menu in Android


It's confirmed that the device is running Android 2.1 (Eclair). The firmware release is dated 20110122, there is no firmware update for the moment. Actually there is no download in the support section of Arnova website.
Edit 20th March 2011: a custom firmware for the Arnova 10 is now available, it brings Android Market and root access on the tablet.
System information
As given by Quadrant application:
Internal memory dedicated to the system is 200 MB.
CPU speed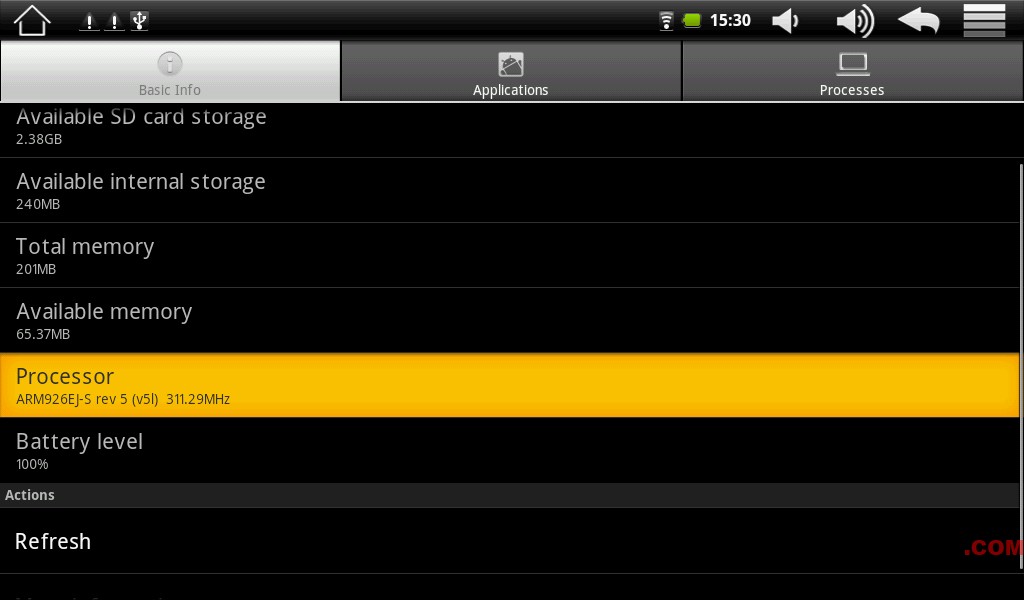 Quick System Info Pro reports an ARM926EJ-S rev 5 (v5l) 311.29Mhz processor. It is not sure yet, 311.29 Mhz is the full speed for the processor or if it's an idle speed. We will do some more tests and let you know. From what we know, the Arnova 10 is using a Rockchip 2818 processor, which is limited to 640 Mhz (according to Wikipedia)
Quadrant Standard version run of full benchmark could not be executed as it gives an error "This device does not support stencil buffers" Reason is probably incomplete OpenGL implementation for this device.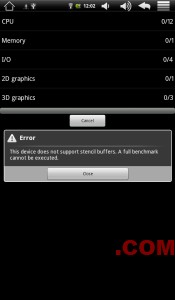 We used the full version Quadrant to get the details, with 3D benchmark disabled.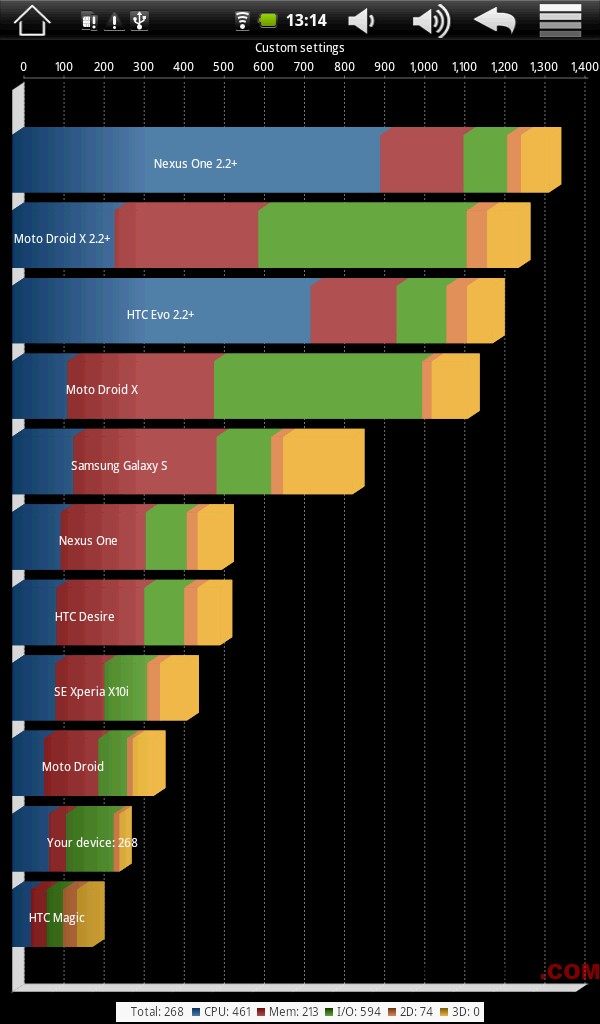 Results are the following: Total=268, CPU=461, mem=213, I/O=594, 2D=74,3D=0 (3D not evaluated)
These numbers seem quite low, it's a bit early to say if it's the device (CPU) fault or a firmware issue. We'll compare with similar devices to complete this review.
Other Benchmark results on Arnova 10 4GB
Linpack (tests mainly raw CPU power) gives: 3.963 MFLOPS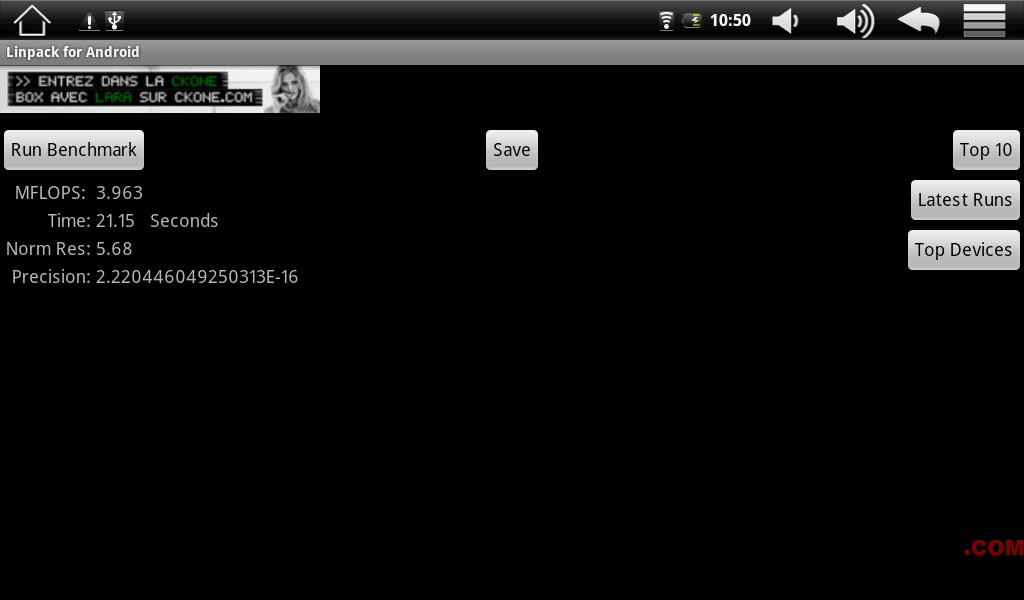 Smartbench 2011 (tests CPU power and 3D capabilities) gives: Productivity Index=167 / Games Index=92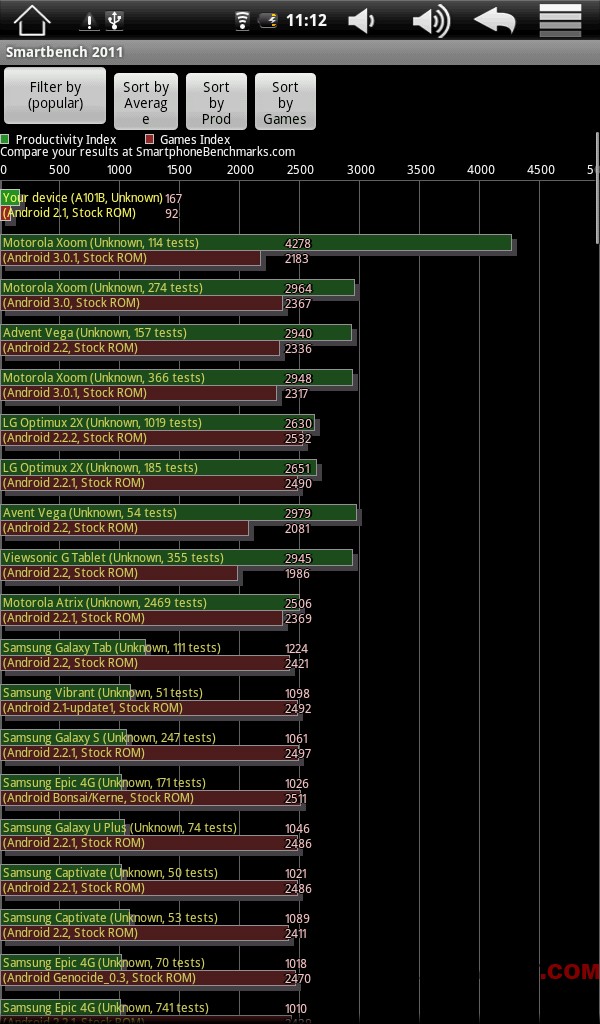 Flash memory speed
We used ArcTools to benchmark the internal memory read/write speed.
We got a relatively disapointing low values of 4457 kB/s (Read), 1859 kB/s (Write), which is in the Class 2 range.
We recommend that you use an external faster SDCard if you plan to do disk intensive operations.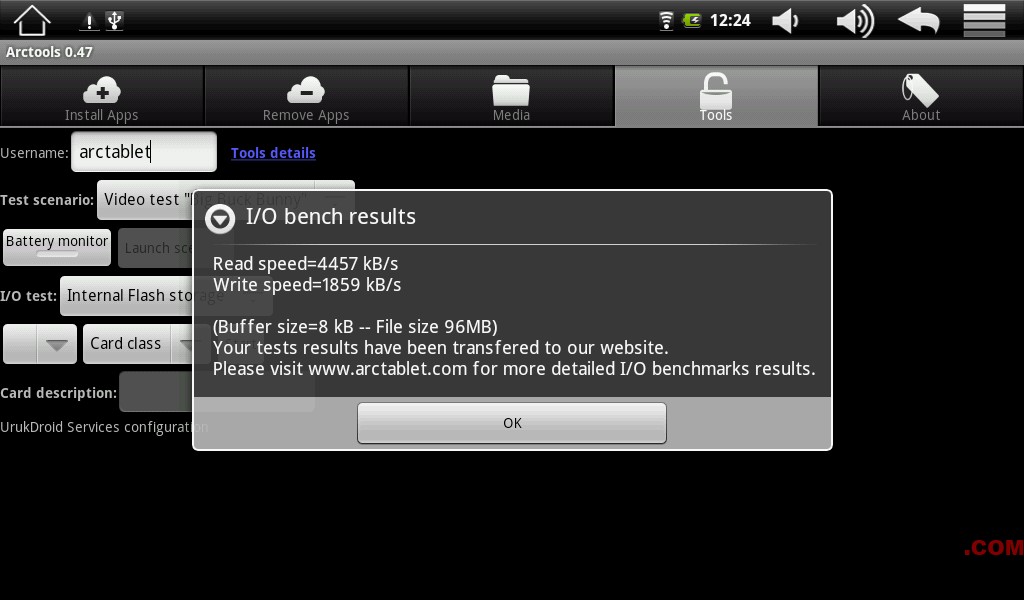 Continue to part 3 – Battery life
We are currently completing this article, please come back soon for more information and follow our Twitter for more details on the Arnova 10 review.