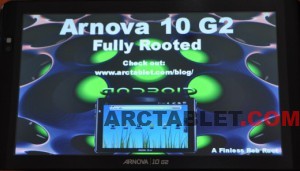 Update 2011/12/23: Custom firmware updated to version 1.1 (arn10g2-23-1_1.zip)
Custom firmwares providing root and Android Market to the Arnova 10 G2 keeps improving.
Following our first custom firmware and a second release of HTC Mania firmware, Finless forum user has just succeeded in assembling a great custom firmware providing:
full root support
459mb of storage space for installing applications, this almost doubles previous firmwares
faster boot speed
This firmware currently needs a special procedure to be flashed, see indications below.
Android Market installation
Android Market is not included with this firmware, please use
ArcTools
to download and install Android Market on your device,
after flashing
the custom firmware.
Important Note:
ArcTools latest version (0.60) that should be available on Appslib tomorrow or is already
available here
offers new Market and Apps application packages:
–
Default Apps & Market (Android 2.3)
is the default package made for custom firmwares made by Arctablet, it won't work currently work on this one, but that should be fixed soon
–
Default Apps & Market 3.4.4 (rootless Install)
: should work with any firmware including non rooted ones
** recommended option with this firmware **
–
Default Apps & Market 3.4.4 (root Install)
: works on rooted firmwares, unfortunately it fails on this one due to lack of disk space on /system partition. This should be fixed soon
As you can see, Android Market is not very straighforward on this firmware, we are working on improving it.
If you don't want to flash this custom firmware and still want to install Android Market, you can try the following method from our forum.
Firmware download
arn10g2-23-1_1.zip
This firmware is specific to the Arnova 10 G2 and should not be installed on other devices.
WE WILL NOT BE HELD RESPONSIBLE FOR ANY DAMAGE TO YOUR DEVICE.
THIS FIRMWARE UPDATE IS USED AT YOUR OWN RISK.
WE RECOMMEND TO FLASH THIS FIRMWARE ONLY IF YOU ARE ABLE TO RESCUE A BRICKED DEVICE USING ROCKCHIP FLASHING TOOLS.
Restoring Arnova 10 G2 default firmware
In case you don't like this firmware or if you just want to go back to the default stock firmware:
README FIRST notes from Finless, the custom firmware author:
Welcome to one of the first fully rooted ROMs for the Archos Arnova 10 G2 that gives you tons of memory available!
I spent a huge amount of time learning and trial and error to get this firmware rooted.
I for sure learned a lot about Android ROMs having never had a Android device before.
I certainly hope you enjoy it and I am happy to have accomplished this.
Bob White a.k.a "Finless"

This is only for the 10 G2!
If you flash another device with this ROM there is a good chance you will brick your device.
You are on your OWN with this ROM. Don't blame anyone if you mess up and brick your device!

Instructions:

Before you do anything I suggest you go download the stock firmware from Arnova
http://arnovatech.com/support/firmware/2/arnova10g2/111010/update.img
You may need this if something fails and you brick your device!

If you brick your device you will need to reflash in recovery mode!
Here is a tutorial on how to do that and the links to download the tool.

Flashing your Arnova G2, Arnova G3, Rockchip RK29xx/RK30xx based tablet with Rockchip flashing tool

Unzip this package and put it on your desktop or a drive you know where it is.

Drivers:
This rom requires you use the RK29update.exe utility. In order to use this tool
you will need to install the RK29 drivers. They are supplied with this package for both
Windows 32bit and 64bit.
Installing the drivers is a little tricky but there is a tutorial on how to do it

Flashing your Arnova G2, Arnova G3, Rockchip RK29xx/RK30xx based tablet with Rockchip flashing tool

If you already have the drivers installed your all set. If not you will need to install them.
Read the tutorial on Arctablet.com but this is the easy way I do it.

1) I usually remove the SDCard while the unit is off before I start
2) Plug in the USB cable to the Arnova and to your PC.
DO not worry if the tablet is on. It may power on when you plug in the cable anyway.
3) Make sure the power cord is connected! This is important in case your battery is low.
4) While holding the UP volume button stick a pin in the reset hole and hold both volume up and reset
5) After about 5 seconds you will hear your PC dong that it found hardware.
RELEASE the reset button but keep holding volume up.
6) While holding volume up you should again hear your PC dong that it found new hardware.
It's OK to release the volume up now. The screen should be black at this point.
7) Windows should complain that it could not install the device and may ask to look for drivers.
That's OK. Close and driver dialogs, etc.
6) Open the device manager in control panel. You should see a device listed as unknown with a yellow symbol in it
RIGHT click on it and select "Update Driver".
7) You will get a dialog asking to search or browse my computer for the driver. Click Browse
8) On the next screen click the browse button. A file manager will open.
Now remember I told you to unzip this package to somewhere you know how to find it like the desktop?
Using the file manager point to this package, Click on the driver folder.
Then click on the folder for 32bit or 64bit depending on your OS.
Now click on your OS version, e.g. Win7, etc.
The OK button should now be available to click OK.
At this point the driver should install. If not start over
9) Once the driver installs you should now see a device at the top of the list called"
Class for rockusb devices. If you expand that it will show a RK29 Device. Do not worry about the ? on it.

Flashing the ROM:
OK driver is installed and we can now flash the Arnova with the new images.
The RKAndroid tool (RK29update.exe) is different than the recovery flash tool and the update.img roms.
With this tool you will be flashing the basic image files. e.g. Kernal.img, boot.img, etc.
Maybe one day soon I will figure out how to make a simple update.img but for now this is the only way
to get my rooted rom installed.

1) Open the package where you unzipped it and you will see a program called RK29update.exe.
Double click that to run it.
2) I have setup the config.ini file so all the IMGs are already set in the tool.
You do not need to change anything there and you should not or you may brick your device!
Do not mess with the values for offset either. Guaranteed to brick your device 😉
3) At the bottom the tool should say "NO Found RKAndroid Rock USB (Unless you're already in recovery mode already).
If your device is connected and in recovery mode the tool should say "Found RKAndroid Loader Rock USB"
If not then you need to but the device in recovery mode as explained above for driver install.
You cannot proceed unless the tool says it found your device
4) OK all of the check boxes on the left should be checked EXCEPT Loader and backup.
Leave backup unchecked but check the loader check box (optional).
Note: Most the Arnovas currently have loader 2.06. This will update yours to 2.08.
Both 2.06 and 2.08 work so if you don't want to update your loader leave it unchecked
I just go ahead and update to 2.08 for possible future stuff
5) Before you click the run button click the EraseIBD. I have had some strange flashes by not doing that.
After about 1 minute or so the tool should pop up a box telling you it is done. Click OK.
6) Now it's time to flash. Click the Run button and let it do its thing. It will take about 3 minutes or so.
7) On the right panel is the status of what it is doing. When it completes it will say done.
If any errors occurred they will be in red. You should NOT have any errors.
8) At this point the Arnova will reboot and go into recovery screen and format the system.
Let it continue and it will reboot again and then boot into the Android OS.

If you get a black screen or it doesn't boot, you are bricked for some reason!
Again it this happens you will need to use the recovery tool explained above.

I hope you enjoy this fully rooted rom! It has 459mb of system space available unlike the stock rom of 225mb.
It has full write access to /system. Su and superuser.apk are also installed.

Enjoy,
Bob White
Thanks a lot Finless for your all your efforts and great work.