ArcTools is a program to help you installing Google Play (formerly Android Market) and Google Applications (Youtube, Maps, …) on your Archos or Arnova tablet.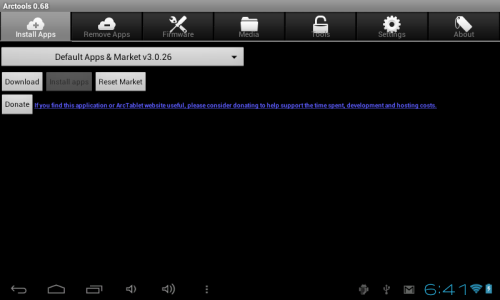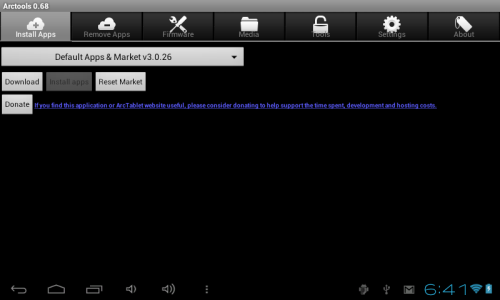 ArcTools was initially made for Archos Gen8 (models 101/70/43/35/32/28) Internet Tablets and has later been extended to work with other devices. To support the Arnova first generation, Arnova G2 or Arnova G3 tablets, you will need a custom firmware, This allows you to play free slot machine games using android app where you can play the slot machine games for free. please refer to the "Tablets" menu above to find your device in the list, so you will access the custom firmware.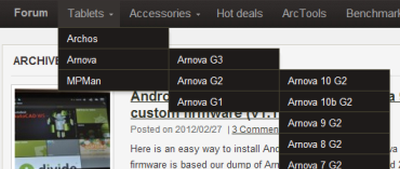 Support the project!
If our web site and applications helped you, thanks for supporting us by donating using the Paypal form below or visiting our Donations page. Donations will be used to pay the bills for our server hosting costs, tools and purchase new tablets to support.
ArcTools release history:
0.80 (2013/06/25)
Improved VPN (tun.ko) module support
Improved stability for battery life test
Added proper permission for root access with SuperSU: android.permission.ACCESS_SUPERUSER
Removed version number from application name.
0.78 (2013/02/28)
Added support for ClockworkMod Recovery (CWM-R) installation on Onda Allwinner based tablets (Onda V812 & V972)
0.77 (2013/02/22)
Added VPN (tun.ko) module support.
Added recovery partition update scripts for some devices.
Added file systems unmount before reboot operations
Modified application layout for better display on HD tablets (ARCHOS 97 Titanium HD, Onda V972)
0.75 (2012/11/09)
Added XBOX 360 controller support for RK3066 based devices.
0.74 (2012/11/07)
Added reboot feature (you can choose between shutdown, reboot, reboot to recovery or bootloader), thanks globula_neagra 🙂
Added new features on Apps packages (to be released soon)
Add advertisements on ArcTools free version, the donation version on Appslib is adfree.
0.72 (2012/09/26)
Finished CIFS (Windows/SMB shares) implementation for Arnova G3, tutorial is here, thanks Stellar7
0.71 (2012/09/21)
Improved ArcTools application start and added guide based on tablet model (not activated yet, work in progress)
0.70 (2012/09/06)
Improved CIFS support on Arnova G3 tablets.
Optimized application, package (APK) size reduced by 25%, now 180 Kb
Added ArcTools Donate version on Appslib, get this version if you want to contribute to our developments, server costs and support new tablets.
0.69 (2012/08/16)
Added CIFS support on Arnova G3 tablets thru kernel modules
0.68 (2012/07/12)
Improved script packages
0.67 (2012/06/21)
Added script packages for Google Play installation on Arnova 7 G3 and other devices. (to be released soon)
Added confirmation dialog warning on "Reset Market" feature.
Fixed About menu targeting incorrect window.
0.66 (2012/05/07)
Added "Hide/Show Status bar" feature in Settings, work on Android 2.3 based devices with a rooted firmware.
Thanks to petrus and http://android.serverbox.ch/?p=306 for the tip.
0.65 (2012/05/01)
Added Romanian translation, thanks globula_neagra.
Updated Dutch translation, thanks hvdwolf.
Added battery life test logging to file (documentation to be updated later)
Updated Settings editor (corrected a bug)
0.64 (2012/03/10)
Not released
0.63 (2012/02/24)
Added "Reset Market" button to Delete Cache and Data on Android Market application. This should help to solve the "Can't establish a reliable data connection to the server" when running Android Market.
Improved firmware download procedure, progress indicator is now more accurate, added second dialog for firmware unpacking
Improved wakelock to prevent the device to sleep while a new firmware is downloaded or a benchmark is run.
0.62 (2012/01/26)
Added Bluetooth and CIFS support (see Tools tab), requires specific custom firmware – more information soon !
0.61 (2012/01/26)
Added support the Arnova 7cG2, requires a specific custom firmware
0.60 (2011/12/22)
Added Cancel option to rootless Market installation procedure
Improved download counter accuracy on Firmware update procedure
0.58 (2011/12/21)
Added rootless Market installation procedure for some devices (to be detailed)
0.56 (2011/11/05)
Improved ArcTools application updater (progress indicator, proper application storage location)
0.55 (2011/11/04)
Fixed bug on the Arnova 10 G2 Market installation procedure
Added progress dialog for downloads
0.54 (2011/11/03)
Improved firmware download feature
Added support for Arnova 10 G2 thru custom firmware.
Fixed Force Close on Arnova 7c G2, this device is not supported yet for Market Install.
0.53 (2011/09/14)
Added firmware download feature (to be documented)
Beta test of Arnova models support for Android Market installation (requires modified firmware)
0.51 (2011/07/01)
Corrected some issues about the device detection for Android version.
Added Estonian translation, thanks Tanel.
0.48 (2011/03/15)
New Settings Editor, let you finetune your device, like moving softkeys to notification bar
Added greek translation, thanks Ioannis.
0.47 (2011/03/02)
New Web surfing battery test scenario
Added filesystem information (ext3, ext4, vfat) and Archos 70H 250 Gb support to I/O benchmark
Added support for Archos 7 HTv2 for battery and I/O test
0.46 (2011/02/22)
New I/O test feature: measure your Tablet and SDCard performance.
Swap information is now updated each time "About" tab is visited
Added Portugese translation (thanks Paulo), Danish translation (thanks Tuxen), updated Spanish translation (Rubik2k)
0.45 (2011/02/04)
Added Swedish (thanks Patrik) and Chinese (thanks Alex) translation.
Updated existing translations
0.44 (2011/02/01)
Added swap information (size and used) in About tab.
Added Finnish translation, thanks Patrik.
Modified battery monitor to include screen brightness information and sound volume
Added new battery test scenario (uses RTSP streaming)
0.43 (2011/01/20) Updated service configurator for UrukDroid users.
Modified application to save and restore username for battery monitor tool.
Added Ukrainian translation, thanks Alexander.
Added Polish translation, thanks $auron.
0.42 (2011/01/19) Added service configurator for UrukDroid users.
Added Russian translation, thanks Alexander.
0.41 (2011/01/17) Optimized battery monitor function, should now work for hours without getting killed by operating system.
0.40 (2011/01/13) Improved battery monitor function, now accepts different test scenario, and records CPU frequency. Added application auto-update feature.
0.38 (2011/01/07) Improved ArcTools screen layout on smaller devices (Archos 28/32/43).
New battery monitor function: sends your battery level on Arctablet web site, for battery life testing. (To be documented soon)
0.37 (2011/01/07) Corrected a bug in the Media Library Indexing optimizer. Thanks akmalhisyam
Added Czech translation, thanks Vaclav.
0.36 (2011/01/03) Added Dutch, Japanese and Spanish translations.
0.35 (2010/12/27) Added Android 2.1 (Eclair) support for the machines with default/original 1.0.84 firmware.
Added German and Italian translations.
0.33 (2010/12/27) Minor graphical changes. Added french translation
0.32 (2010/12/23) Added icons, corrected media indexing bug in /storage/network. Fully functional Market 2.2.7, thanks to kenyu73 and Sergej63. Arctools is now published on Appslib
0.30 (2010/12/21) "Default Apps & Market" is now uses the most stable package to date. Some additional and experimental packages will be offered soon. Package taken from gAppsInstaller_v4.apk thanks to kenyu73
0.27 (2010/12/16) Added media feature (speeds up Multimedia library updates) Updated Default Market to an older and more stable version, updated Google Maps to latest version 5.0.0 (not fully tested yet) under "Default Apps & Market"). Make sure you use "Download" before Installing Apps.
0.24 (2010/12/10) Updated Gmail App to version 2.3.2.
0.23 (2010/12/03) added "Remove Applications" function, cleanup whole /data/test/froyo directory
0.22 (2010/12/02) initial release
You can use this program to install Google Apps and Market on your Archos Gen8 device.
The program has been tested successfully on Archos 70,101 and 32. It is compatible with any know Archos firmware to date (1.0.84,2.0.54,2.0.71,2.1.2,2.1.3).
Download ArcTools
Your ARCHOS or ARNOVA tablet should come pre-installed with Appslib application. Please start Appslib then search for "Arctools" application in Appslib to download and installs ArcTools on your tablet.
You can follow this link for details on the procedure.
---
Feel free to address us your comments and requests, we will do our best to improve the application.
Please understand that standard disclaimers apply, use this application at your own risks, use it if you really need it and you know what you are doing. We should not be held responsible if anything goes wrong with your hardware.