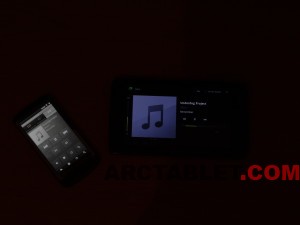 A few days ago, Archos released an update to the Archos Remote app. Archos Remote Control allows you to control an Archos device 80G9, 101G9 (Gen9) or 28it, 32it, 35, 43it, 70it, 101it (Gen8) from another Android device, through your Wi-Fi network. This is specially useful if your device is connected to a TV through HDMI and you want to control it from a distance (on your sofa

). It is compatible with all Android devices running Android 1.6 or later. The Archos device you want to control must be connected to the same Wi-Fi network as the device running Archos Remote Control. The Archos device must run firmware 4.0.5(or higher) for Gen9 and firmware 2.4.83(or higher) for Gen8.
The changes include:
– IMPORTANT: you must use the latest firmware on your Archos device for the new features to work: 4.0.5 for G9, 2.4.83 for Gen8
– Keyboard support: virtual keyboard is displayed in Archos Remote instead of on the Archos device
– Current media info is displayed for Music and Video (for Music you need to be in the Music player)
– Better support of G9 devices
– Allow to move the application to SDcard
– More translations
Archos made an amazing job for updating the app and we appreciate the fact that, when preparing the update, Archos didn't forget about the Gen8 devices. It is really great to see that after more than one and half years, we still see updates from the manufacturer.
Archos Remote App can be found at Google Play store. Please note that for using the Archos Remote App, you need to set your Archos device as discoverable in the settings.