We reported in Discussing Archos #5 that Henri Crohas, the company CEO was recently talking about Archos plans to offer an Android game console. A new Archos device was recently spotted on GLBenchmark pages appearing under the name "Archos LUDOG10", with a kernel build date of 2012/07/09. The Ludo was already reported earlier in Archos Kernel sources, based on the word etymology (from Latin ludo means "I play"), we'd think it's a game console, based on the Archos Generation 10 (G10) architecture.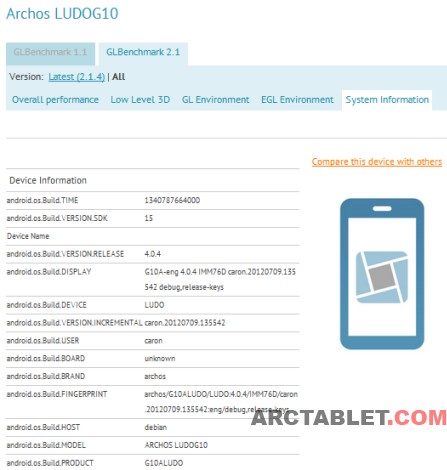 The benchmark page does not hold many informations, we just see it embeds a Imagination Technologies PowerVR SGX 544 GPU, which let us think that the tablet could run on a TI OMAP 4470 CPU, which uses an POWERVR SGX544 vs POWERVR SGX540 on the TI OMAP 4430/OMAP 4460 according to Texas Instruments OMAP 4470 pages.
The measured resolution of 1920×1008 offers a quite unusual screen ratio (~ 15/8) where we can expect a very wide screen.
Via: Archoslounge.net (in french)