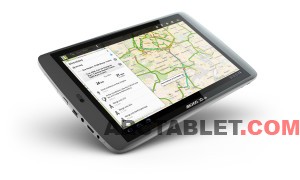 Here are the specifications and pricing for the devices on the new Archos G9 line, as presented by Archos during the IFA, updated with the latest news (2011/09/21 and 2011/11/30)

Archos Generation 9 devices
Model
Screen size
Aspect ratio
Storage
CPU
Memory
Price
Availability
Archos 80 G9
8 "
4:3
8 Gb
TI OMAP 4430
at 1.0 GHz
512 Mb
€249
$299
September 20th
16 Gb
TI OMAP 4
at 1.2 GHz
512 Mb
€279
$329
Early December, 2011
250 Gb
TI OMAP 4
at 1.2 GHz
512 Mb
€299
$369
January, 2012
16 Gb
TI OMAP 4460
at 1.5 GHz
512 MB
TBC
TBC
Christmas, 2011
Archos 101 G9
10.1″
16:10
8 Gb
TI OMAP 4430
at 1.0 GHz
512 Mb
€299.99
$369
September 20th
16 Gb
TI OMAP 4
at 1.2 GHz
512 Mb
€349
$399
End of November, 2011
250 Gb
TI OMAP 4
at 1.2 GHz
512 Mb
€399
$469
Unknown
16 Gb
TI OMAP 4460
at 1.5 GHz
512 MB
TBC
TBC
Christmas, 2011
Archos G9 1.2 GHz product poll

Loading ...
Update history
[Edit 2011/09/30]
According to
Archos USA Facebook page
, the product delivery schedule has been advanced a little. The
"classic" 101 G9 1 GHz
should be available in the next days. The
1.2 GHz models at end of October
and the
1.5 GHz Turbo version in December, 2011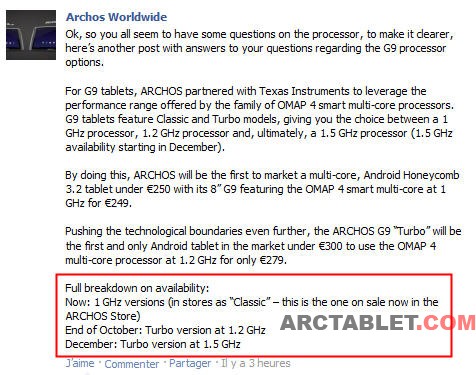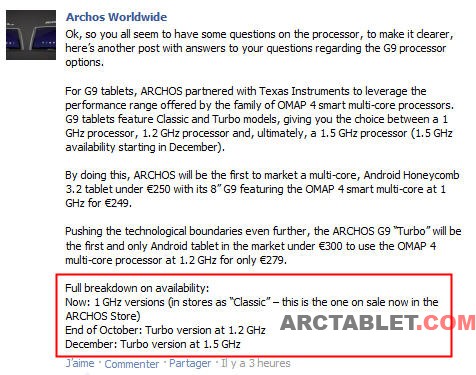 [Edit 2011/09/21]
1. According to Archos press release from the 20th of September, 2011 (document in French), some changes has been made in the G9 product line. The Turbo machines with 16 Gb Flash or 250 Gb harddisk storage would be released in October, 2011 and limited to 1.2 GHz. An update of the Turbo machines with 16 Gb Flash or 250 Gb harddisk storage running at 1.5 GHz would be released in January, 2012. It's yet unknown if the Turbo machines running at 1.2 GHz are equipped with a TI OMAP 4460 or TI OMAP 4430. According to our friends at Archoslounge.net, it is very unlikely that the 1.2 GHz machines will be able to get upgraded to run at 1.5 Ghz.
2. Regarding memory installed on the machines, we should expect 512 Mb for the current devices (September/October) as Archos commented on their US Facebook:
CONCERNING RAM FOR G9:
G9 tablets feature 512MB of RAM. But this is combined with special memory management in "Honeycomb", optimized for 512MB of RAM by ARCHOS software engineers and their 3 years of Android experience.
Because of this we're able to offer lower memory amounts without sacrificing the usability of "Honeycomb" – this investment that ARCHOS has made in software engineering allows us to pass the savings on RAM to our users, offering the lowest priced "Honeycomb" tablets anywhere.
---
Archos has attended the IFA , the world's largest trade show for consumer electronics and home appliances, taking place from 2 to 7 September 2011 in Berlin. Check the both at Hall 17, booth 125.
Photos from archos.com