Back in April, we mentioned that Archos should soon arrive with a game tablet, next to the already existing ChildPad. In one of the interviews, Henri Crohas, the CEO of Archos, said that he believes that the market for the classic game consoles(like the Nintendo DS and Sony PSP) will eventually be overtaken by tablets. We suggested that this will be an Archos branded game console with relatively high specifications(focussing especially on the GPU). And today, after six months of waiting, the Archos GamePad has been officially announced.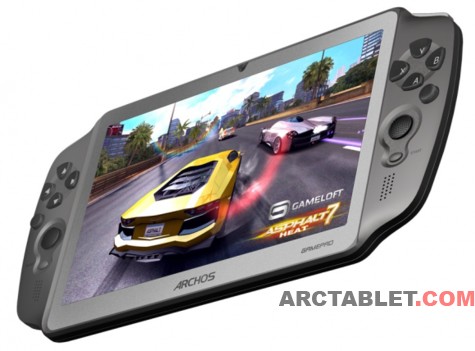 This competitor for the PS Vita(it is a little bit bigger than the gaming device from Sony) and Nintendo 3DS should pack a 7″ screen of currently unknown resolution(we expect 1024×600), Rockchip RK3066 CPU running at 1.5 Ghz and quad-core version of the Mali-400 GPU which can also be found in the last years Samsung Galaxy SII. A single-core of it comes with Allwinner A10 CPU, to be found on many current budget tablets, including the Arnova 7G3. Starting from Android 4.0, Google has integrated support for game controllers and Archos is the first to bring out a Google certified(means it will come with full suit of Google Apps) game console. On top of Android, there should be the smart Archos "game recognition and mapping tools" to ensure the physical buttons are compatible with the android games that use the virtual buttons. 1000 games should already be compatible at launch(including popular titles as Asphalt 7), and if you are a developer, you are welcome to contact Archos to make sure your games make use of the physical buttons too.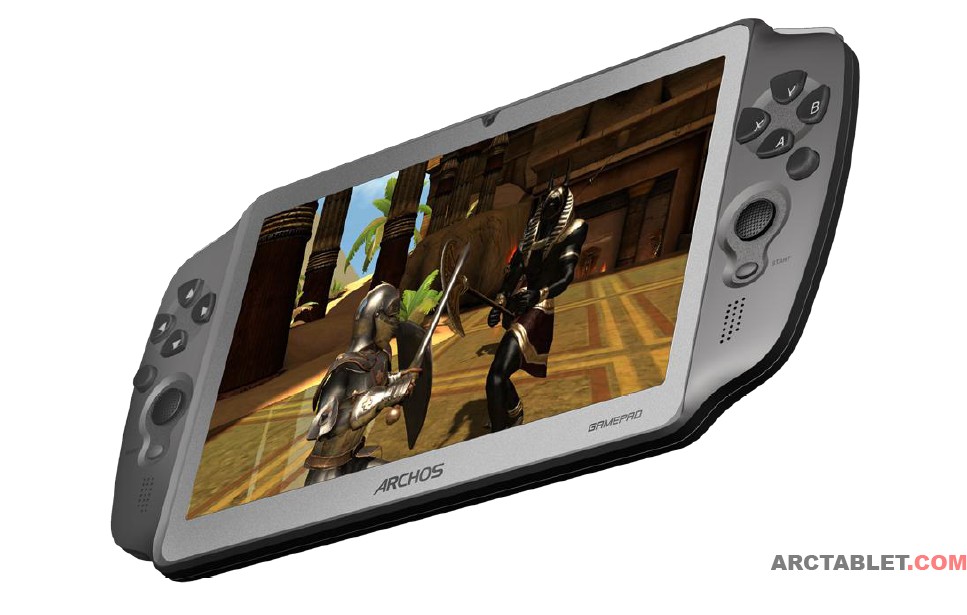 And in case you would like to game on even a bigger screen, there is a miniHDMI port to let you connect the GamePad. The GamePad is also fully a tablet which can browse the web and run more than 300.000 of Android apps.
Full device specifications(at the moment):
Operating System
Android 4.0 (Ice Cream Sandwich)
CPU
ARM Cortex A9
Rockchip RK3066 CPU @ 1.5 Ghz
Integrated GPU: Quad-Core Mali-400
Flash Storage Memory
Capacity: 8 GB

System Memory
1024 Mb
Additional storage
Micro SD slot (SDXC compatible up to 64GB)
Display
1024×600 Expected (TBC)
Capacitive MultiTouch
Bluetooth
No (TBC)
Wifi
802.11 b/g/n (TBC)

Gravity Sensor
Yes
Camera
0.3Mp (front facing) (TBC)
GPS
No
HDMI
Yes

Interfaces
MicroSD slot
Android Market / Google Play
Yes
Kickstand
No
Dimensions
TBA
Weight
TBA
Official Product page
TBA
Let's hope to see the Archos cobalt 70 and 80(expected to be sold for 129 and 149EUR, respectively) to be also equipped with the RK3066 CPU and the Archos Ludo to be announced before Christmas sales start. The GamePad should hit the stores in two months time and frankly, we hardly can wait for it to arrive. 😉
Android gaming with console controllers (Wii Remote, PS3 Sixaxis…)
If you are into gaming, you may already use game controllers on your favorite tablet. We are demonstrating here an Archos 101 G9 Turbo playing SHADOWGUN with a Wii Remote and Nunchuk attachement. The Android free application Wiimote Controller is used to pair to the Wiimote and setup the control parameters specific to the game.