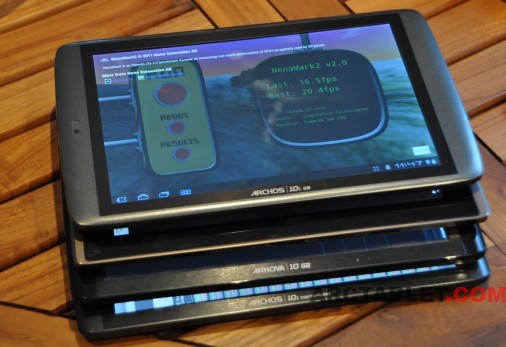 Opening note: The Archos 101 G9 used in this benchmark is a final production device with a pre-release beta firmware, benchmark results are not definitive and will be updated as soon as the firmware is updated.
With the release of the Generation 9 tablets, Archos is renewing their tablet line with uptodate TI OMAP processors. The promise of releasing the fastest machines with 1.5 GHz CPU has unfortunately being delayed to January 2012. Still the current version of the Gen9 machines running at 1 GHz delivers quite good performance for the price. We are taking this opportunity to evaluate this new device with other ARM Cortex devices, as we did with earlier benchmarks.
This article compares the new Archos 101 G9 1 GHz with it's older brother the Archos 101 IT, with the new Arnova 10 G2 and an Asus Eee Pad Transformer TF101.
Devices architecture
The following table shows each machine CPU/GPU architecture for the compared devices


Device
CPU
Integrated GPU
Frequency
Architecture
Core(s)
Memory
Archos 101 G9
TI OMAP 4430
PowerVR SGX540 at 304 MHz
1 Ghz
Cortex-A9
2
512 Mb
Archos 101 Internet Tablet
TI OMAP 3630
PowerVR SGX530 at 220 MHz
1 Ghz
Cortex-A8
1
256 Mb
Arnova 10 G2
Rockchip RK2918
Vivante Corporation GC800
1 Ghz
Cortex-A8
1
512 Mb
Asus Transformer TF101
NVIDIA TEGRA 2
ULP GeForce at 333 MHz
1 Ghz
Cortex-A9
2
1024 Mb
Benchmark video
Benchmark numbers
Benchmarks results
Archos 101 G9 1 GHz
Asus Transformer TF101
Arnova 10 G2
Archos 101 IT 1 GHz
Test setup
Firmware version
Android 3.2
Firmware version 3.2.34
Android 3.2
Build Numer HTJ85B.WW_epad-8.6.5.9-20110816
Android 2.3.1
Build number eng.hwg.20110801
Android 2.2.1
Firmware 2.4.19
in Overdrive mode (1000 Mhz)
AnTuTu bench
version 2.2
Total score


higher is faster

4343
4752
not working
2321
CF-Bench v1.1
Overall score
higher is faster
4582
5185
2105
1986
GPUBench v1.0.0
higher is faster
Absolute: 35409
Relative: 21223
Absolute: 31981
Relative: 17442
Absolute: 33172
Relative: 25765
Absolute: 18135
Relative: 13085
Linpack PRO v 1.2.9
higher is faster
Single Thread: 37.951 MFLOPS
Multi-Thread: 60.06 MFLOPS
Single Thread: 29.21 MFLOPS
Multi-Thread: 55.59 MFLOPS
Single Thread: 14.173 MFLOPS
Multi-Thread: 13.884 MFLOPS
Single Thread: 15.393 MFLOPS
Multi-Thread: 14.134 MFLOPS
NenaMark2
Best fps
higher is faster
16.5
19.4
23.3
not working
Touch test
4 points
10 points
2 points
2 points
Quadrant Advanced 1.1.7
higher is faster
Total: 1456
CPU: 4084
Mem: 1505
I/O: 726
2D: 142
3D: 822
Total: 1576
CPU: 4138
Mem: 2045
I/O: 921
2D: 257
3D: 519
Total: 1258
CPU: 2314
Mem: 1075
I/O: 2180
2D: 123
3D: 599
Total: 1112
CPU: 2736
Mem: 1001
I/O: 1333
2D: 182
3D: 308
Smartbench 2011 v1.2.1
higher is faster
Prod. index: 2811
Games Index: 2840
Prod. index: 3520
Games Index: 2243
Prod. index: 594
Games Index: 565
Prod. index: 821
Games Index: 1211
Vellamo v1.0.3
904
936
441
370


Tests conditions and remarks:
Devices where tested with latest firmware available.
All tests were run with all running applications killed (using TasKiller)
The Archos 101 G9 is a final production device, with a pre-release beta firmware, tests will be rerun with shipping firmware to confirm final performance
Please note that by running a single test multiple times we found that some tests are subject to variance of about +/- 10%.
Our opinion
The different benchmarks presented here show that the new Archos 101 G9 running at 1 GHz compares quite well with Tegra2 devices, such as the Asus Transformer TF101. Looking straight at the numbers, The Transformer is a little ahead, but on many tests, both machines gave close results, with less than 10% variation. We are waiting for a
final firmware
on the Archos G9 in the coming days to update this benchmarks and give a more precise opinion based on final and detailed numbers.
Archos will start to ship the G9 devices in Turbo version (1.2 GHz) starting next month, then at increased frequency of 1.5 GHz early next year.
To give an idea of the performance increase you may expect for the Archos 101 G9 Turbo running at 1.2 GHz, you can check in comparison our Archos 70 IT benchmark overclocked at 1.2 Ghz.