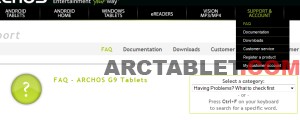 Archos has just published a Frequently Asked Questions (FAQ) online on their website to help users understand their G9 tablets features and troubleshoot Archos 80 G9 and Archos 101 G9 problems.
You can access it directly from this link or find the FAQ in the "Support and Account" menu of the site, then "FAQ". You'll have to select "ARCHOS 80 & 101 G9 tablets" from the top list.
The FAQ section will give you more general information about your Android Tablet and specific highlights about the following topics:
Connecting to the Internet
Android and applications
Email and Video Chat
Transferring content to your G9 tablet
Connecting to a TV / Using the Remote app
Battery & Power
USB devices
Troubleshooting
If you have issues that couldn't be answered in the FAQ, don't hesitate to leave a comment here or post your Question in our Q&A section, someone from the community may be able to help you.
Via JBMM.FR