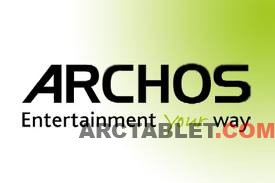 Archos has just released a 2.4.19 firmware update for Generation 8 devices (Archos 28/32/43/70/101 Internet Tablets).
Major improvements are:
– PowerVR SGX530 GPU clocked at 220MHz instead of 166MHz before
– Skype video chat now works
– Google Music now works
Download Archos Gen8 2.4.19 firmware (from Archos.com)
According to the revision history this updates carries the following changes:

Version 2.4.19 – August 18th, 2011



Display: improve UI fluidity


Display: suppress black/white screen happening sometimes when exiting suspend


Applications: increase compatibility with third party music players


Applications: fix black camera image for skype upstream video


Video: fix some mp4 files stopping with audio errors


Video: fix some H264 streams not decoding correctly


Audio: fix some FLAC files not playing correctly


Internationalization: improve Spanish, Italian, Dutch translations


Please note that Android Market installed thru ArcTools is still working on this firmware. Tested on an Archos 70 after a Reset Android procedure and ArcTools 0.50 installation (downloaded from Appslib).
As previous firmware version, Archangel rooting method does not work anymore: the application gets stuck on "Please wait".