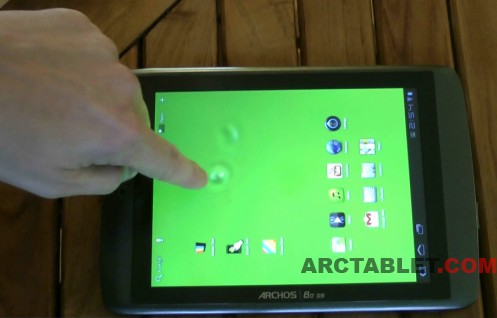 Following our report on the Archos 80 G9 screen defect (also known as bubble effect, see picture above), Archos has finally given some feedback.
According to Archoslounge.net community french site, Archos commented the following on the screen issue:
– the problem is affecting only a part of the products currently on the Market and the defect impact is very variable, from almost unnoticeable to blatant
(this is verified on the forums feedback and our poll, which also contains all kinds of feedback from positive to negative)
– the problem can be annoying of the end user, but it does not affect the machine performance, nor the life of the product.
– the issue is already fixed in the manufacturing process and the next products to be distributed should not be impacted.
Still, we recommend that you check the device prior to buying your product, to make sure it fits your needs and make sure you can return it in case it gets a defective screen.
Again, please note that we have tested the Archos 101 G9 1 GHz against the screen defect and can confirm that it is not affected by this problem.
If you own an Archos 80 G9 1 GHz, please let us about your experience on this problem, using the poll and comments section below.

Loading ...