Henri Crohas, Archos founder and CEO will host a press conference in Paris, France on March, 14th, 2012 where he will present Archos annual financial results together with the company strategy and perspectives for year 2012.
Live starts in:

[ujicountdown textunder=true id="Countdown" expire="2012/03/14 18:00″]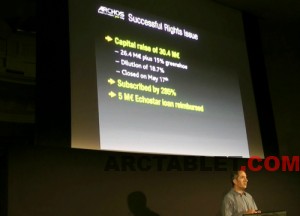 While the company has not done so well financially over the past years, it now seems to be in a good recovery situation and is expected to be profitable again, according to Crohas recent declaration.
Let's hope to hear more details about the Archos 2012 projects:
– new thinner tablets, special models with a docking keyboard (Asus Transformer like)
– child size robot for domestic usage and affordable price (between 200 and 300 euros)
– a new style of remote control to bring Android to the TV
– home automation products
– Windows 8 tablets ?
Please visit us again for a complete report of the event.
Time and place for the press conference
Wednesday 14th of March 2012, 6PM.
Pavillon Cambon Capucines
6 rue Cambon
75001 Paris, France
Agrandir le plan
Invitation in French:
Henri Crohas, Fondateur et Président, présentera les résultats annuels d'ARCHOS ainsi que la stratégie et les perspectives pour l'année 2012, le mercredi 14 mars à 18h00 au Pavillon Cambon-Capucines.
Date: mercredi 14 mars 2012
Heure : 18h00
Lieu : Pavillon Cambon Capucines – 46 rue Cambon – 75001 Paris
La présentation sera suivie d'un cocktail.