Thanks to our friends from Archoslounge.net and JBMM.fr for reporting the possible coming release of an Archos 35 IT product. The A35 Internet Tablet actually passed the FCC on 17 March 2011, following testing from 26 February. 2011 to 15 March. 2011. Here is the casing from the FCC documents: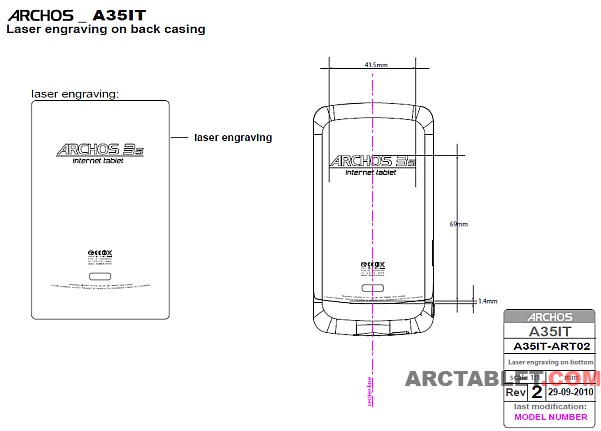 We had a closer look on this and some technical investigations in Archos Gen8 firmwares revealed the support of this product in current firmwares. That would confirm it to be a device on the Generation 8 line. According to our investigations: that new A35 IT it should be pretty much like an Archos 28 IT tablet, with the following possible device specifications.
– no bluetooth
– no video output (no HDMI, nor analog)
– no speaker
– no camera
– resistive screen
– no DSP assisting the CPU.
Casing suggests a look pretty much like the Archos 32 Internet Tablet with a larger 3.5″ screen.
If Archos manage to release such a device in the 100 USD/Euros range, it would probably be a best seller for small Android connected devices.