Now we've checked Archos 97 Carbon tablet the specifications and design, it's time to have a closer look at the components and device performance.

9.7″ IPS Screen
The Archos Carbon 97 IPS screen offers a resolution of 1024×768 which gives a pixels density of ~132 pixels per inch (PPI) . This resolution is similar to Apple iPad 2 and is a quarter of the new iPad which has 2048×1536-pixel resolution at 264 PPI. The Carbon 97 has a screen ratio of 4/3 which is ideal for eBooks, web browsing or gaming; movies play well with this screen ratio, but you usually end up with black bars to adapt to the screen size.
The capacitive multitouch supports up to 5 simultaneous points.

This IPS screen shows brilliant colors and has great viewing angles as you can see in this video below, it is probably the best screen Archos/Arnova has ever offered on their tablets.

When used outside, just like many other screens it acts as a mirror. As you can see in the picture below, it is not well suited to be used outside when it is sunny.
so it's not well suited to be used outside in sunny weather as you can see in the picture below.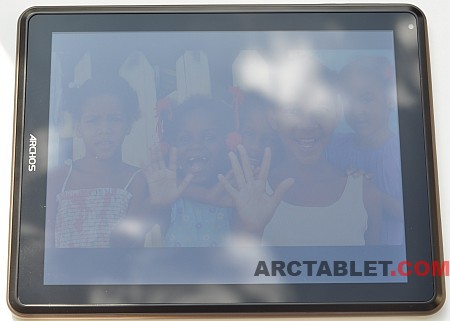 HDMI output
The Archos 97 Carbon is equipped with a mini HDMI (aka HDMI type c) connector, when plugged-in the video output on the HDMI devices actually disables the screen on the tablet, so you will end up blindly touching the screen to control your tablet. While this is not really a problem for just starting a movie, it is not very convenient for other uses (games, apps, web surfing). Other Archos models such as the Gen9 devices have integrated mirroring so both tablet screens and HDMI output can be active at the same time.

Camera pictures
The Archos 97 Carbon seems to inherit of the low quality front camera from its predecessors. The front camera has a resolution of 0.3 Mpixels, while the rear camera offers 2 Mpixels. It's about good for video conference, but there isn't a lot to expect if you really like to use your tablet to take high resolution pictures.
| | |
| --- | --- |
| | |
| | |
3G and USB Ethernet support
The tablet software offers support of extra network connectivity on the full size USB port, offering which can receive 3G dongle and Ethernet adapters.
3G Stick from Archos and other brands
Introduced with their G9 tablets, Archos started to support their own 3G adapter, the Archos 3G stick (actually based on Alcatel chipset). Most Archos and Arnova tablets that followed the G9 now support the 3G, which is also the case for the 97 Carbon. There is also support for 3G adapters from other brands, we have successfully tested a Huawei E176G as you can see on the video below.

USB Ethernet support
Our friends from Jbmm.fr (thanks cajl !) also let us know that the Archos 97 Carbon has support for USB Ethernet, we don't know yet if support for these devices is as complete as on the Archos G9.
Please visit us again soon for the next parts of our Archos 97 Carbon review.
Manufacturer product page: Archos 97 Carbon