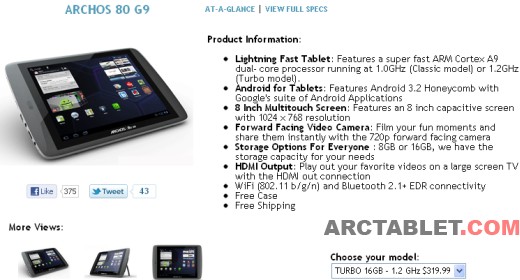 The Archos 80 G9 Turbo using a TI OMAP 4430 CPU running at 1.2 GHz and offering 16 Gb of storage is now available. It sells for 319.99 USD at the Archos US Store, 279.99 Euros at Archos Store in Europeor £ 229.99 in the UK.
Current offer in the USA comes with Free protective case and free shipping.
Please check our Archos G9 (1 GHz model) review for more details about the device and our Archos G9 specifications, prices and availability for all details on the Archos Generation 9 product line.

Loading ...
We will try to quickly get our hands on a device for a full benchmark.
At current price, this 1.2 GHz model has no exceptionnal value for the money against the competition and it is probably wiser to wait for the 1.5 GHz model using an OMAP 4460 which should be available early 2012.