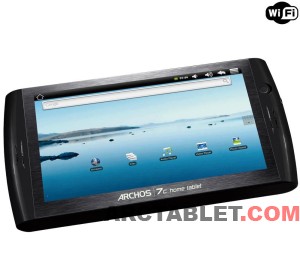 A Froyo firmware has recently been released for Archos 7c HT by futranbg based on the work of birdiebnl from Archosfans forum, they built a pretty decent firmware for RK2818 tablets that adapts pretty well on Archos 7c HT, thanks a lot for your great work.
This custom firmware for the Archos 7cHT tablet, brings an Android 2.2 Froyo along with Android Market and root access to the device.
This firmware is specific for the Archos 7c HT (capacitive screen), if you own the earlier Archos 7HTv1, 7HTV2 models (with resistive screen) please check our Archos 7 HTv1/7HTv2 custom firmware.
This firmware is specific to the Archos 7cHT and should not be installed on other devices.
WE WILL NOT BE HELD RESPONSIBLE FOR ANY DAMAGE TO YOUR DEVICE.
THIS FIRMWARE UPDATE IS USED AT YOUR OWN RISK.
WE RECOMMEND TO FLASH THIS FIRMWARE ONLY IF YOU ARE ABLE TO RESCUE A BRICKED DEVICE USING ROCKCHIP FLASHING TOOLS.

Important release notes:

this firmware is an unofficial custom firmware not supported by Archos/Arnova
this firmware is assembled with binaries from various devices, it is not built from source code, which leaves limited possibilities to fix important problems and full compatibility with the Archos 7cHT is not garanteed.
Android Market support is partial and not all Market applications can currently be currently found
We are testing our custom firmwares before making them public, and we are only releasing it when it is stable enough (unless noted otherwise)
In case the firmware does not suit your expectations, you should always be able to
restore another firmware. Use Rockchip flashing tools in case things have really gone wrong and your device appears "bricked".



From the custom firmware author
Quoting the firmware author:
Issues:
Don't charge when powered of, when turn on the touch screen become scazy
FAQs:
-Rom worked but touch screen not working?
+After boot up you may have to turn off the screen (lock), and turn it on. This should make screen work. If it's not work, check your device was it Archos 7c, and find a suitable rom for your device.
-There are lags in menu and launcher?
+That was my false, i tried to make fancy animation and it make lag, you can turn of animation in display setting.
-Market work but still have problem?
+Try this fix http://forum.archosfans.com/viewtopic.php?f=81&t=49470
-I want get back official rom?
+http://forum.archosfans.com/viewtopic.php?f=81&t=53415 download official update.img and do update again.
-USB not work for me?
+When USB cable connected, you have to enable mass-storage device mode in the notification bar. In 2.1 it mount USB device automatically, now you have to do it.

This rom was a combine of Android 2.2 (7HTV2_22.21) and Archos 7c kernel, i removed something we don't need, add something hope we like.
All credits to birdiebnl as the rom builder.
Firmware update procedure:
Step 1 – Install firmware
The first part of the procedure is similar to the one on the Arnova 10
Connect your device to the electricity socket, fully charge it and leave the socket connected
Unzip the update.img file out of the zip archive
Copy the img file to the root of your device
Unmount USB on your device, it should give a prompt similar to this one: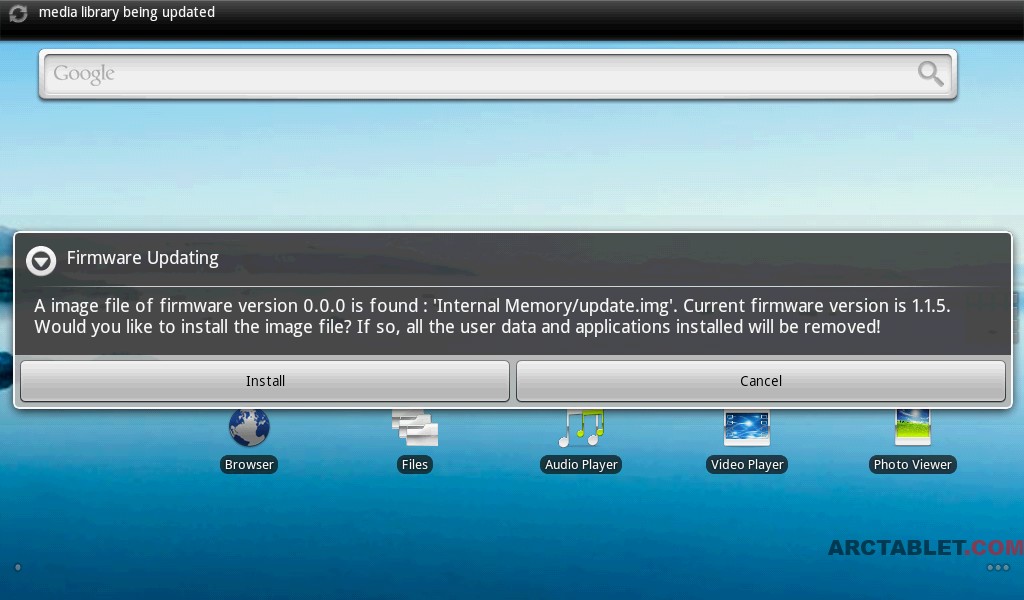 Push the Install button and follow the update procedure
You can also refer to our flashing procedure page for more details.
The first boot after flashing may take some time (few minutes), please be patient.
This first part of the procedure is similar to the one on the Arnova 10, that you can see on this video:

Step 2 – Install Market
When your Archos 7cHT has started on the new Android 2.2 operating system, please configure the WIFI network to access the Internet. The tablet comes loaded with latest ArcTools release, please follow the Market installation procedure for the Android Market.:
– Start ArcTools
– Make sure "Default Apps & Market v2.2.7 (Android 2.2 Froyo)" is selected in the list
– Press Download button, wait for the download to finish
– Press Install Apps button
– Reboot the device
– Configure your Android Market
(this procedure is detailled on the
Market installation with ArcTools page
, please starting at
Step 3.
)
Step 3 – Apply Market fix to get all applications on Android Market
You will probably have a lot of applications missing in the Android Market, please apply the Android Market fix procedure to get all applications back in the Market.
Mounting Archos 7cHT on your PC / turning ON USB Storage
This Android 2.2 Froyo firmware does not automatically mount your tablet to your computer when connected on USB. You need to manually turn ON USB storage thru 3 simple steps:
Plug your Archos 7cHT to the USB device you want to connect to
Grab the notification area from the top of the screen, click on the USB connected line
Click on the Turn on USB Storage button to mount your device to your computer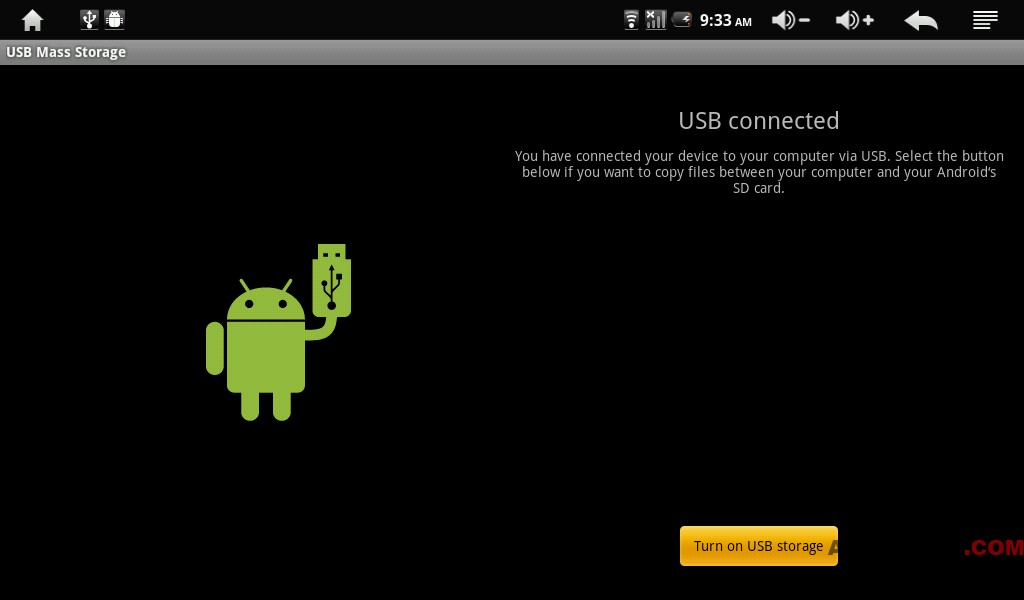 You should get the following screen.
Click
Turn off USB Storage
button to unmount your Tablet on your computer.
Restoring Archos 7cHT default firmware

If case you don't like this firmware or if you just want to go back to the default stock firmware:



Download archos7c_update.zip


Follow the firmware update procedure described earlier in this article