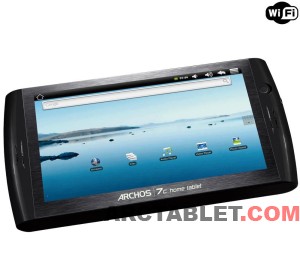 Archos is now presenting its new Archos 7C home tablets on their store. There is no option to purchase it yet, but it should be available pretty soon.
While Archos product page is not very clear about the device specifications, previous investigations and recent declarations from Sandy Chen (Archos OEM sales director) let us think that this new device should bring important enhancements over existing Archos 7 Home tablets (7HTv1 and 7HTv2).
Particularly, we have noted:
– Rockchip 2918 processor for great performance
– a capacitive touch screen (800 x 480 resolution)
– Android 2.1 (Eclair), probably to be upgraded to Android 2.3 (Gingerbread)
Device is expected to ship in the US very soon at $219.99.
Availability in Europe, as noticed at Pixmania.fr online shop is around the 13th of May 2011 at a price of 185 euros.
Thanks dEcmir/Archoslounge for the information.