Archos has just released an update for their long running Archos Home Tablet device.
This is the third revision of the Archos 7 Home Tablet, the original model Archos 7 Home Tablet (Rockchip 2808 CPU, resistive screen) was released in May 2010, it got an update with the Archos 7 Home Tablet v2 (Rockchip 2818 CPU, resistive screen) in December 2010.


(from top to bottom: Archos 70 IT, Archos 7 HT v2, Archos 7 c HT)
The latest Archos 7c Home Tablet release keep the same device body as previous models and finally brings a capacitive touch screen to the tablet, which greatly improves the device usability by providing a 2 points multitouch screen. You can check our Archos 7c screen review for more details and a comparison with Archos 7 HTv2 (resistive) and Archos 70 IT (resistive) screens.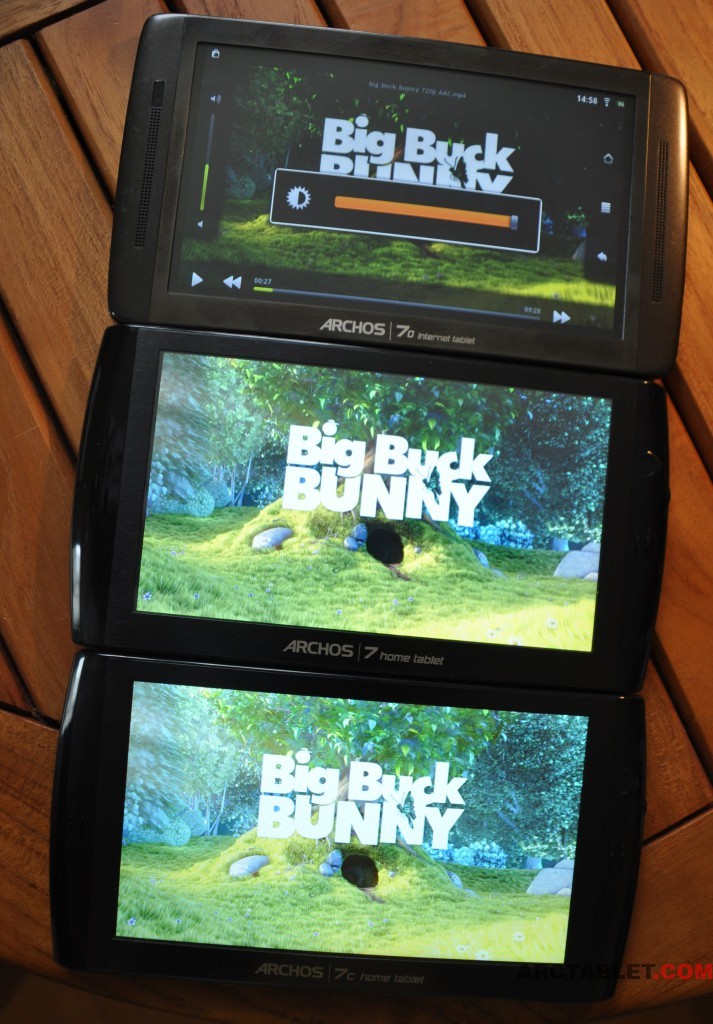 The 7c HT screen is pretty similar to the Archos 7 HT v2 in term of color, brightness and viewing angles.
Viewing angles on Archos 70 IT, Archos 7 HTv2 and Archos 7c HT.
Appart from the screen, the rest of the hardware remains unchanged.
Here is a summary for the Archos 7c Home Tablet specifications:
Archos 7c Home Tablet
Operating System
Android 2.1 (ECLAIR)
Firmware version says/ 1.0.3 Build Number: 0.18.ECLAIR.eng.root.20110419.110511
CPU
Rockchip 2818 running at 311.29 Mhz
Flash Storage Memory
Capacity 8 GB
Speed: Class 2 range (tested Read 3533 kB/s, Write 2141 kB/s)
System Memory
200 Mb
Additional storage
Micro SD slot (SDHC compatible)
Display
800×480 TFT LCD 7 inches
capacitive 2 points screen
Bluetooth
No
Wifi
802.11 b/g
Gravity Sensor
Yes
Camera
No
GPS
no
HDMI
No
Interfaces
USB 2.0 Slave MSC (mini USB format)
USB 2.0 Host MSC
MicroSD slot
Battery life
Video playing test: 5 hours and 10 minutes

check our battery tests
Kickstand
Yes
Dimensions
203 mm x 107 mm x 12 mm (8″ x 4.2″ x 0.5″)
Weight
388 g / 13.7 oz
Price
199 USD or 189 Euros
Conclusion
Selling at 199 USD or 189 Euros, we find the device a bit expensive for an entry level tablet, specially compared to Archos 70 IT which offer a similar capacitive screen, a better CPU and supports Android 2.2 Froyo O.S. for an extra 40 US dollars. If the 7c HT gets more affordable, it could be a great tablet for simple tasks such as ebook/email reading, web browsing and video/music playing.
There is also a possible of a soon to come update of this device with an improved Rockchip 2918 CPU.
Don't forget to check a custom firmware for the Archos 7c HT providing Android Market and root access to the device. There may even be Android 2.2 (Froyo) support for this machine soon…
Feel free to post comments if there are items that you want detailed in this quick review.