BirdieBNL from Archosfans forum has built a custom ROM for the Archos 7c Home Tablet.
This firmware is available for download here: 7c_21.04.sync.zip or from Archosfans.com forum
This firmware is specific to the Archos 7c HT and should not be installed on other devices.
WE WILL NOT BE HELD RESPONSIBLE FOR ANY DAMAGE TO YOUR DEVICE.
THIS FIRMWARE UPDATE IS USED AT YOUR OWN RISK.
Firmware update procedure:
Connect your device to the electricity socket, fully charge it and leave the socket connected
Unzip the update.img file out of the zip archive
Copy the img file to the root of your device
Unmount USB on your device, it should give a prompt similar to this one: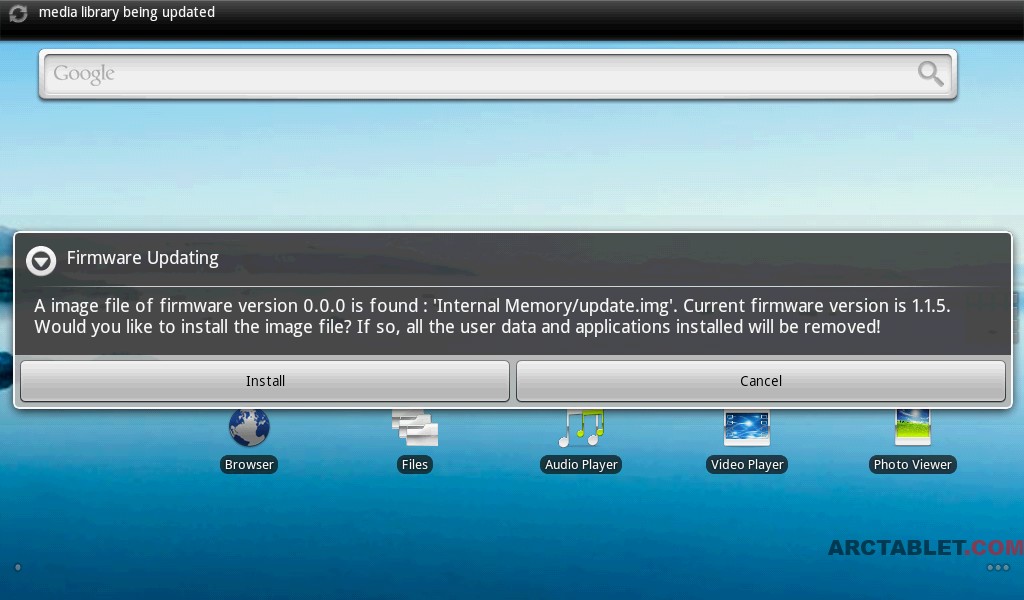 Push the Install button and follow the update procedure
You can also refer to our flashing procedure page for more details.
The first boot after flashing may take some time, please be patient.
Restoring Archos 7c HT default firmware
In case you want to go back to the default stock firmware:


Download archos7c_update.zip


Follow the firmware update procedure described earlier in this article