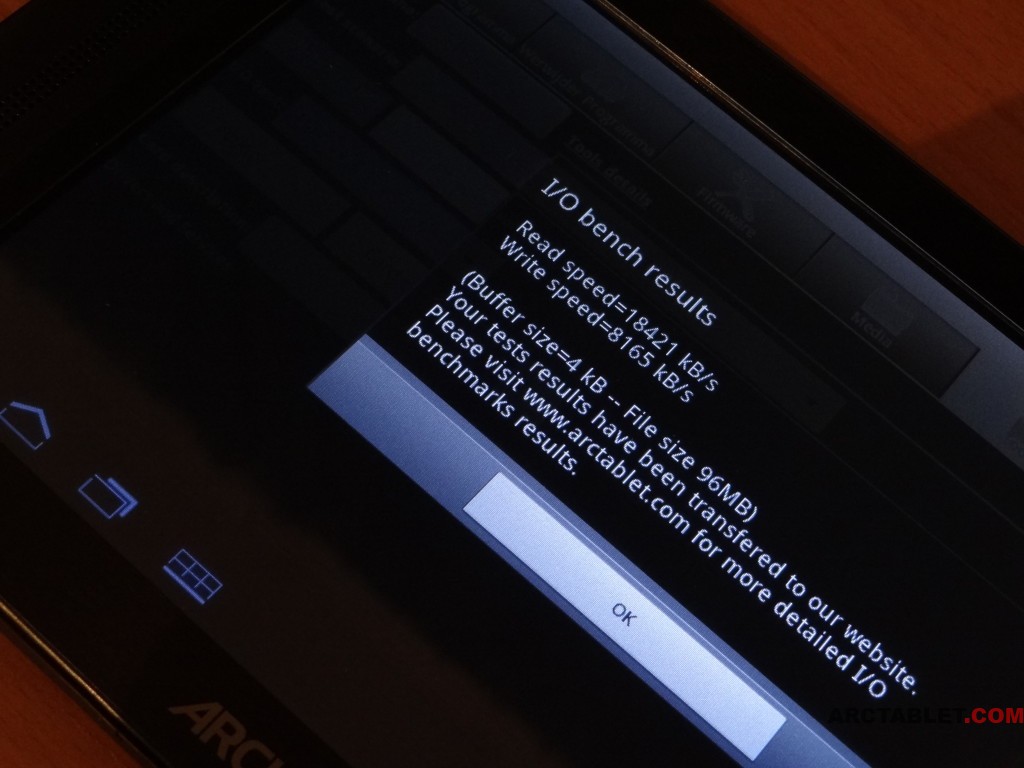 We ran some benchmarks on it. Though the OMAP3630 is not the newest processor out here, it performed quite well. All tests were run on firmware 3.2.80, just after a fresh reboot and all applications closed.
Benchmark numbers
Benchmarks results
Archos 101 G9 1 GHz
Archos 70b IT
Arnova 10 G2
Archos 101 IT 1 GHz
Test setup
Firmware version
Android 3.2
Firmware version 3.2.34
Android 3.2
Firmware version 3.2.80
Android 2.3.1
Build number eng.hwg.20110801
Android 2.2.1
Firmware 2.4.19(in overdrive mode)
AnTuTu bench
version 2.2
Total score
higher is faster
4343
2676 (version 2.6)
not working
2321
CF-Bench v1.1
Overall score
higher is faster
4582
2691
2105
1986
GPUBench v1.0.0
higher is faster
Absolute: 35409
Relative: 21223
Benchmark not found
Absolute: 33172
Relative: 25765
Absolute: 18135
Relative: 13085
Linpack PRO v 1.2.9
higher is faster
Single Thread: 37.951 MFLOPS
Multi-Thread: 60.06 MFLOPS
Single Thread: . MFLOPS
Multi-Thread: . MFLOPS
Single Thread: 14.173 MFLOPS
Multi-Thread: 13.884 MFLOPS
Single Thread: 15.393 MFLOPS
Multi-Thread: 14.134 MFLOPS
NenaMark2
Best fps
higher is faster
16.5
14.3

24.9 (Nenamark 1)

23.3
not working

Touch test
4 points
5 points
2 points
2 points
Quadrant Advanced 1.1.7
higher is faster
Total: 1456
CPU: 4084
Mem: 1505
I/O: 726
2D: 142
3D: 822
Total: 1350
CPU: 3820
Mem: 1553
I/O: 664
2D: 186
3D: 525
Total: 1258
CPU: 2314
Mem: 1075
I/O: 2180
2D: 123
3D: 599
Total: 1112
CPU: 2736
Mem: 1001
I/O: 1333
2D: 182
3D: 308
Smartbench 2011 v1.2.1
higher is faster
Prod. index: 2811
Games Index: 2840
not working
Prod. index: 594
Games Index: 565
Prod. index: 821
Games Index: 1211
Vellamo v1.0.3
904
659
441
370
Our opinion
The different benchmarks presented here show that the new Archos 70b IT running at 1.2 GHz compares quite well with Arnova 10 G2, another budget tablet from Archos. Looking straight at the numbers, 70b IT is a little ahead, but on many tests, both machines gave close results, with less than 10% variation. The 70b IT couldn't keep up with 101G9 which has a dual-core OMAP4 processor. Still, it was better than the 70IT, possibly due to increased RAM and processor clock speed, but may be also due to the Honeycomb OS.
Touchscreen test.
The 70b IT has 5 point multi-touch which was quite a big surprise. The more expensive G9 models can recognise only 4 points and the 70IT, only 2. 5 points is more than enough for 7″ touchscreen, like you could see in the video, we had even some trouble with placing 5 fingers on small surface. We also didn't encounter any problems when it comes to touch recognition and we didn't have any calibration issues.
I/O benchmark.
We tested the internal memory performance with Arctools application. It gave the following results:
Read: 18421kB/s
Write: 8165kB/s
We found the results quite good, close to Class 6 range.