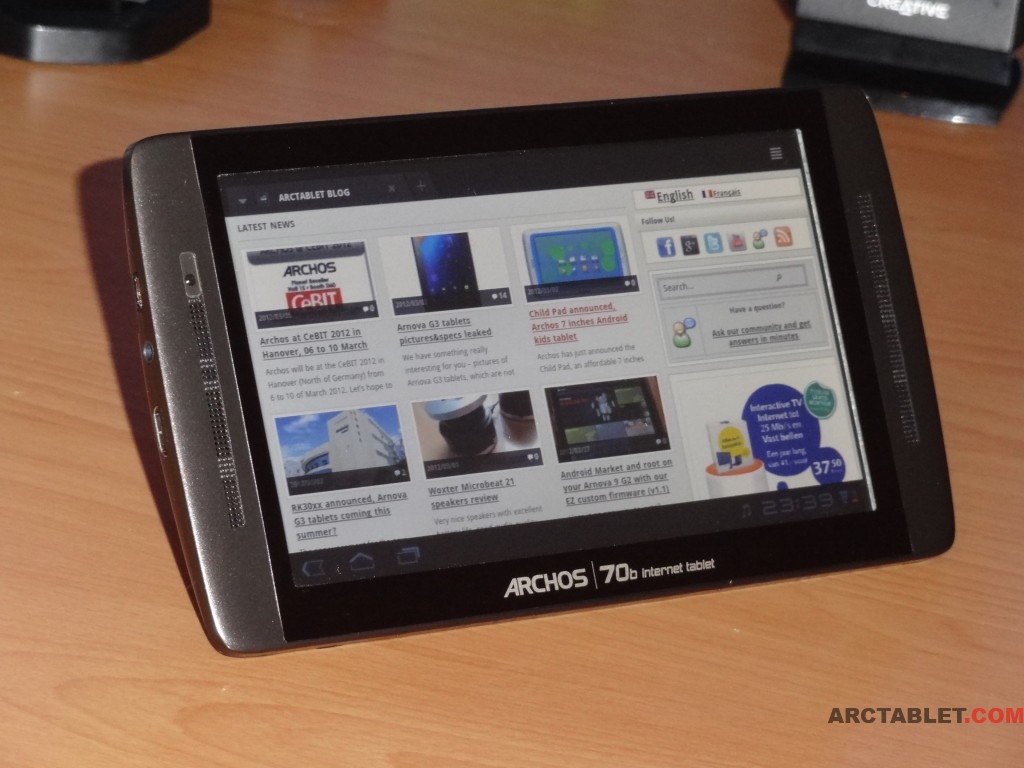 Back in June 2011, Archos Generation 9 tablets were announced. While nearly everybody was hoping to see more, only two tablets were presented to the public – 8 inches with 4:3 screen aspect ratio and a widescreen 10.1 inches tablet. 70IT owners started to complain, the 80G9 was not portable enough and was not really suitable for watching videos. Back in June, nobody knew that Archos was already working on an upgrade for the 70IT. In July, the mysterious 70S2 passed the FCC and 70H2 followed two weeks later. Unfortunately, it took more than 6 months for Archos 70S2(now known as Archos 70b Internet Tablet) to be available in the shops and we can only guess why there is still no 70b IT available with 250GB of storage.
The new ARCHOS 70b IT is an enhanced version of the ARCHOS 70 IT Gen 8 that received a few upgrades. We got a comparison table:
Model
Archos 70IT S

Archos 70bIT S

Processor
OMAP3630@1GHz
OMAP3630@1.2GHz
RAM
256MB
512MB
Flash Memory
8GB
8GB
Display characteristics
7 inches
800×480 resolution
2 point multi-touch
7 inches
1024×600 resolution
5 points multi-touch
Bluetooth
2.1 (+3G tethering)
2.1
Wi-fi
802.11b/g/n
802.11b/g/n
GPS
No (only via Bluetooth)
No (only via Bluetooth)
Gravity Sensor
Yes
Yes
Battery Life
???
4hours 45minutes
Android Market
No (available via Arctools)
Yes
Kickstand
Yes
Yes
HDMI
Yes, mono output
Yes, mono output
Dimensions
201 x 114 x 10 mm
201 mm x 115 mm x 11.5 mm
Weight
RRP
249EUR
199EUR
Designwise, there are a few changes. The bezel on the front is changed, it is now made of black brushed metal which is improvement, because the fingertips are not that visible as on the 70IT. The metal casing on the back is gone which resulted in thicker casing and not so nice look: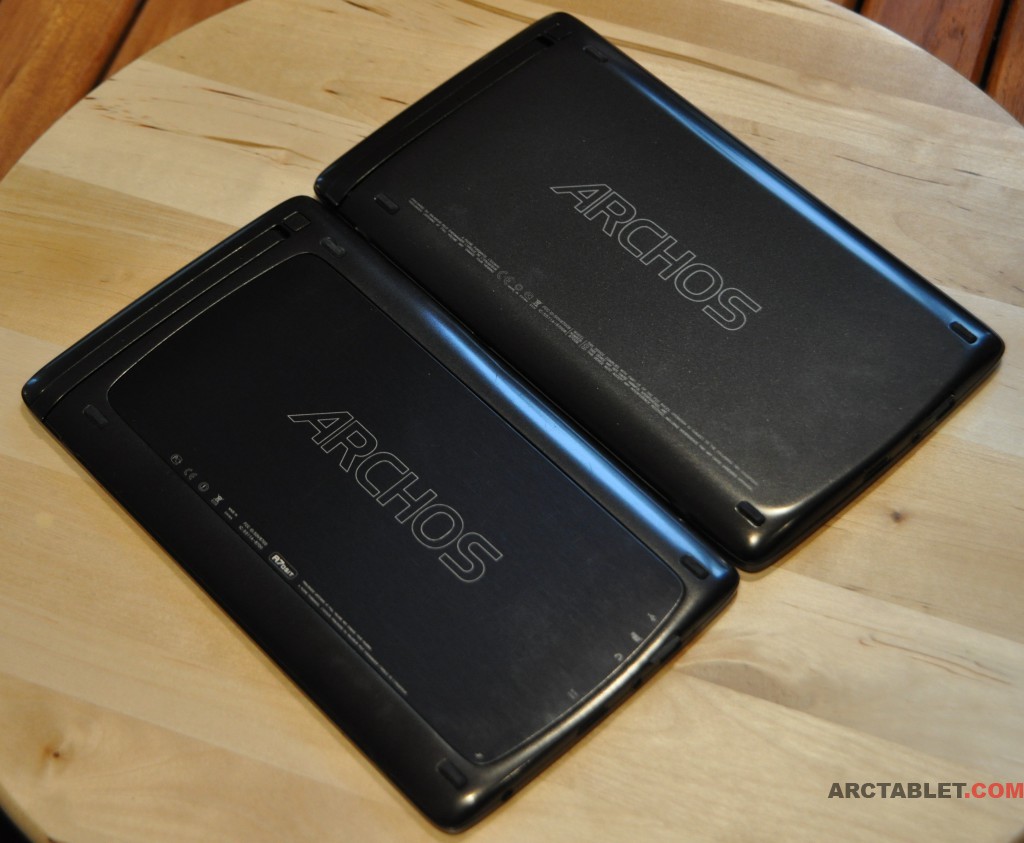 Because of the cheaper casing, tablet has become thicker and has also gained some weight. The difference in the weight is not that big, because Archos decided to put a slightly smaller battery in the device.

For those, who don't know, how big is an 7 inches tablet, we got a picture of 70b IT laying next to 3.7 inches Nokia Lumia 800: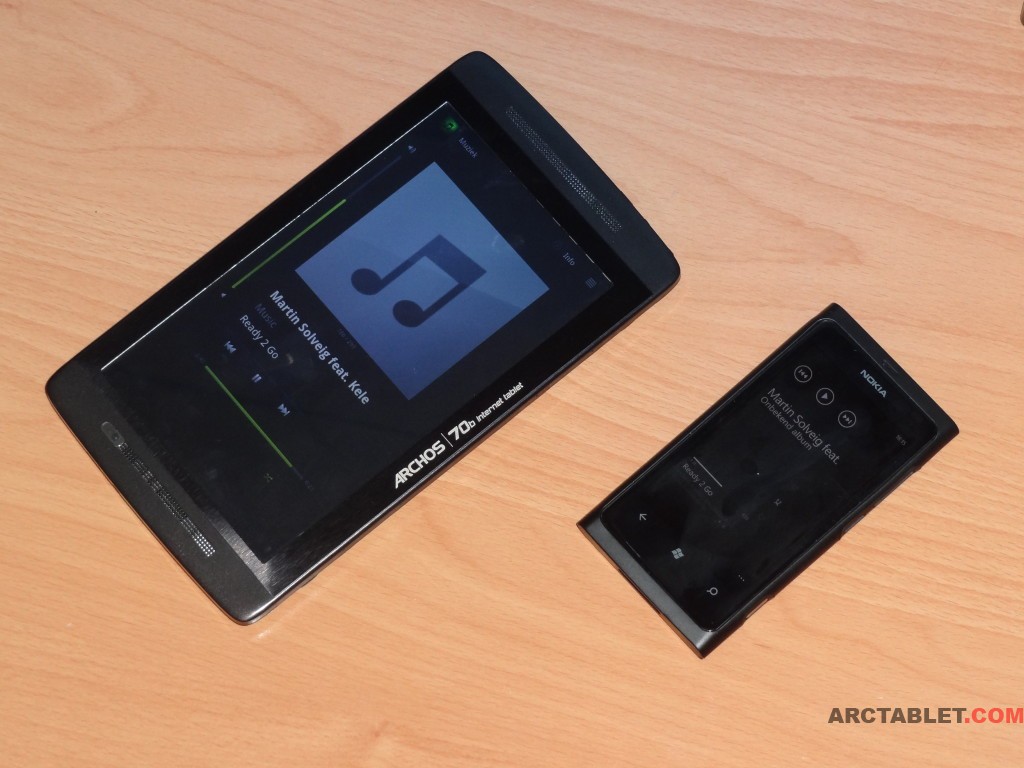 Basically, the screen size of an 7 inch tablet is four times bigger than 3.5 inches phone/pmp. It is nearly twice as small as ordinary 10 inches tablets and it is much more portable than the 8 inches tablets with 4:3 aspect ratio. Archos 70b IT fits in most jacket and pants pockets.