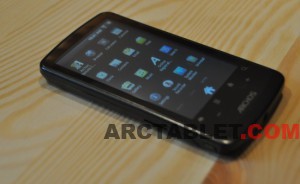 (Edit) 2011/11/14: The new Archos 35 IT is now visible on Archos website.

The Archos 35 IT is a latest update in the sub 5 inches portable multimedia players from Archos. This small 3.5 inches device is based on the Archos Gen8 platform like it's older brothers, Archos 28 IT, Archos 32 IT and Archos 43 IT. Priced just under 100 euros, the device offers an intermediate product between the Archos 28 IT and the Archos 32 IT. Compared to the Archos 32 IT, the 35 IT looses the back camera and bluetooth support, so it actually offers the same equipement as the 28 IT.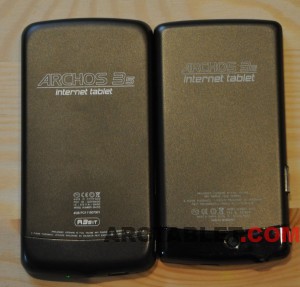 On the picture below, you can see the following devices, from left to right:

Apple Ipod Touch 4G, Archos 32 IT, Archos 35 IT, Archos 43 IT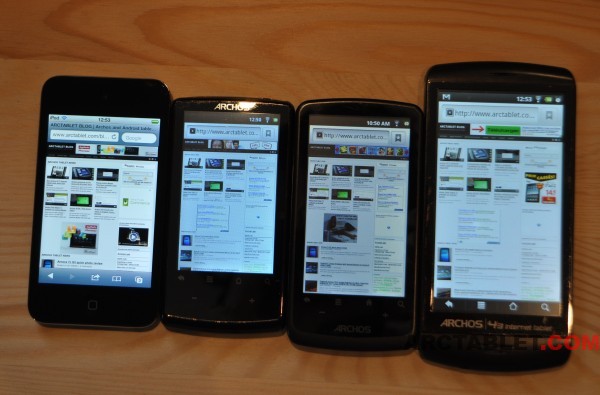 Specifications
Here is a summary for the Archos 35 IT (Internet Tablet) specifications:
Archos 35 IT (Internet Tablet)
Operating System
Android 2.2 (FROYO)
Stock Firmware version says: 2.3.21
Firmware can be upgraded to latest Gen8, that is 2.4.19
CPU
Texas Instrument TI OMAP 3 running at 800 MHz
Flash Storage Memory
Capacity 4 GB
Speed: Class 4 range (tested Read 14 400 kB/s, Write 3880 kB/s)
System Memory
128 Mb
Additional storage
Micro SD slot (SDHC compatible)
Display
505×286 TFT LCD 3.5 inches
resistive screen
Bluetooth
No
Wifi
802.11 b/g
Gravity Sensor
Yes
Camera
No
GPS
No
HDMI
No
Interfaces
USB 2.0 Slave MSC (mini USB format)
MicroSD slot
Battery life
Video playing test: To be done
check our battery tests
Kickstand
No
Dimensions
110 x 57 x 10 mm – 4.3" x 2.2" x 0.39"
Weight
80 grams – 2.8 oz
Price
99.9 euros
Packaging
The Archos 35 IT box contains the device with the screen covered by a plastic protection, an headphone and micro USB cable that serves for data connection to computer and device charging. The box also contains usual Archos documentations: User guide, Legal & Safety notices, Warranty information and a $10 Archos/ eMusic coupon.
Device body
The Archos 35 IT shares the metalic case of the older Archos 32 IT model, with slight changes on a more rounded design. The device feels quite light in the hand. The connectors are located as follows:
On the bottom side of the device, a
micro USB port
, with a
power LED
(indicating power supply) and a
3.5″ jack connector for headphones
. On the Left side of the device has a
power button
and the
micro sdcard slot
. There are
no speakers on the Archos 35 IT
, audio output has to go thru the headphones.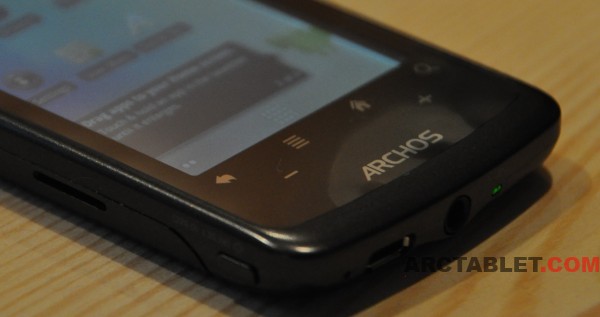 The Archos 35 IT has six sensitive hardware buttons: four for the main functions: back, menu, home, search and two buttons for volume up and down.


On the contrary to the Archos 32 IT, the back of case cannot be removed.
Please visit us again for more information on the Archos 35 IT.