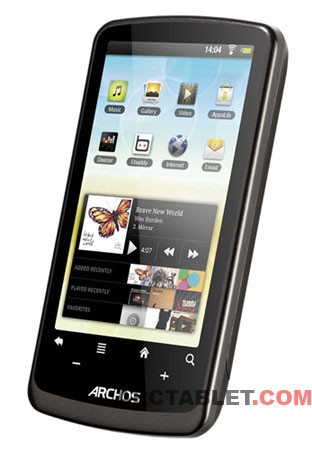 We spotted the Archos 35 IT (Internet Tablet) at the FCC a while back. The device is now available, at least the french retailer FNAC is just starting to have these new Archos 35 IT in stores nicely priced at 99.90 Euros.
This little PMP is a great addition in the Gen8 family, this can be seen as an update to the Archos 28 IT, with a small screen upgrade (3.5″ vs 2.8″). The device comes with 4 Gb Storage. The CPU is probably a TI OMAP 3 (Cortex A8) running at 800 MHz.
Archos 35 IT specifications at the FNAC aren't correct, the device do not have speakers, audio output is only done thru the headphones. Also, there is no camera on the device.
The device is running Android 2.2 Froyo and has Archos own Appslib Marketplace. We can confirm that unofficial support for Android Market does work with our ArcTools application.
Please check our Archos 35 IT full review.
Via JBMM.fr