CineTrailer version 2.0.2 edited by ddm.it




in Entertainment
Package: tv.cinetrailer.mobile.b APK 786 kb
Description:
CineTrailer.tv shows the latest updates about movies you can find in cinemas and on DVD.
– Movie finder (italian market only)
– HQ Trailer
– Film in Theatres and on DVD
– Movie infos complete with synopsis, cast e trailer
– Choice among 9 languages and 11 european markets
———— New in version 2.0 ————-
– Revamped user interface and code
– Movie and Actor Search (also vocal)
– Fast language change (no more database updates)
– Landscape/Portrait setting
– Tablet compatible (Galaxy Tab, etc)
– Colored theme choices for User Interface
– Selective cache deletion
– Automatic trailer quality
– Dynamically loading movie lists
– Swipe between lists
Movie page
– Image preview
– Click on Actors now opens "more movies" by the same actor
– Full screen poster with a click on the thumbnail
– Movie PhotoGallery with infos
Recent changes:
Version 2.0.2
– Minor bug fixing
– Director on movie page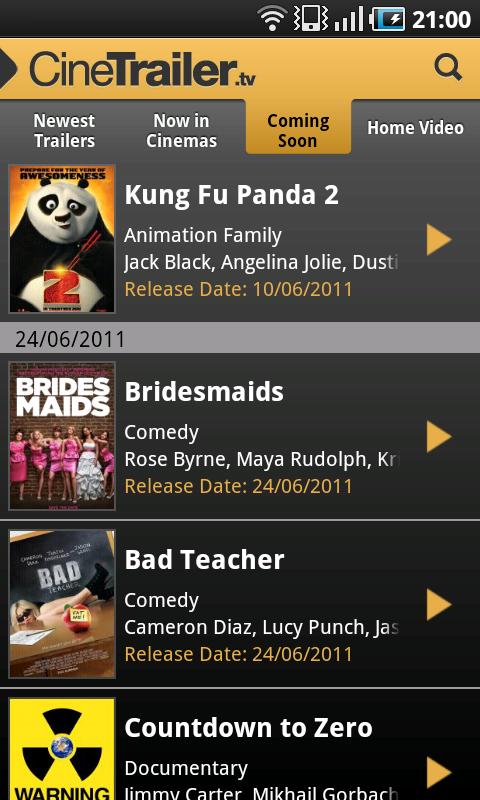 User comments:
LUIS: Works great on my Atrix. Very good app.




Paul: Perfeckt





Isatu: The movie dates were out of order & could not get my local theater!

elise: Does not work waste of time


Eddie: Works great! Video quality is perfect





Marissa: Wont play trailerz!!!!!!!!!

Aditya: I like it.-




ririn: Good enough.. Not available in my country INDOnesia.. Fix it plizz



Darnell: The movie trailers are good and has a lot of content but I could not find a search area to look for a specific movie.