AirDroid version 1.0.2 beta edited by SAND STUDIO




in Tools
Package: com.sand.airdroid APK 2675 kb
Description:
AirDroid is a fast, free app that lets you wirelessly manage & control your Android device from a web browser over-the-air.
=================
We highly appreciate your kindness and support in helping us to spread and improve AirDroid.
Should you encounter any problem before you rate AirDroid anywhere below 5 stars, please kindly mail us at support@airdroid.com to give us an opportunity to provide you with assistance in resolving your issues!
=================
Enjoy below features after installation from the comfort of your favorite web browser on desktop or other devices:
*Files
Transfer files between Android devices and computers.
Cut, copy, paste, search, rename or delete files on the SD card.
*SMS
Read, send, forward or delete SMS messages.
*Applications
Install, uninstall, backup, search apps and do batch processing.
*Photos
Preview, delete, import, export, set as wallpaper and photos slide show from desktop.
*Contacts
Group, search, create contacts, check and delete call logs.
*Ringtones
Search, preview, import, export, delete and customize ringtones for phone calls, notifications and alarms.
*Music
Play, search, import, export, delete, or set as phone call, notification and alarm ringtones.
=================
AirDroid also comes with the following inbuilt features:
*Device Status
Real-time ROM, SD Card, Battery, CPU and RAM status report & monitor with charts to demonstrate available/used/total resources, and one-tap memory boost.
*Tasks Manager
Kill or uninstall running apps, batch operation supported.
*Apps Manager
Uninstall, share or check details of user and system apps.
*Files
Control Cut, copy, rename, send/share, delete, sort and create visible or hidden folders and files.
=================
What's the requirements to run AirDroid?
AirDroid should be compatible with most Android devices running Android 2.1 or later (4.0 is not supported yet). The Web Desktop should be compatible with most modern web browsers, including Chrome 12 or later, Firefox 3.6 or later, Safari 5.0 or later (For best performance IE is not recommended).
Feel free to contact us if you have any suggestions, questions or issues by sending mail to support@airdroid.com
Follow us on social networks! We are now on Facebook, Twitter, Google+ and YouTube!
Twitter:Twitter.com/AirDroidTeam
Facebook:Facebook.com/pages/AirDroid/156773881085645
Google+:Gplus.to/AirDroid
YouTube:YouTube.com/user/AirDroidTeam
Key words:web desktop, browser server, websharing,remote desktop control, web remote desktop, wifi connect, wireless transfer, apps manager, tasks manager, contacts manage, SMS text message, call log delete, photos preview
Recent changes:
Fixed a bug causing SMS issue for some users.
Faster login speed.
Content rating: Everyone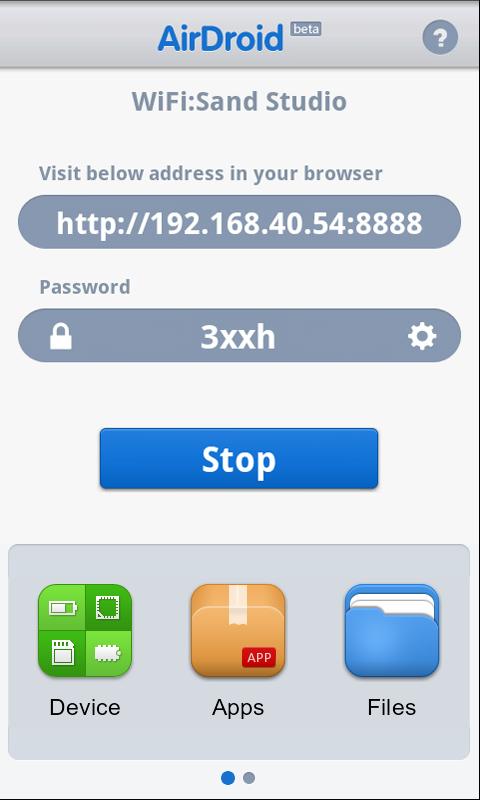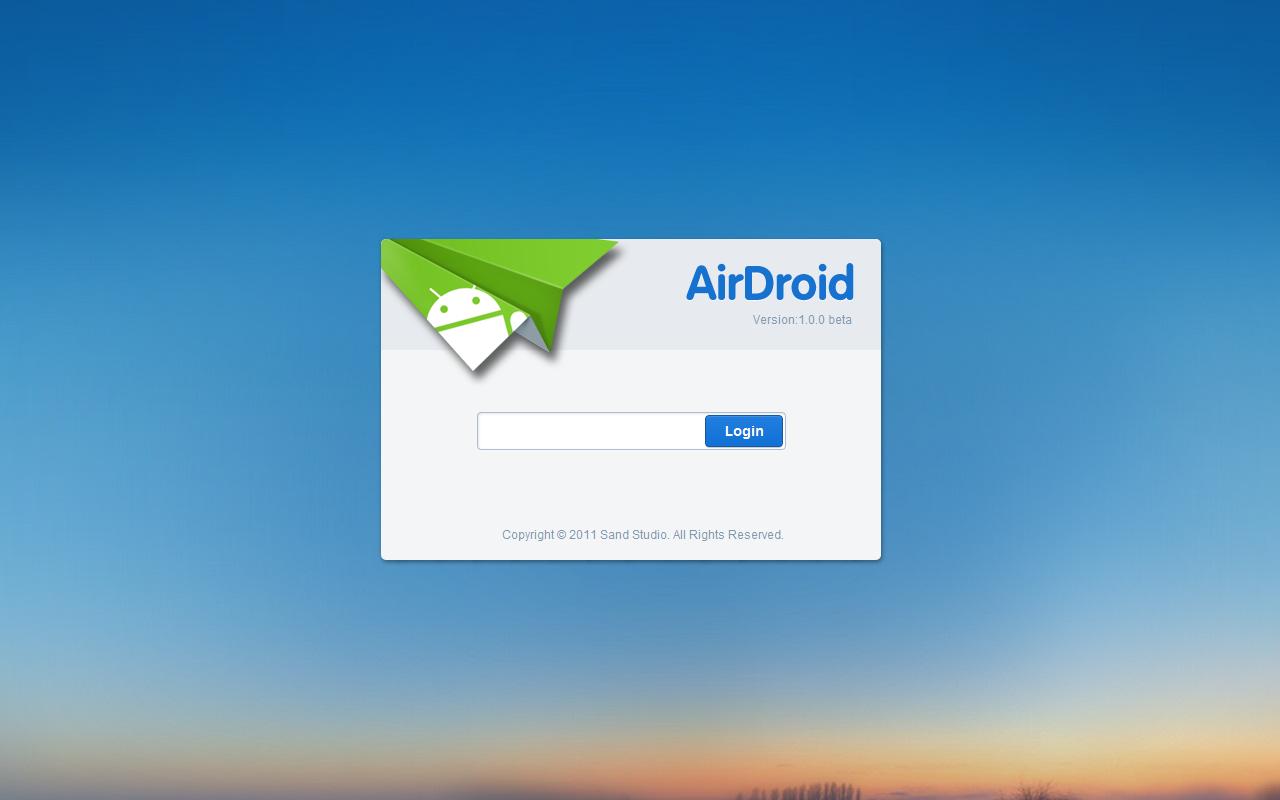 User comments:
Sakthi: Must have remote app This is till date the best remote app to control my android phone & tablet from my laptop, awesome interface.





Pete: Amazing Simply the best Android App I have ever seen, If you asked for a little bit of money for this I would have no hesitation in buying it, simply brilliant.





Jeffrey: Incredible Works perfectly on the EVO 3D. Overall incredible!





ignlg: Thank you for this master piece It'd become the default manager





Alex: Awesome





Nic: Not working

cleblanc: Wow, impressive I can even connect my Galaxy Tab 10.1 right to my Droid X with this…interesting!





Zackary: Wonderful, With Room to Grow I really love this application. Still, I would like to see it become more capable. My only complaint so far is that hidden files and directories (.nomedia, for example) do not show up in the file explorer. It would be nice if





Vladimir: Really great, works flawlessly, extremely useful





Mike: Awesome Tested it, Used it. It has an awesome design, for me design is a really important part to use an app. It's beta and everything works like it should. Even if you won't use it with your pc, you have lot's of opinions to do with. And if you use it wi