Opera Mobile web browser version 11.5.2 edited by Opera Software ASA




in Communication
Package: com.opera.browser APK 12881 kb
Description:
A web browser ideal for fast network connections on your mobile (such as Wi-Fi or 3G). Opera Mobile is smooth, speedy, and it makes surfing the Web on a mobile device more fun and efficient than ever.
Facebook, Google, Yahoo!—with Opera Mobile, all your favorite sites work great on your phone or tablet.
Features:
-A new interface looks better on your device and gives Opera Mobile a sleek, modern browser appearance.
-Pinch-to-zoom and smooth panning let you surf in a natural, intuitive way.
-Synchronize bookmarks, Speed Dial and more with your computer or other mobile devices via Opera Link.
-Twitter and Facebook support is built in, so you can easily share Web content with others.
-Games and free apps can be downloaded from the Opera Mobile Store in Opera Mobile's Speed Dial.
Opera Mobile is the ultimate browser when connected over Wi-Fi or wireless broadband.
Also check out Opera Mini, the fastest browser on Earth. Opera Mini compresses data by up to 90% and is the best choice when using slower networks or paying per megabyte of data used.
Discover more at http://opera.com/mobile/
Keep in touch with Opera:
Twitter – http://twitter.com/opera/
Facebook – http://www.facebook.com/Operamini/
Recent changes:
Added Data Usage view
Added save bookmarks to Home Screen
Added bookmark import
Added support for inline HTML5 video on Honeycomb
Added cache stored on SD
Enabled JavaScript refreshing
Fixed issues with Flash 11
Fixed issues with big Link accounts freezing Opera
Fixed issues with web-fonts (f.e. www.golem.de)
Fixed issues various stability and performance issues
Fixed problems with cache being deleted at startup
Updated Mobile core to 2.9.201
Permissions: See bit.ly/opera_permissions
Content rating: Low Maturity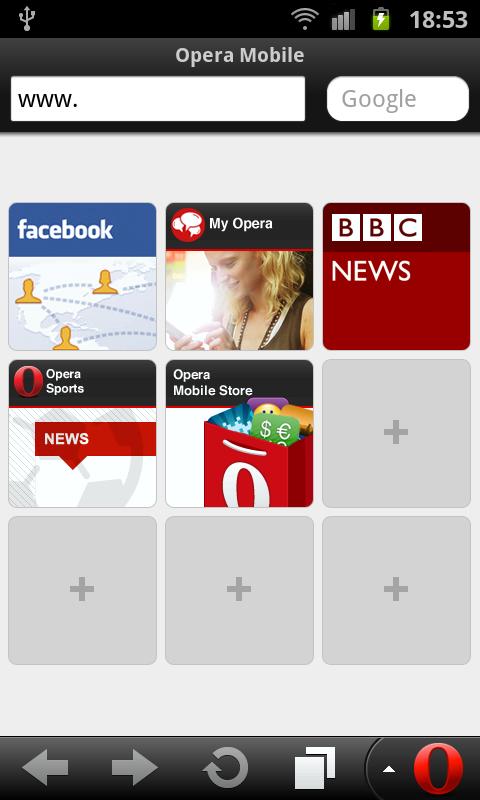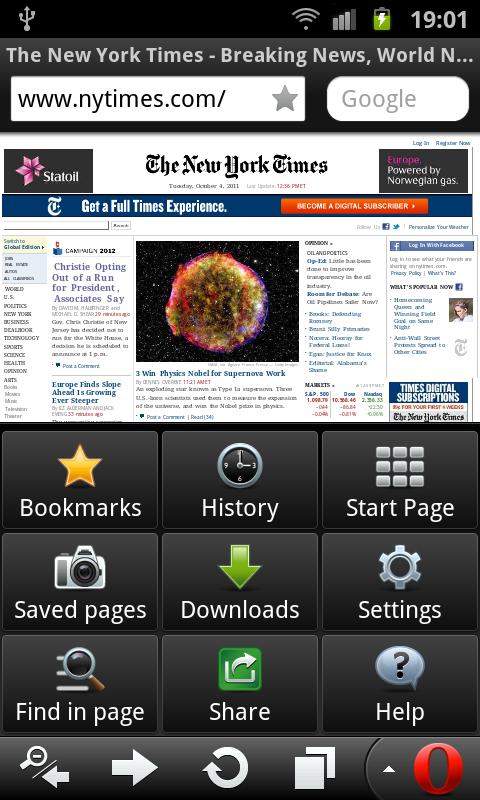 User comments:
syafiq: What can i say it make fast for browse the web..





Daniel: Great. Thank you for hardware acceleration. Android ain't exactly spoiled with these things so far.





aharrison: Opera fan, but… Nobody renders a more readable page on a mobile device than Opera. Unfortunately I seldom use it because the lack of LastPass (and add-ons as a whole) is just too debilitating for me.



gyco: Another one. So many apps force close after an update. It's just not funny anymore. Even the latest market update has bugs introduced. Is this where Android going?



Frederick: Not working, Force Close. Very disappointed, after update, unresponsive. Not typical Opera. Please fix. Running 2.3.4 Xperia Arc.


Sherry: For some reason, most recent update will not dl on my Huawei Ascend.



Putra: Stable internet browser Please add more feature just like opera.inc i know





Syahrul: Wuhuuu (ʃƪ˘˘,) (.˘˘ʃƪ) Very nice ~(´▽`~) (~´▽`)~





Aaron: Ideal for tablets The best browser for tablets, runs great on phones too!





Egab: Excellent The best. Browser





michael: Bnost recent update seems to have fixed most of the lingering issues, however there still needs to be a option to allow the browser to hold more memory for keeping pages active. I hate having to reload the pages after 5-10 minutes away from the browser.





Dean: Best of breed What else is there to say?





Yat: Fc Unusable.. please fix soon! I NEED opera mobile browser!

thedevilsjester: Good, not great. Overall a decent browser but constantly resizes and has issues with finger scrolling often selecting the address bar.



Dheerabhong [G-Mail]: Good Response time, Fast abd correct render i just love opera in this version (04-11-2011). Faster and correctly render.




Nims: Very nice app…but not able to update it….plz help…





Christopher: Fc Similar problems to many others here. Used to be very best app in the market. After most recent update, continuously force closes. Unusable. CM7 G2

Randy: Nice! This recent update now with HTML5 support makes Opera the best android browser! 5 stars





syafiq: What can i say it make fast for browse the web..





Daniel: Great. Thank you for hardware acceleration. Android ain't exactly spoiled with these things so far.